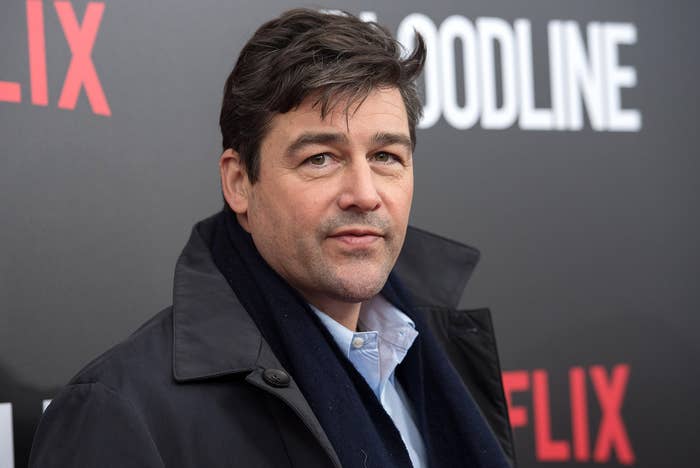 It's hard to separate Kyle Chandler from Coach Eric Taylor, the character he played for five seasons on the beloved football drama Friday Night Lights. The series propelled the now-49-year-old actor's career, earning him a devout fanbase and recognition from movie and television producers alike.
But that was after Chandler spent two decades trying to break through in Hollywood.
The actor, who grew up in Illinois and then moved to southern Georgia in his preteen years, attended the University of Georgia, where he first became interested in theater. He got the idea from some fellow students he bummed a cigarette off of one night, prompting him to audition for the college's production of The Comedy of Errors, in which he was cast as one of the twin Dromios. After committing to being a theater major, Chandler and a friend took the train all the way to New York City to audition for a program for which 12 people from across the country were selected to head to Los Angeles and get an introduction on Entertainment Tonight. Chandler won his way into the program, but his friend didn't, so he exchanged his one-way first-class ticket for two coach seats and they flew out to the West Coast, "smoking cigarettes the whole way and drinking scotch."
"And that's sort of how it happened," Chandler recalled in an interview with BuzzFeed News. "I was the last year [of the program], I'm in deep south Georgia, and I end up getting the damn thing. It is pretty absurd."
Chandler spent his next year-plus in Los Angeles bartending before he got his first gig: Skinner in the TV movie Quiet Victory: The Charlie Wedemeyer Story. He continued to get cast on television series, including Gary on CBS's Early Edition and Jake on ABC's What About Joan, but it wasn't until 2006, when he landed a guest-starring role as Dylan, a bomb squad leader, on Season 2 of ABC's Grey's Anatomy, that he began catching the eyes of big-name casting directors.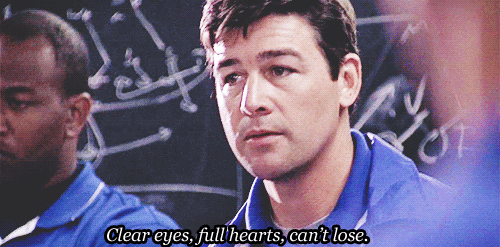 While he was filming his arc (which spanned Season 3 as well) Grey's casting director Linda Lowy pulled Chandler aside and took him to off set to meet Pete Berg, who wrote and directed Friday Night Lights, the 2004 football film based on H.G. Bissinger's novel of the same name. At the time, Berg was planning on bringing FNL to the small screen. "I don't know if Pete was really aware of me, to tell you the truth. And I don't think he thought I was right at the beginning either, if I recall correctly," Chandler said of playing Coach Taylor, a character with whom he is now inextricably connected. Admittedly, the actor also didn't believe he was right to play Coach, thinking he was too young compared to Billy Bob Thornton's version of the part in the movie adaptation. But after many conversations between Chandler and Berg, and one breakfast in which Chandler showed up on a motorcycle, late and hungover from a party the night before, the two agreed he was the right man to embody Eric Taylor on television.
"There were probably a variety of reasons I said yes, but one of them is that I needed a job. People weren't yelling out the windows for me to work with them," Chandler said frankly. "I'm so glad I did it, because it was just a great experience, but you know the reason that that show was what it was was Pete Berg and Pete Berg and Pete Berg. I say that because at our first meeting, when all the actors came together … he stood up and said, 'Look, here's the deal: This is a game, this is a competition.' It was a battle, it was a competition. I love the metaphor that acting for me now, it's a sport. It's my sport."
FNL followed Chandler's Coach Taylor as he led the Dillon Panthers and the East Dillon Lions to Texas state championships. The NBC series, which debuted in 2006, built an intensely passionate audience — for many, Coach's mantra, "Clear eyes, full hearts, can't lose," still serves as words to live by — but the ratings weren't big enough to keep FNL on the network. After two seasons, NBC struck a deal to move the series to DirecTV, which co-produced three more seasons of FNL. But after Season 5, the Taylors left Texas so that Eric's wife, Tami (Connie Britton), could pursue a career beyond being a football coach's wife. And thus FNL came to an end. (Unfortunately, Chandler shot down the idea of a full-on FNL reunion, but did say he and Britton have a pipe dream of doing a "smart, screwball … physical comedy" that would give Britton the opportunity to "slug [him] in the nose or something like that." Though he said the two characters probably wouldn't be married, he reassured fans they "would obviously love each other.")
Since its series finale in 2011, FNL has continued to build its small but mighty fanbase as audiences have discovered the series on Netflix, the streaming site that is coincidentally home to Chandler's next project: Bloodline. On the upcoming Netflix series, which launches on March 20, Chandler plays John Rayburn, the second of four children, three of whom still live in their hometown in the Florida Keys near their aging parents.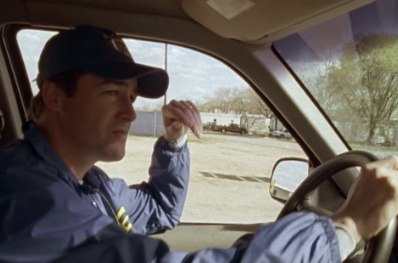 When audiences are introduced to John in Bloodline's debut episode, he's sitting behind the wheel of his truck, his arm hanging slightly out the window, driving down a nondescript road, certainly reminiscent of many FNL scenes in which Coach does the same. But it quickly becomes clear that the two characters are headed in very different directions, literally and emotionally.
"Coach was someone who was enveloped in a world of young men who he loved very much. And that's in Dillon, Texas," Chandler said. "I am in the Florida Keys. A detective. Completely different world, and completely different past history. His desires and Coach's desires just have nothing in common."
At the onset, John appears to be a kind, simple family man. But as Bloodline builds, so does his darker side. Viewers who know and love Chandler from FNL might struggle to see that darkness at first, but the actor believes that by the time it comes to light, the audience will understand where it's coming from. "I knew that the writing was good enough that it was earned," he said. "That's my faith in [the writers] and trust."
That trust between Bloodline's creative team and Chandler has also built over time, beginning when Glenn Kessler, Todd Kessler, and Daniel Zelman, who previously created Damages, approached the actor with the premise for Bloodline. It was a very different casting experience than the one he had with Berg and FNL — this time, it wasn't Chandler who had to do the convincing; others set out to convince him. "They said to me, 'If you like the idea, we'll go write something and we'll bring it back to you. If you like it then, maybe we can agree to do something,'" the actor remembered. "And that's exactly what happened."
Having never seen Damages, Chandler quickly watched the entire series (which, coincidentally, moved to DirecTV after three seasons on FX), while Zelman and the Kessler brothers wrote the script for what became Bloodline. "They said, 'This is like an experiment. We're not quite sure if this is going to work the way we're doing it, but we want to try to create this family dynamic we're aware of and create this family around it,'" Chandler remembered. "And their hesitancy of whether it would work or not just... I guess it made me, thinking back on it, realize they were into it 110% because they were trying to create something new. I didn't know what would happen with it or where it could go … But I was like, I'm in."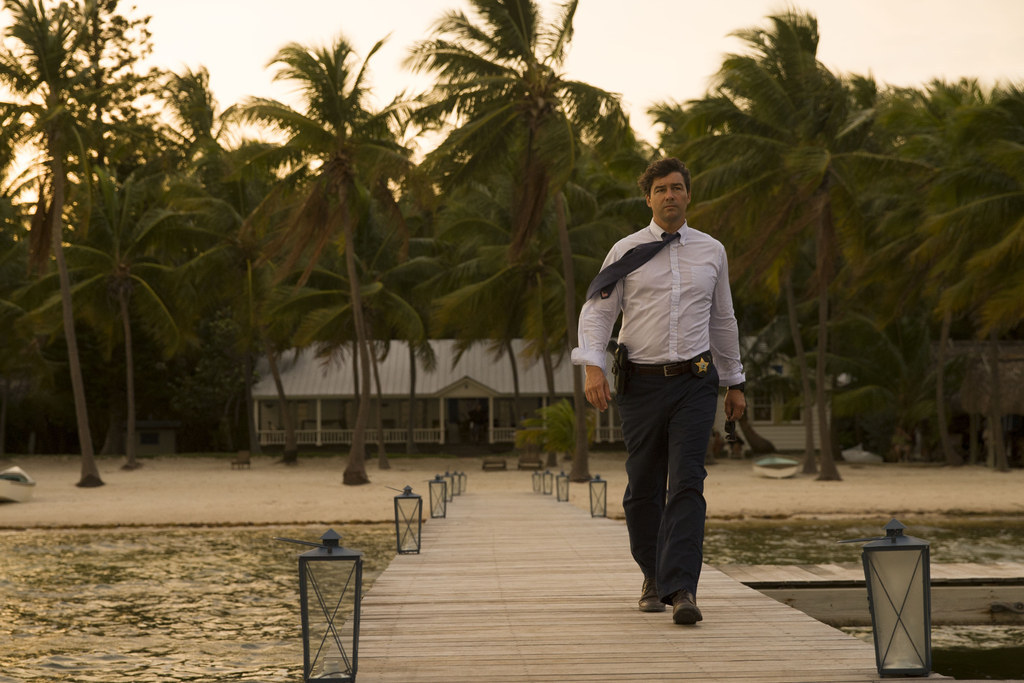 Where the series goes, as viewers will soon learn, is largely steered by Danny (Ben Mendelsohn), the eldest Rayburn child, who returns home to the Keys, forcing his family members to confront issues they've long tried to keep buried. "It's not the Kennedys of the Keys, by any means, but it's a family that … has respect there ... We're part of the community. And within that, there's a little bit of respect," Chandler said. But among the Rayburns, it's a different story. "The Rayburn family is almost like a cancer, eating itself from the inside out," Chandler said. "That's the fun of this show is playing those dynamics, because in the long run, I love my family. We all do. It's blood. But things happen. And sometimes blood and love make you do things that you're not supposed to do."
Ultimately, though both John and Coach put family first, the Rayburns could not be more different from the Taylors. "The two guys would not care for each other at all," Chandler said.
"If [Bloodline] goes for four, five years, I do know what kind of colors this guy reaches. And it's out there. And there are places ... things as an actor that I haven't done before that make me nervous to think about that … [but] I feel comfortable to go for these risky positions to try new things," he added. "I think they're going to throw as much as they can to really mess with me. Because they write not just for you, but they write against you. They want to see you push the envelope and, 'Let's see if he can do this one.' So, again, it's like a sport."
But for Chandler, it's now a totally different game.
Bloodline Season 1 premieres on Netflix on Friday, March 20.