Kenan Thompson Reportedly Said Bill Cosby Has Turned Into A "Monster"
The SNL star allegedly spoke out about the comedian during a stand-up performance at the University of Pittsburgh on Monday.
SNL cast member and frequent Bill Cosby impressionist Kenan Thompson spoke out about Cosby for the first time in light of the sexual assault allegations that have emerged against the 77-year-old comedian. According to The Pitt News, the University of Pittsburgh's student paper, during a performance at the college on Monday, Thompson said Cosby has transformed into a "monster."
A Reddit user who claims to have attended the event said that Thompson spoke about "what it feels like to have someone go from so commonly liked to being a piece of shit." According to the Reddit user, "[Thompson] said he, like so many others, noticed kind of odd behavior awhile ago and just never put it all together. He said he wished someone had a recording or something so [Cosby] can go to jail."
Thompson, who played Fat Albert in the 2004 Cosby-produced film Fat Albert, also reportedly recalled a story from that set, which the redditor paraphrased: "Cosby pulled me aside and said that after the movie comes out, 'it'll be so hard to keep the women off you, you'll need two dicks.'" And the comedian allegedly said the first time Cosby met his mother, he "bounced her on his lap and said something about horse riding like a kiddie."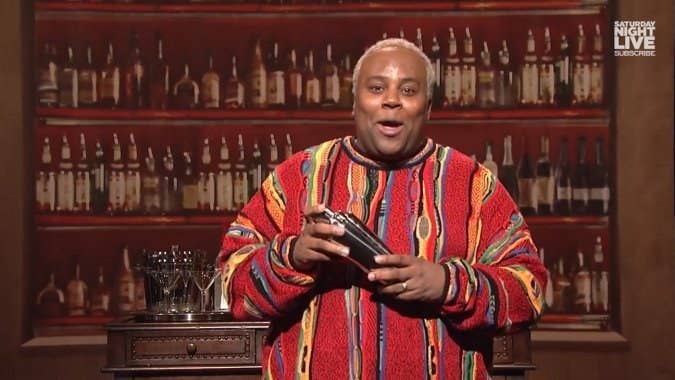 In February, during SNL's 40th anniversary special, Thompson reprised his Cosby impersonation during a "Celebrity Jeopardy" sketch. In a video daily double, Thompson's Cosby starts to explain the ingredients in his "favorite cocktail," but Alex Trebek (Will Ferrell) quickly cuts the video off, explaining that the clip was previously recorded. The cocktail recipe is a reference to allegations from multiple women that they were drugged by Cosby before he assaulted them.
Reps for Thompson and SNL did not immediately respond to BuzzFeed News' request for confirmation on his comments.