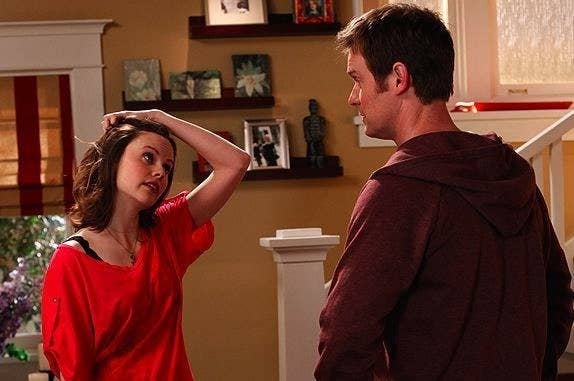 Haddie (Sarah Ramos) will return to Parenthood for the series finale, a rep for the show confirmed to BuzzFeed News.
The oldest child of Adam (Peter Krause) and Kristina (Monica Potter) Braverman has been largely absent from the series since she left for college in the Season 4 premiere. Though Haddie did make appearances via video chat from Cornell and returned home in the midst of her mother's battle with breast cancer, she hasn't been a series regular for the past three seasons.
In Parenthood's Season 5 finale, Haddie returned to Berkeley from Cornell with Lauren (Tavi Gevinson), her "super-awesome best friend," in tow. During the episode, Haddie's younger brother Max (Max Burkholder) saw her kissing Lauren, told Kristina, and eventually, Haddie told her mom and dad that she and Lauren were dating.
When Parenthood was renewed for a sixth season, many hoped Haddie's storyline — she's the first central LGBTQ character to be featured on Parenthood — would be explored more deeply. And though Haddie did return briefly in the Season 6 premiere to help her parents put the final touches on the school they opened for Max, she didn't get much screen time and hasn't been on the show since. (It was assumed she was headed to France for a study abroad program.)
NBC could not offer any additional information as to what leads to Haddie's return in the series finale, but it could have something to do with a death in the extended Braverman family. Before the show was picked up for a sixth and final season, reator Jason Katims told BuzzFeed News, if given the chance, he would like the final season to tackle the "circle of life." Most of Parenthood's emotional final season has centered around the declining health of Braverman patriarch Zeek (Craig T. Nelson) —the mid-season finale ended with Zeek being rushed to the hospital in the middle of the night.
Could Haddie be heading back to Berkeley for her grandfather's funeral? Time will tell, but it'd probably be wise to stock up on tissues.
Parenthood returns to NBC on Thursday, Jan. 8, at 10 p.m.