"Girl Meets World" Season 2 Is Going To Be A Family Affair
UPDATE: Matthew Lawrence, who played Shawn's (Rider Strong) brother Jack (Matthew Lawrence), was just visiting the set.
This morning, Ben Savage (Cory) posted a picture from the set of Girl Meets World with many familiar faces who are reprising their Boy Meets World roles on the new show. But there was one new face we'd yet to see on set: Matthew Lawrence (Jack Hunter).
It's no secret that Girl Meets World Season 2 is going to be a blast from the past. The Disney Channel series, which is a spinoff of Boy Meets World and follows Cory and Topanga Matthews' (Danielle Fishel) life in New York City with their daughter Riley (Rowan Blanchard) and son Auggie (August Maturo), will have cameos from nearly every star from the original show in the upcoming season.
And when Ben Savage posted a photo on Instagram of Matthew Lawrence, who played Shawn Hunter's (Rider Strong) brother Jack, on set, many (including us) thought that meant he'd be reprising his role too. But, unfortunately, a representative Disney Channel told BuzzFeed News he was just visiting the set.
However, Shawn and Jack's father Chet (Blake Clark), who died in Season 7 of Boy Meets World but appeared in subsequent episodes as a ghost, will reprise his role in Girl Meets World Season 2. Additionally, Shawn's BMW girlfriend Angela (Tina McGee), who was last seen breaking up with Shawn to move to Europe with her father in Season 7, will be in the new season.
William Daniels (Mr. Feeny), who only appeared as a figment of Cory's imagination in the show's pilot, will also return, in his backyard no less! Will Friedle will also reprise his rose as Cory's older brother Eric. And BMW fans will finally find out what happened to Mr. Turner (Anthony Quinn).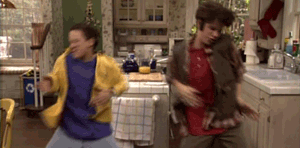 Girl Meets World Season 2 begins on May 11 on Disney Channel and will air a new episode every night that week.
This story originally speculated that Matthew Lawrence would reprise his role on Girl Meets World. It has been updated with a comment from Disney Channel that he was only visiting the set.