The Biggest "Boy Meets World" Mystery Will Be Resolved On "Girl Meets World"
Season 2 of the Disney Channel original series will bring the Boy Meets World character back from near death.
Jonathan Turner (Anthony Tyler Quinn) was last seen on Boy Meets World in a full body cast after being seriously hurt in a motorcycle accident, but it turns out the character is indeed alive and heading to Season 2 of Disney Channel's spinoff Girl Meets World.
Mr. Turner's fate was one of the biggest questions Boy Meets World left unanswered. But according to the show writers' Twitter account, fans of the original series will finally have some clarity when he appears in an episode titled "Girl Meets the New Teacher." A rep for Disney Channel had no comment when reached by BuzzFeed News. But Quinn tweeted the following:
Michael Jacobs, who created both shows, told Entertainment Weekly after Girl Meets World was announced that he wanted to give Mr. Turner's storyline a conclusion. "If I get my way, you will find out what happened to Mr. Turner," Jacobs said. "[Quinn] was one of the first people who got in touch with me after [Girl Meets World] was announced. And what it made me realize is not only does the audience, but the people who were on the show have a fondness [for the show]. So I will not answer your question…because I will answer the question on the series."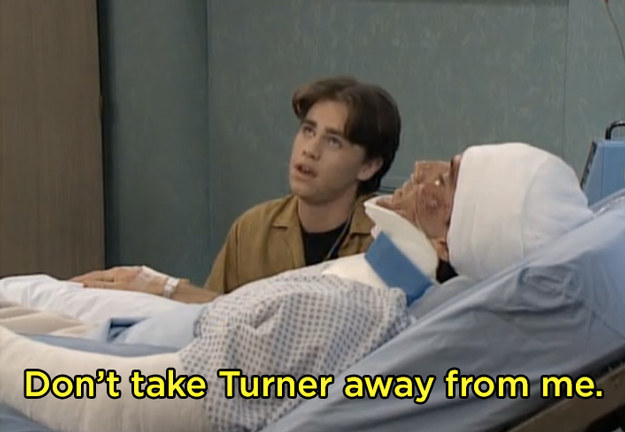 Girl Meets World, which follows the daughter of original Boy Meets World characters Cory (Ben Savage) and Topanga (Danielle Fishel), has seen many original cast members reprise their roles in Season 1. Mr. Feeny (William Daniels) made a small cameo in the pilot episode; Harley (Danny McNulty) was Riley's school's janitor; and Cory's parents, Amy (Betsy Randle) and Alan (William Russ), along with Cory's best friend Shawn Hunter (Rider Strong), appeared in the holiday episode.
In addition to Mr. Turner, Season 2 will see many other Boy Meets World characters return: Shawn will be back throughout the season and Mr. Feeny will appear in two episodes; Cory's brother Eric (Will Friedle) will appear in an episode appropriately titled "Girl Meets Mr. Squirrels"; Shawn's ex-girlfriend Angela (Trina McGee-Davis), who was last seen moving to Europe, will appear, as will Chet Hunter (Blake Clark), Shawn's deceased father.