"Fashion Police" Is On Hiatus Until September
After Kathy Griffin and Kelly Osbourne's departures, E! announced on Tuesday that the show will be taken off the air for six months.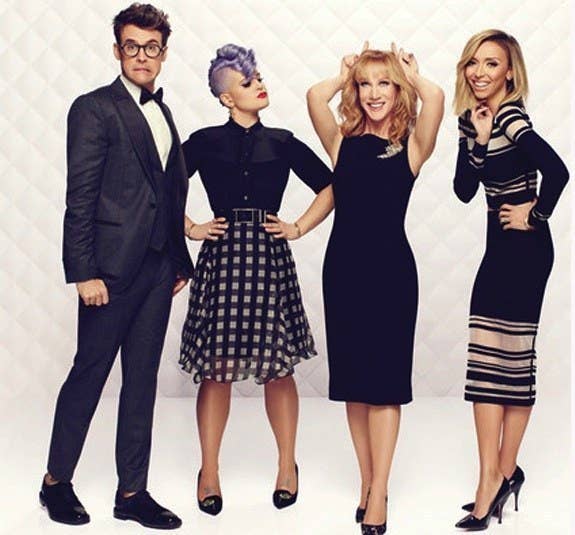 Three weeks after E! aired the Fashion Police Oscar special that sparked controversy surrounding co-host Giuliana Rancic's comments about Zendaya's hair, the network announced it is putting the show on hiatus for six months.
The news comes after two of Fashion Police's four hosts, Kelly Osbourne and Kathy Griffin, quit the show. Griffin issued a statement on Twitter on March 12 explaining her decision to leave Fashion Police after only seven episodes, filmed over the course of two months. The day after E!'s announcement, Griffin went on The View and The Howard Stern Show to elaborate on her decision, stating she felt all the hosts "should have just improvised," rather than reading pre-written jokes (which was the case with Rancic's controversial comment). Griffin also eluded to Stern that she felt taking Joan Rivers' seat was a mistake, stating she "probably shouldn't have taken the gig."
When Griffin announced her departure, E! said Rivers, Rancic, and Brad Goreski would appear in a March 30 episode of Fashion Police. Though that episode is no longer scheduled, Rancic and Goreski will remain on the show, according to E!
In a statement, the network said, "E!'s comedy series Fashion Police is going on hiatus and will return in September. We look forward to taking this opportunity to refresh the show before the next awards season. Our talented co-hosts Giuliana Rancic and Brad Goreski, along with executive producer Melissa Rivers, will continue their roles as we evolve the show into its next chapter for the legions of Fashion Police fans around the world."