Everything You Need To Know About The Eight Main Characters In "Sense8"
BuzzFeed News has an exclusive look at the eight sensates in the upcoming Netflix series.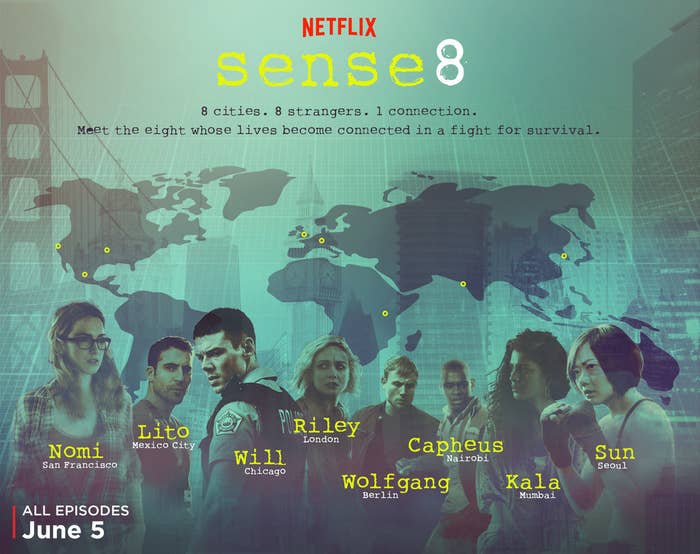 Netflix's upcoming series Sense8 follows eight strangers from around the world: Will from Chicago, Riley from London, Capheus from Nairobi, Sun from Seoul, Lito from Mexico City, Kala from Mumbai, Wolfgang from Berlin, and Nomi from San Francisco.
When the show begins, they have no idea they all share the same gene mutation that connects them as a sensate cluster, but it's soon revealed when they begin sharing sensations with people they've never met before. The thriller, which was created by Andy and Lana Wachowski and Joe Straczynski, follows each character's journey as they figure out what is happening and meet the other sensates.
"It's a global story told on a planetary scale about human transcendence and what it ultimately means to be human in a contemporary society," Straczynski told BuzzFeed News earlier this month, noting that each sensate cluster is meant to represent how people can work together, even when they have different political or cultural beliefs.
The creators of Sense8 wanted all eight characters to come from very different walks of life, and below, BuzzFeed News can exclusively reveal details and first look videos on each member of the sensate cluster.
1.
Will Gorski (Brian J. Smith)
2.
Nomi Marks (Jamie Clayton)
3.
Wolfgang (Max Riemelt)
4.
Kala (Tina Desai)
5.
Capheus (Aml Ameen)
6.
Sun (Bae Doona)
7.
Lito (Miguel Ángel Silvestre)
8.
Riley (Tuppence Middleton)
Sense8 Season 1 launches on Netflix on Friday, June 5.