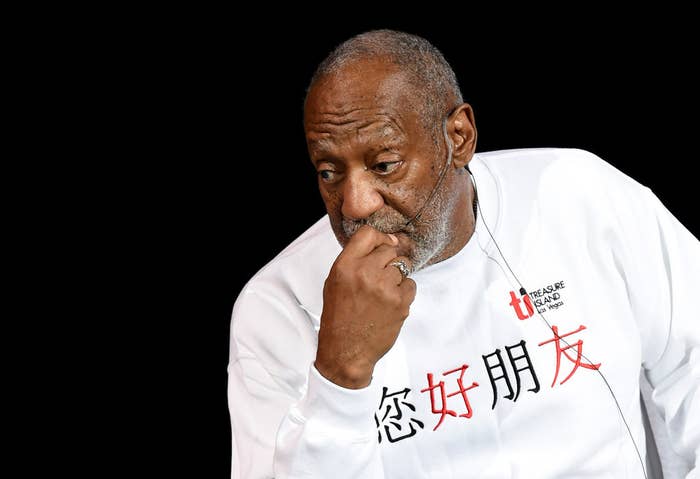 Chloe Goins pressed charges with the Los Angeles Police Department on Wednesday morning alleging that comedian Bill Cosby sexually assaulted her in 2008 at the Playboy Mansion in Los Angeles. Officer Norma Eisenman of the LAPD told BuzzFeed News the accusations will be investigated.
Goins' lawyer told BuzzFeed News he could not clarify what types of charges were pressed, noting that it is up to the police to decide the appropriate charges. But in December, Goins told the Daily Mail that she was at a party at the Playboy Mansion with friends when she received a drink from Cosby. Shortly thereafter, she said she started to feel dizzy, and that she woke up awhile later, naked, to find Cosby licking her toes and masturbating. She said she was 18 years old at the time.
"Ms. Goins is now determined to accomplish what so many other victims no longer have the opportunity to do — to be the girl that puts Mr. Cosby behind bars, where he belongs," Goins' lawyer, Spencer Kuvin, said in a statement obtained by BuzzFeed News. "Ms. Goins is here today to seek justice ... She fully understands and accepts the immense responsibility that her decision to be here today carries."
Since 2005, more than two dozen women have come forward alleging that Cosby sexually assaulted them over the course of the last 50 years. Many recalled stories about the comedian allegedly drugging them and then molesting or raping them, but Goins is the first whose complaint could potentially be tried in a court of law. Under California's statute of limitations, rape, penetration or rape of genital or anal openings by foreign object, or forcible acts of sexual penetration reported within 10 years of occurrence can be prosecuted. Goins' decision to press charges comes approximately six years after the alleged attack.
In the wake of the growing accusations against Cosby, particularly in recent months, NBC killed a project it was developing with the comedian and some venues canceled Cosby's stand-up performances.
At one of the shows that went on despite the allegations, on Jan. 8 in Canada, Cosby told a woman who stood up to get a beverage that she should "be careful about drinking around [him]." The following day, at another stand-up performance, protestors started shouting, "We believe the women." They were escorted out of the building at Cosby's request.
In Goins' lawyer's statement, he wrote, "Apparently, Mr. Cosby feels brazen and confident enough in his actions to make jokes in his recent comedy shows about the 25 plus women that have been brave enough to come out and tell their stories of what he did to them. Ms. Goins is certainly not joking ... Mr. Cosby should and will be held accountable."
Cosby's lawyer Marty Singer did not respond to BuzzFeed News' request for comment in regard to Goins' charges at the time of publication.