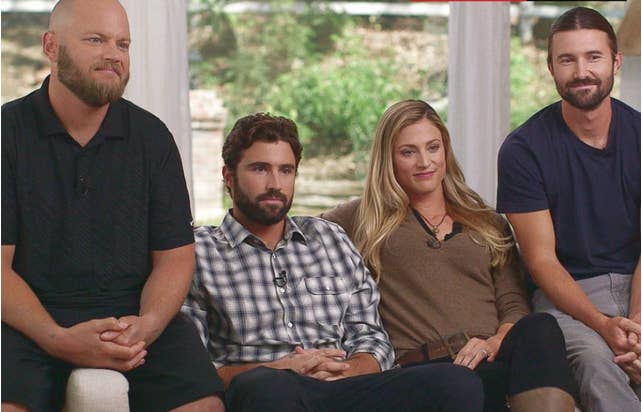 On Friday, ABC aired a two-hour interview with Bruce Jenner in which the reality star and former Olympian came out as transgender. Jenner spoke with Sawyer about telling all 10 children — biological and step — that he has from three different marriages to Chrystie Scott, Linda Thompson, and Kris Jenner.
Burt, Casey (Jenner's children with Scott), Brandon, and Brody (Jenner's children with Thompson) spoke with Sawyer about learning their dad was transitioning. "I feel like I'm getting an upgraded version of my dad... you know, of a parent," Brandon told Sawyer. "I'm just honored and more proud than ever to be a part of the family," he added to his dad.
Though no one from the Kardashian/Jenner clan had spoken publicly about Jenner's transition before the interview aired, Kim Kardashian told reporters at Variety's Power of Women luncheon on April 23 that the whole family was planning on watching the interview together. And throughout the interview, many of Jenner's children took to social media to stand behind their dad.
Brandon, Jenner's third eldest child and the first child Jenner came out to, posted a simple but beautiful note:
Kourtney, Jenner's stepdaughter and the oldest in the Kardashian clan, was filled with pride:
As was Kim, Jenner's stepdaughter and the second eldest Kardashian:
And Khloé, Jenner's stepdaughter and the third eldest Kardashian:
And Jenner's stepson Rob, who said he looks up to Jenner even more these days:
Kendall, Jenner's second youngest child, reiterated her unconditional love:
And Kylie, Jenner's youngest child, also called her dad her "hero":
And though ABC said Kris Jenner had no comment for the interview — which she disputed on Twitter — she also shared a message for her ex-husband: