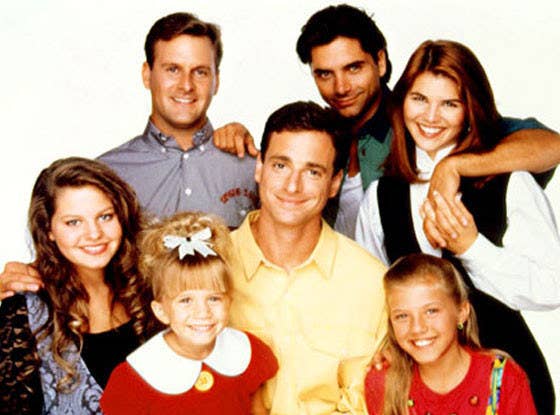 Since August 2014, rumors have been swirling about a possible Full House reboot. The new show, allegedly titled Fuller House, is said to follow D.J. (Candace Cameron Bure) and Kimmy (Andrea Barber), who have remained best friends after all these years. On April 2, TVLine reported that Netflix is very close to picking up the spinoff show for a 13-episode order.
Bure appeared on The View on Monday and Tuesday as a guest co-host, but when she was asked about the reboot rumors, she just said, "What rumors?!" However, Saget teased on The View on Wednesday that there is definitely something in the works.
"We all get together as friends and hang out and have fun. But there is more," Saget told The View co-hosts Whoopi Goldberg, Rosie Perez, and Nicolle Wallace. "Business people are talking to each other. I don't know if it's about that ...There's a chance, I guess."
Saget also said he thinks "it'd be nice for the older kids on [Full House] that are women now to do [a show] if they wanted to do it. And if it works out that I did something, and it didn't ...We have a legacy to protect!"
According to the TV Line report, Saget (Danny Tanner), Dave Coulier (Uncle Joey), and John Stamos (Uncle Jesse) are all reportedly signed on to guest star. Jeff Franklin, Thomas L. Miller, and Robert L. Boyett — who were executive producers on the original show — are said to be producers for Fuller House, along with Stamos.
Stamos' rep told BuzzFeed News he had nothing to report, and Warner Bros. and Netflix had no comment. A rep Bure did not immediately respond to BuzzFeed News' request for comment.
Michelle's face is all of our faces.