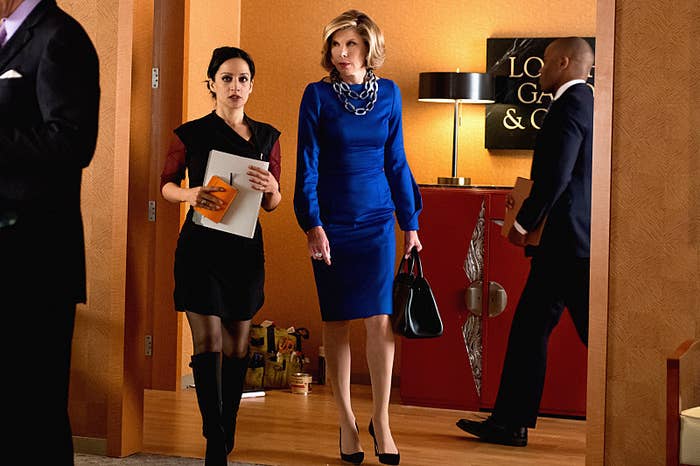 Archie Panjabi, who won an Emmy in 2010 for her portrayal of legal investigator Kalinda Sharma on the CBS legal drama The Good Wife (and was nominated two other times), will be leaving the show at the end of this season, as first reported by The Hollywood Reporter. Panjabi will be headlining a 20th Century Fox Television pilot this spring as part of a new overall development/holding deal with the studio.
"Archie is an amazing actress who helped build Kalinda from the ground up as an enigmatic, powerful and sexy character," said creators Robert and Michelle King in a statement. "It's been a pleasure to write for her, and we'll be sad to see her go; but we still have her for the rest of season six, so let's not exhaust our goodbyes yet. We look forward to meeting all the wonderful new characters Archie brings to the screen. But either way, we're keeping the boots."
Panjabi's Kalinda has been a major character in the universe of The Good Wife over the last six years as the infamous investigator who has friends in every part of town. She worked for Lockhart/Gardner and, after attempting to jump ship, Diane Lockhart (Christine Baranski) refused to join Florrick, Agos & Associates this season without her loyal spy.
The character was, for a very long time, a central focus of the show: Kalinda and Alicia (Julianna Marguiles) became fast friends in the pilot episode and worked closely together on cases for The Good Wife's first four seasons. However, over the last two seasons, the two have failed to share the screen, for reasons unknown, and have yet to appear in the same frame this season.
Panjabi is the second major actor to leave the show in the last year. Josh Charles asked the Kings if he could depart the show after Season 4; he remained on the show for the majority of the following season and was killed in a shocking courtroom shooting during Season 5.
At time of publication, Panjabi's reps had not yet responded to a request for comment from BuzzFeed News.
It's hard not to remember Alicia and Kalinda in happier times...