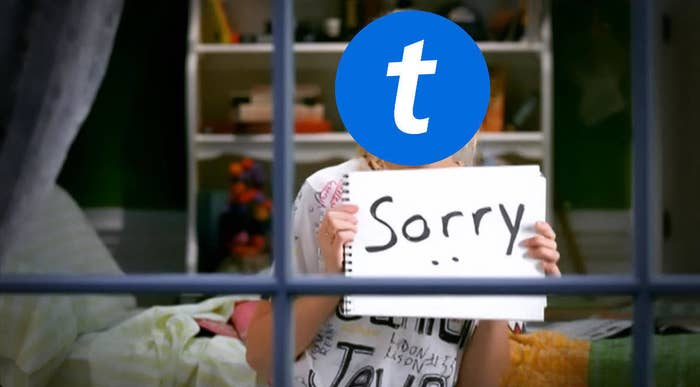 Ticketmaster apologized to Taylor Swift fans on Friday night after millions of them were stuck waiting in online queues to buy tickets this week.
Fans worldwide were shafted by the company after signing up for a "Verified Fan" presale, leaving many of them stuck in hourslong online queues with "2000+ people ahead" of them as they tried to grab presale tickets for the Eras tour, the singer's first tour in four years.
The ticket sales company led with an apology this time, after tweeting, then deleting, an almost identical statement on Thursday.
"First, we want to apologize to Taylor and all of her fans – especially those who had a terrible experience trying to purchase tickets," the statement reads.
Ticketmaster's statement went on to emphasize the eye-popping statistics of the spectacle. The system was overwhelmed with "unprecedented" traffic, the company wrote, noting that it was inundated with 3.5 billion total system requests. Ticketmaster said the volume was four times its previous peak, and that over 2 million tickets were sold on Nov. 15, "the most tickets ever sold for an artist in a single day."
More than 3.5 million people signed up for the presale, purportedly the site's "largest registration in history." Ticketmaster said 1.5 million were given a special code to access the sale for all the tour dates, and the other 2 million fans were put on a waiting list.
The Ticketmaster statement also claimed that just 15% of people faced glitches, which many people took to be a laughable underestimate.

The rollout was so botched that the general public's chance to get a ticket, which would have happened Friday, was canceled. Ticketmaster was promptly dunked on by countless Swifties.

Some fans who made it through the wait got error messages or were kicked off while trying to complete their purchase, forcing them to reenter the queue.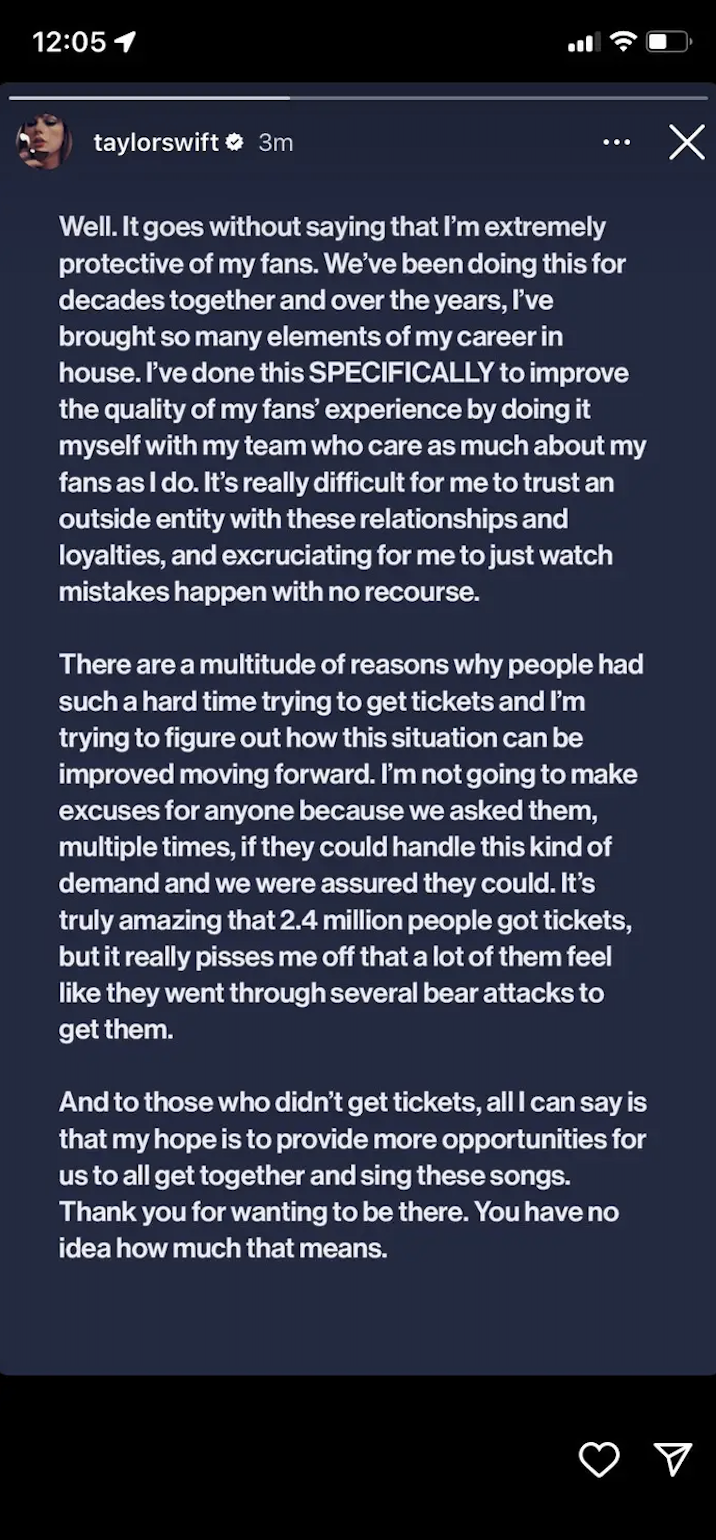 Early in the chaos, the company tweeted that it was "aware fans may be experiencing intermittent issues with the site" and was "urgently working to resolve" the problem.
Members of Congress even took notice of the snafu and called out Ticketmaster and its parent company, Live Nation Entertainment, for monopolizing the ticketing industry.
"Daily reminder that Ticketmaster is a monopoly, it's merger with LiveNation should never have been approved, and they need to be reigned in. Break them up," Rep. Alexandria Ocasio-Cortez tweeted Tuesday.
Sen. Richard Blumenthal wrote, "I've long urged DOJ to investigate the state of competition in the ticketing industry. Consumers deserve better than this anti-hero behavior."
The New York Times reported Friday that the Justice Department has now opened an antitrust investigation into Live Nation.

Swift herself wrote in an Instagram story on Friday that the situation "really pisses [her] off" and that she was "exasperated."
"It's really difficult for me to trust an outside entity with these relationships and loyalties, and excruciating for me to just watch mistakes happen with no recourse," she wrote.
Jack Antonoff, who has produced many of Swift's albums, including this year's Midnights, also commented on the fiasco: "touring is one of the most honest ways to make a living. some of the hardest and most heartfelt work you can do. so why must fuck artist so hard?"