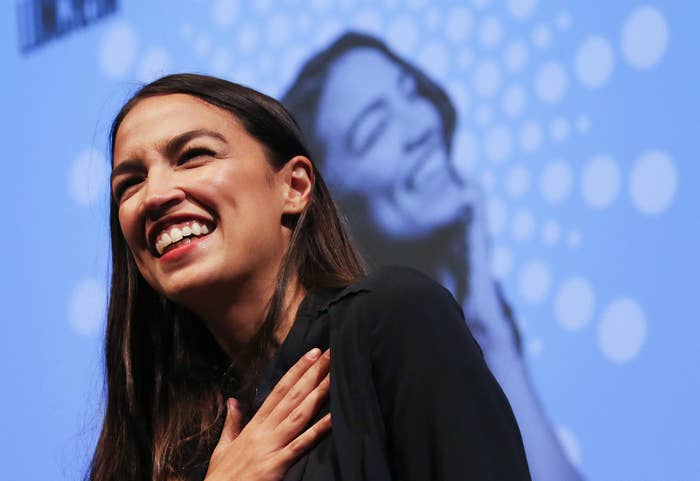 In a historic victory for female candidates, at least 117 women won elections across the country Tuesday night, taking over high-level political positions including House seats, Senate seats, and governorships. Next year, a record number of women candidates, most of them Democrats, will be in Congress.
The women who won Tuesday night were a key part of Democrats taking the majority in the House. At least 96 of the total number of Democrats who have won seats in House so far are women, pushing the party to a several-seat majority.
Among the notable victories Tuesday night, Ilhan Omar and Rashida Tlaib became the first two Muslim women elected to Congress and Sharice Davids and Deb Haaland became the first two Native American women to win seats in the House. Several Democratic women flipped districts that had been Republican for years, like Lizzie Fletcher, whose Texas district had voted Republican for five decades.
"This is thrilling. There is going to be a historic number of women walking onto the floor of the US House in January … They're going to change the way things work," Stephanie Schriock, the president of EMILY's List — a PAC that helps "pro-choice, Democratic women" to run for office — told BuzzFeed News Tuesday night.
"This is gonna be the most diverse freshmen class of women that we've ever brought in by far, in race, profession, and age," Schriock added. "We have the youngest woman ever coming in and the oldest woman ever coming in, in one class," she said, referring to New York House seat winner Alexandria Ocasio-Cortez, 29, and Florida House seat winner Donna Shalala, 77.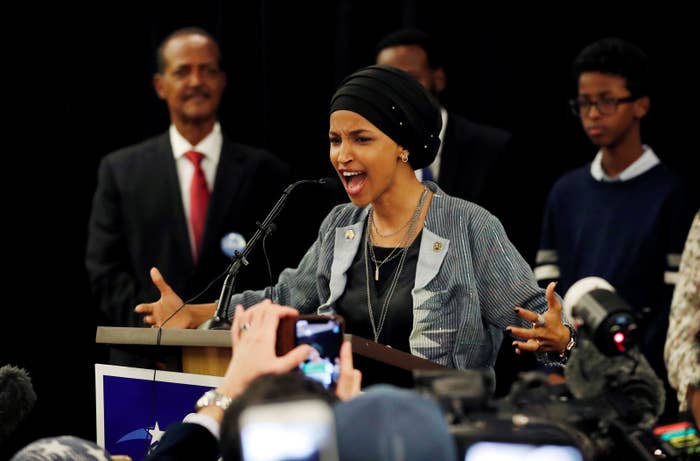 In the general election this year a record number of women ran for seats up and down the ballot: 237 women ran for House seats, 23 for the Senate, 16 ran for governor, and 3,388 ran for state legislative positions, according to data from Rutgers University's Center for American Women and Politics. For comparison, a total of 322 women have served in Congress throughout history, only six women currently serve as governor, and only about a quarter of the 7,383 state legislators in the United States are women.

This Congress already has the most women of any Congress ever: 84 in the House, 23 in the Senate. Next session, with at least 13 women elected to the Senate, women will make up close to a quarter of Congress. Nine women were elected governor.
Several of those elected Tuesday night will be the first women politicians to represent their district or state. Rep. Marsha Blackburn became the first woman elected senator from Tennessee. Abby Finkenauer and Cindy Axne will be the first women to represent Iowa in the House. Michelle Lujan Grisham became the first Democratic Latina elected governor in the US, Janet Mills will be the first woman governor of Maine, and Kristi Noem became the first woman elected governor in South Dakota. By Wednesday morning the Arizona Senate race was still too close to call, but either Martha McSally or Kyrsten Sinema will be the first woman representing Arizona in the Senate.
The wave of women candidates running this year started shortly after the 2016 presidential election, when hundreds of women began looking into running for office, a trend that kept escalating over the past two years. According to a memo obtained by BuzzFeed News, in the first month after Trump was elected president, 1,000 women contacted EMILY's List and expressed interest in running. As of the week before the midterms, 42,000 women had reached out to the organization for its help either this year or in future elections.
"The obvious point that everybody makes is that they were reacting to the election of Donald Trump," Schriock told BuzzFeed News, "and it was that, but it was also sort of the shock of his election and the shock of Hillary Clinton's loss. If he had beat somebody else I think it would have been a little different."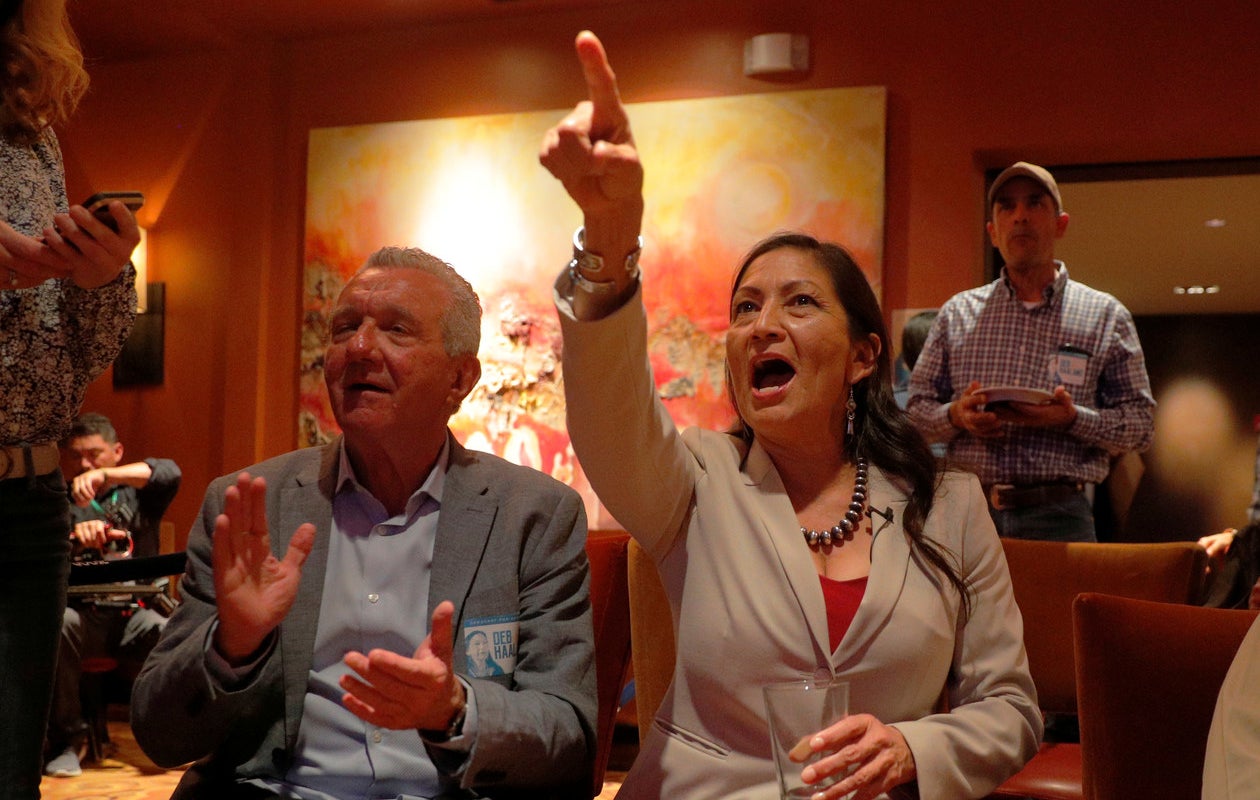 The assumption that there was going to be a woman president and the subsequent blow when that did not happen, combined with the release of the Hollywood Access tape — in which Trump could be heard on a hot mic bragging about sexually assaulting women — riled women into becoming more involved in politics than they ever had been before, according to Schriock and the heads of three other organizations that help women run for office.
The first visible manifestation of this energy was the massive Women's Marches that took place across the country the day after Trump's inauguration. With an estimated 4 million people attending nationwide, it was likely the largest single-day protest in US history.
Erin Vilardi, founder and CEO of the nonpartisan, women-only candidacy training organization VoteRunLead, told BuzzFeed News that the main motivator for nearly all of the women they trained this cycle was the 2016 election.
"The throughline motivator is: This is not democracy," Vilardi said. "The first woman president getting more votes than the other guy and still losing, Russian interference, looking at their local government and thinking, I could do better than that: That's what got them involved."

"[Women are] looking at their local government and thinking, I could do better than that."
But Trump's election was not the only event to galvanize women candidates, advocates said. It got their attention, but what pushed them into running was what was happening in Congress, the #MeToo movement, the Trump administration's anti-abortion efforts, and the Republican attempts to repeal Obamacare.
"Our biggest increase in [candidacy] signups was after the Democrats saved the Affordable Care Act in the summer of 2017," Schriock told BuzzFeed News.
Democratic Sen. Kirsten Gillibrand had been traveling nonstop this cycle, campaigning on behalf of women candidates. She told BuzzFeed News over the phone from the campaign trail that the ones she had been talking to feel very motivated by Trump's actions over the past two years. Gillibrand and several of the organizers and PAC leaders who spoke to BuzzFeed News named health care as the most common and highest-priority reason women were running for Congress.
"We have a president who doesn't believe in women's reproductive freedom, we have [Supreme Court Justice Brett] Kavanaugh, who certainly wants to undermine women's reproductive freedom, we have people in Congress, particularly in the Republican House, who do not believe health care should be a right and [it should be] only for the privileged few who can afford it," she said. "That's why they're running. They're working really hard to make a difference."
In a study conducted recently by the progressive organization Run For Something, which helps people under the age of 40 run for local office and down-ballot positions, the group found that only about 9% of its candidates named Trump as one of their reasons for signing up to run, while most cited health care, jobs, and local issues.
"Trump pushed people into this, sure, but people aren't running to stop him," Run For Something's executive director Amanda Litman told BuzzFeed News. "They're running for health care, to prevent the opioid crisis, to fix roads and school systems."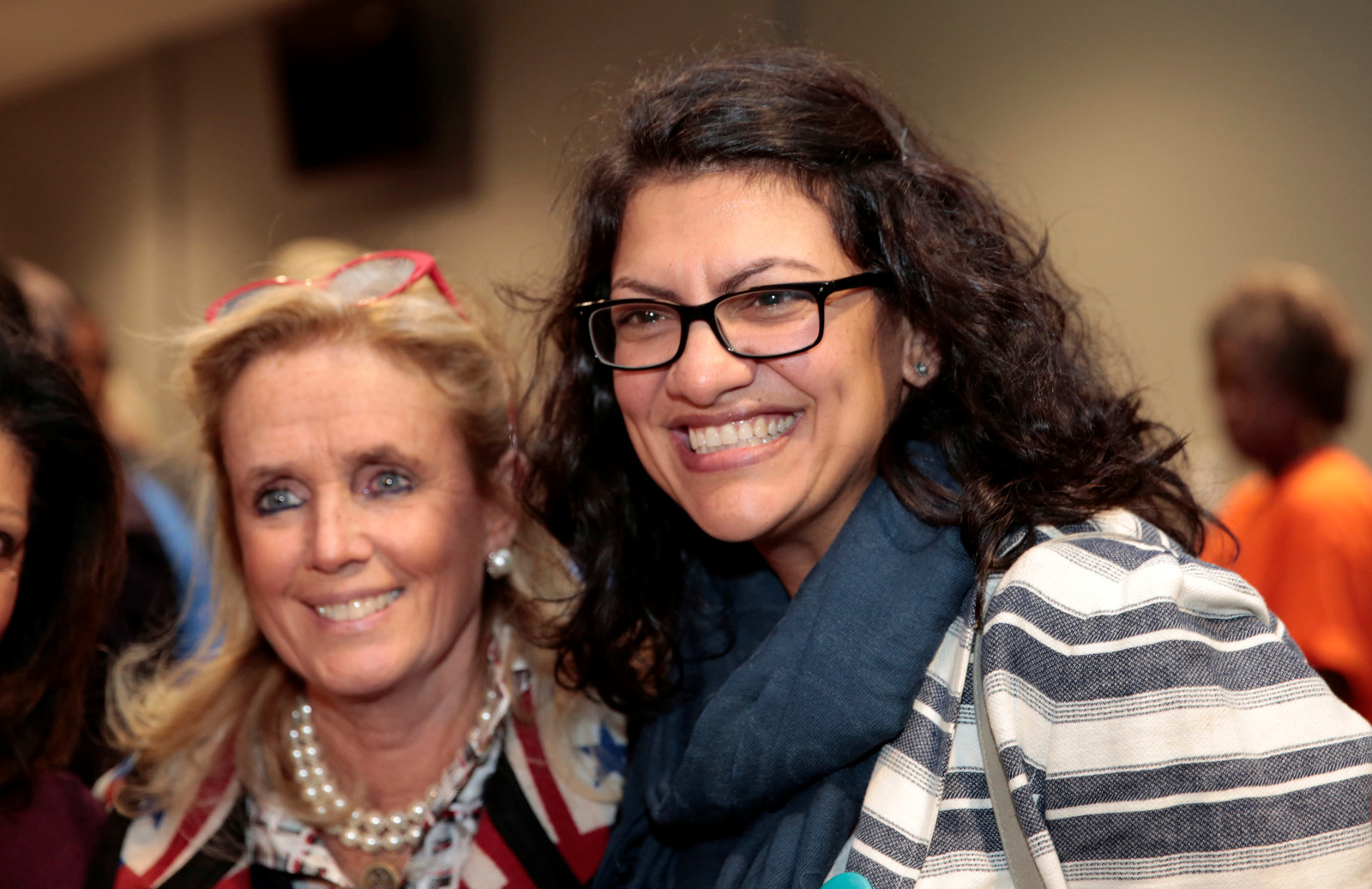 Litman added that women and people of color were much more likely to cite representation in government as their reason for running, while "white men were more likely to discuss establishment or general political dynamics."
This election has also been historic in terms of women's participation in politics in general, even beyond the candidates themselves. Women donors gave more money to female Democratic candidates than to Democratic or Republican male candidates for the first time ever, the money-watching website OpenSecrets found, at a total of about $159 million. EMILY's List raised and spent $110 million on the midterms, breaking its own record of $90 million when Hillary Clinton was its candidate in the 2016 presidential election.
"My take on the election is women already won," VoteRunLead's Vilardi said even before Tuesday's election. "Activism has been built, there's a rise in women making donations, a rise in women running campaigning. We used to have a shortage of women campaign managers, but not anymore."
Who are these women?
There hasn't just been a massive surge in women candidates this year, but also a massive increase in the diversity of women candidates; in race, sexual orientation, geography, age, and professional experience.
Davids of Kansas — who joins Haaland of New Mexico in being the first Native American women in Congress — will also be the first LGBT woman of color in Congress. Omar, representing Minnesota, will be one of the first two Muslim American women in Congress alongside Tlaib from Michigan. Young Kim, a Republican who won a House seat in California, is the first Korean American woman elected to Congress. Angie Craig became the first LGBT lawmaker from Minnesota and will be the first openly lesbian mother in Congress.
Several of the Democratic women who won tonight will be the first black women in their positions, including House candidates Jahana Hayes of Connecticut and Ayanna Pressley of Massachusetts. In total, more than 40 black women ran for Congress in the general election this year.
"That really seems like a tremendous number," Kimberly Peeler-Allen, cofounder of Higher Heights, a group that helps black women run for office, told BuzzFeed News. "There is a real sense among the candidates of 'We deserve to be here, and we need to be here, and we need to take our seat at the highest level table we can, because the stakes are too high for us not to.'"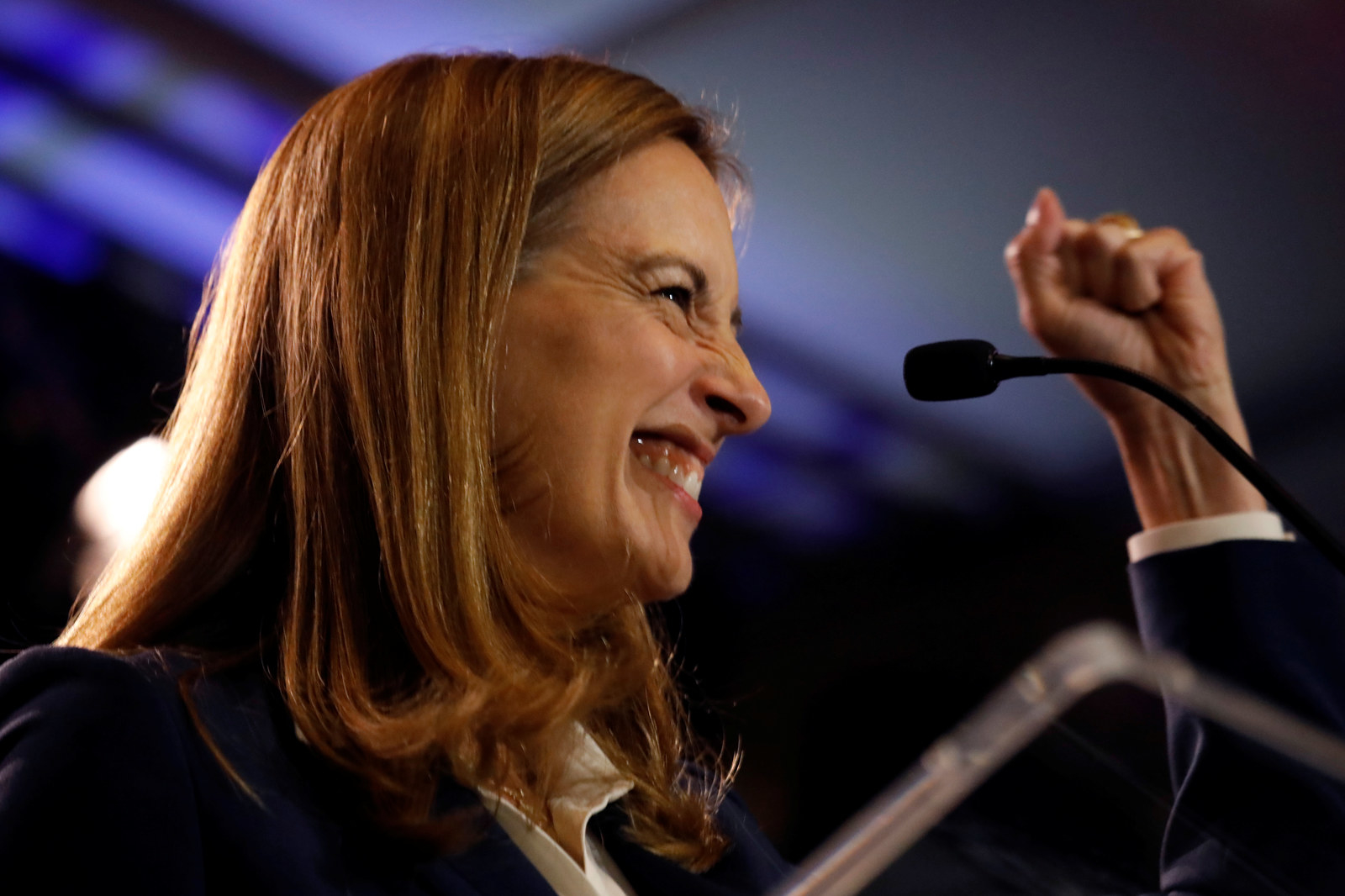 The women who won this year are also younger than ever before, and many of them were first-time candidates. Alexandria Ocasio-Cortez, 29, who was elected House representative for Queens, New York, Tuesday, will be the youngest woman ever in the House and Abby Finkenauer, also 29, will join her in being the first women in their twenties elected to Congress. Since its inception, there have been about 130 men in their twenties elected to Congress. And at 77 years old, Donna Shalala, a Democrat who won in Florida, will be the oldest woman to ever become a freshman in Congress.

"These women are running with no fucks to give."
All of the leaders of women-oriented PACs who spoke to BuzzFeed News remarked on how different the many women candidates who ran this year are, not just in their race and age but in their background and attitudes — in their rejection of the idea of the "woman politician in the pantsuit," as Run For Something's Litman put it.
"These women are running with no fucks to give," she said. "They don't care if they're not welcome by the party, if they were told they couldn't win or it wasn't their time. They don't care. They're running with sleeves of tattoos, they're running with their kids alongside them, they spend their day of campaigning in jeans and a T-shirt instead of a pantsuit. They're doing whatever the fuck they want and it's beautiful."
What these women were largely not, however, was Republicans. Of the 166 non-incumbent women who ran for the House this cycle, only 35 were Republicans. In the Senate, however, more Republican than Democratic women ran as non-incumbents: four Democrats and six Republicans. On Tuesday night, at least 16 Republican women and at least 87 Democratic women won their races.
"The number of Republican women running has pretty much stayed the same," while the number of Democratic women candidates increased, Vilardi said of the women her group helps train. "We used to train about 1 in 5 non-Democrats; now it's, like, 1 in 8."
It is not as if there are not Republican women, Vilardi said: "There are Republican women out there who are ready to work for women's issues," like pay equity and comprehensive sex education, "but there is no place for them right now in the Republican Party… They have no role models within the party, they have no one to look up to."
"But this needs to change. The pink wave needs some red," she added. "[Women] need two parties; we need multiple perspectives."
What does this mean for the future?
All the PAC organizers who spoke with BuzzFeed News said the diversity of women candidates is part of what will continue this trend beyond a single year or wave, and change the way women participate in politics — both in and out of office — forever.
"They're gonna come in[to Congress] and change how the institution works," EMILY's List president Schriock said. "And that doesn't mean it will be instantly changed, but the pressure to change the culture is getting bigger and bigger in every aspect of our lives. This group of women are gonna come in and join the women already in the House, who are so excited about seeing more women come in, and that's going to really change how things get done."
"New people are now interested in politics who weren't before, and I think particularly for women they see what it means when those in charge don't share their values," Gillibrand said.
"This is going to make the Democratic party even stronger," Schriock told BuzzFeed News. "There are more women than men in the electorate, so being the party of great women leaders who are energizing women voters is a pretty great electoral strategy that tonight was proven successful."
CORRECTION
Alexandria Ocasio-Cortez is the youngest woman ever elected to Congress. A photo caption in an earlier version of this story said she was the youngest person ever elected to the House.