Kansas police officer Rodney Lee Wilson was fired Friday after threatening to kill a black woman's five-year-old daughter on Facebook.
"We'll see how much her life matters soon," Wilson wrote below LaNaydra Williams' picture of her daughter India Thursday night, making reference to the Black Lives Matter movement. The picture had been posted two years before.
"Better be careful leaving your info open where she can be found :)," the public comment continued. "Better hold her close tonight, it'll be the last time."
Wilson had been an officer with Overland Park Police Department in Kansas for more than a year. He had no apparent connection to Williams, who lives in Texas.
The Overland Park Police Department initially thought Wilson's Facebook may have been hacked, but after conducting an investigation, discovered Wilson was in fact responsible for the post, the Department said in a statement on Friday.
After the investigation police determined, "it was obvious that our officer did not meet the standards of professionalism for the Overland Park Police Department. Overland Park has terminated the officer, effective immediately," the statement read.

"I want to assure our community, and those outside our community, that our highest priority is the safety and welfare of the citizens of Overland Park," Police Chief Frances Donchez Jr. is quoted in the statement.

"I want to publicly apologize to those affected by our officer's personal actions," Donchez continued. "His actions do not represent the Overland Park Police Department in anyway and no one should be subjected to any type of discrimination or this kind of behavior."

The statement said a criminal investigation was opened into Wilson as a result of the information discovered during the investigation.


In an emotional interview with a Kansas Fox News affiliate, Williams said Wilson's comments kept her up all night Thursday out of fear Wilson would follow up on his threats.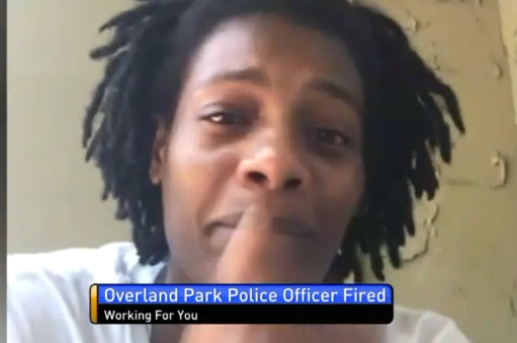 "It's not okay. Not my child, she's all I have. India is my heart, that's not right," Williams said between tears over Skype. "We're already on edge, so why would you do that?"

Williams said she had no idea how Wilson found her on Facebook or why he targeted her. She added that she did not think he was hacked because he quickly deleted the comment without messaging her to apologize or explain.

Williams' profile was a picture of a person dressed in black holding a knife to a police officer's throat at the time Wilson found her. Her page has since been deleted by Facebook, she said.

Williams added that despite the fact he was punished for his actions, and that he lives far away from her and her daughter, she still fears that he will act on his threats.
"Let's say he does lose his job. How do I know he won't come and retaliate? How do I know that? I don't," she said before police announced his termination.
Donchez personally called Williams to apologize to her and her daughter, India.
"She doesn't know anything about this messed up world," Williams said about her daughter, saying she didn't know how to explain it to her.
"Maybe I'll just say he was one bad cop. Not all of them are like that. I don't think she'll think they're all like that either way. She loves police," Williams said.