The Veterans of Foreign Wars (VFW) organization is the condemned Donald Trump for his statements criticizing the family of a Muslim-American Army captain who died in Iraq in 2004.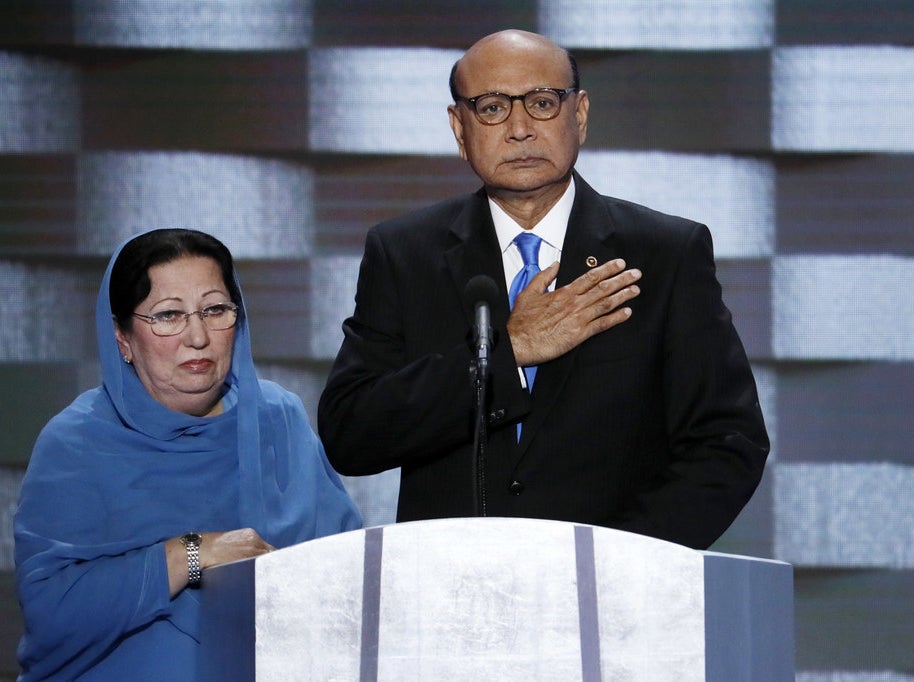 Khizr Khan, father of Humayun Khan, gave a moving speech at the Democratic National Convention last week, where he said Trump had "sacrificed nothing and no one."
Trump responded to Khan's speech on ABC News, asking why Ghazala Khan, who stood silently by her husband during his speech, "was standing there, she had nothing to say. Maybe she wasn't allowed to have anything to say, you tell me."
Trump has said that Khan had "no right" to criticize him. Trump's senior communications director, Jason Miller, has repeatedly said that the discussion is about "radical Islamic terrorism."

In a statement issued Monday, Brian Duffy, the national commander of the nearly 1.7 million member VFW, said that Trump was "out of bounds." He added, "Election year or not, the VFW will not tolerate anyone berating a Gold Star family member for exercising his or her right of speech or expression."
Duffy went on to say that there are "certain sacrosanct subjects that no amount of wordsmithing can repair once crossed," he said. "Giving one's life to nation is the greatest sacrifice, followed closely by all Gold Star families"— meaning, families where a close relative was killed in battle — "who have a right to make their voices heard."
Meanwhile, Vote Vets, a politically progressive action fund, released a letter to Trump Monday signed by 17 Gold Star family members, demanding an apology to Mr. and Mrs. Khan.

"Ours is a sacrifice you will never know, ours is a sacrifice we would never want you to know," the letter began. Here it is in full:
Your recent comments regarding the Khan family were repugnant, and personally offensive to us. When you question a mother's pain, by implying that her religion, not her grief, kept her from addressing an arena of people, you are attacking us. When you say your job building buildings is akin to our sacrifice, you are attacking our sacrifice.

You are not just attacking us, you are cheapening the sacrifice made by those we lost.

You are minimizing the risk our service members make for all of us.

This goes beyond politics. It is about a sense of decency. That kind decency you mock as "political correctness."

We feel we must speak out and demand you apologize to the Khans, to all Gold Star families, and to all Americans for your offensive, and frankly anti-American, comments.

We hope you will hear us.