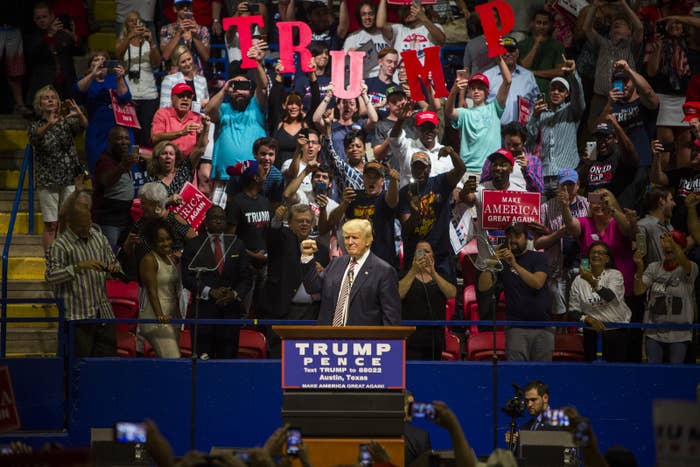 AUSTIN — At a massive campaign rally Tuesday in Austin, Texas, several supporters of Donald Trump told BuzzFeed News that they understood why the candidate might pivot away from his plan to deport millions of undocumented immigrants in the US.
"It's just realistic," said Tammie Raulston, 47 — who was sporting a sparkly red, white, and blue cowboy hat at the rally. She said that she was a "big fan" of Trump's immigration policy because, "as a Texan, I'm constantly up to my eyeballs in illegals," but she understood that deporting every immigrant in the country illegally was just not possible.
After a meeting with his newly appointed Hispanic advisory council Saturday, three of the council members told BuzzFeed News Trump was looking into "more humane" immigration policies, at least in regards to mass deportation.
Trump and his campaign have since denied anything about his immigration platform has changed, but in his speech on Tuesday, the Republican took a different approach to deportation — focusing more on undocumented immigrants charged with crimes.
And Trump supporters did not seem to care.
"Look, I've been in trouble with the police, and I was taken away from my family and put in jail. And I'm a citizen!" said Jamie Botello, 40, a self-professed "Trump convert" of Latino descent who was at the rally with his wife and 3-year-old daughter.
"All these illegal immigrants are committing crimes and not being held accountable," he added over the roar of the crowd as Trump took the stage. "That's much more important than anything else."
Many supporters said they preferred the term "evolution" to change in regards to Trump's policy. One young man, who declined to give his name, said any "evolution" we might be viewing in Trump's immigration platform is not "flip-flopping, as the liberal media calls it," but what naturally happens as a non-politician becomes more familiar with government.
"It makes perfect sense; if he weren't evolving I'd be worried," Claudio Bertamini, 47, said. "He's still talking about all the right stuff."
One supporter who spoke to BuzzFeed News said she believed that Trump's new policy was not only "realistic," but that she now approved of his plan even more.
"It doesn't bother me that they're here if they don't commit crimes," Rose Wells, 62, said. "Let's make them legal! That should've been the plan from the beginning."
Samantha Zavala, 17, who attended the rally with her 1-year-old baby daughter, said she was disappointed Trump had changed his stance on immigration.
Zavala said she will not be old enough to vote by the election, but that she plans on persuading her family to.
"If you came here in the wrong, you should go. I liked his original plan better," she said, hoisting her child up on her hip. "But, you know, criminals are definitely the priority to get out, so it makes sense."