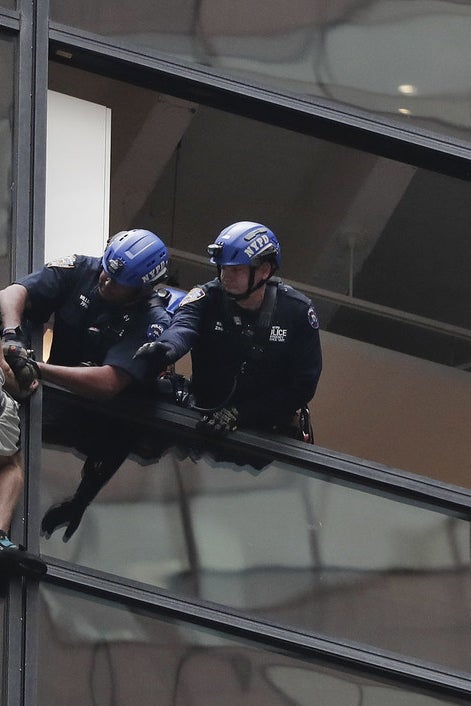 Rogata spent more than three hours using suction cups to climb Trump Tower in Manhattan — the GOP nominee's primary residence — before he was pulled into the building and arrested by police Aug. 10.
Hundreds of onlookers gathered around the building and millions more watched online and on television. Rogata told police he had practiced climbing only once before.
On Wednesday, Rogata attended his arraignment via live video from Bellevue Hospital, where he has remained while receiving unspecified psychiatric treatment, his defense attorney, Sarah Collins, told the court.
In a YouTube video titled "Message to Mr. Trump (why I climbed your tower)" Rogata called himself an "independent researcher" seeking a private audience with the Republican presidential nominee to "discuss an important matter."
"I guarantee that it is in your interest to honor this request," Rogata continued, hood up, facing to the side of the camera. "Believe me, if my purpose was not significant I would not risk my life pursuing it."
After he was arrested, he told police he had already given the information to a member of the Secret Service, but still wanted to speak with Trump directly.
Rogata was charged with three misdemeanors: base jumping, trespassing, and criminal trespassing. The prosecutor also mentioned that Rogata endangered those below him by dropping items, among them a laptop. He has no criminal record and his attorney alluded to a history of mental health problems, though she did not go into details.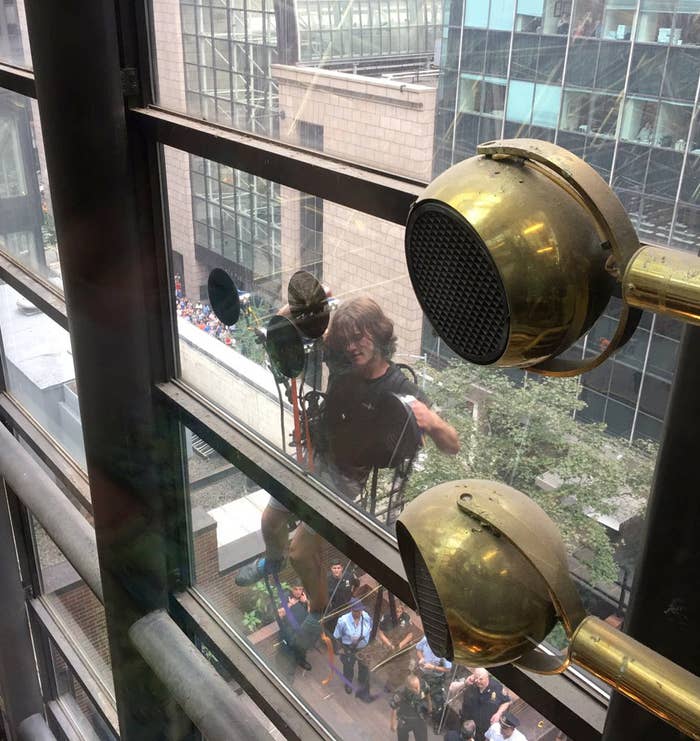 About two weeks before climbing the tower, Rogata ordered the suction cups on Amazon and practiced on a building in Virginia before driving to New York, according to authorities.
On the day of the climb, he waited outside and watched Trump leave his home and get into a car, Collins said. Then, he went to the building's terrace on the fifth floor. He intended to make it to the roof of the 58-floor building, where he "knew he would be arrested" he later told investigators, but was pulled in through windows with their panes removed once he got to the 21st floor.
Throughout his climb, emergency rescuers offered him a climbing rope, to which he responded, "I don't need [the rope], I'm going to see Trump."
Rogata is from Great Falls, Virginia. He has two brothers and one sister and his father has had a 30-year Navy career. He attended Langley High School and had some of the highest grades in his class before he dropped out and eventually got his GED, Collins said.
He lives with his parents and works at a plant nursery called Pots & Plants on the Pike.
His manager at the plant nursery, Nancy Christy, told BuzzFeed News that they would probably re-hire Rogata when he returns.
"All kids are a bit goofy at his age, but he never did anything abnormal," Christy said. "He's a soft-spoken, hard-working kid ... always bouncing in after a project is finished, looking for more work to do."
His father traveled to New York shortly after Rogata was arrested and has visited him at the hospital regularly. Both of his parents were present at the arraignment and though his relationship with them has been "affected" by his mental health history in the past, Collins said, they promised the court that they would take care of him and make sure he attended all his court dates.
At his arraignment, Rogata sat in blue hospital pajamas, his head hung, and his long hair falling over his face. He spoke rarely, but when he did, he appeared to have a slight speech impediment.
Rogata has a "fragile state of mental health" and "burgeoning" psychiatric issues, Collins said, adding that many disorders often begin to manifest themselves in people around the age of 19 or 20.
Collins also told the court that Rogata — who is due back in court in September — did not intend to harm anyone with his actions.
"At best, he was doing something profoundly stupid in the hopes of meeting someone he will never get to meet in his lifetime," Collins said.
Meanwhile, Trump was slated to appear at any moment to receive his first national security briefing.