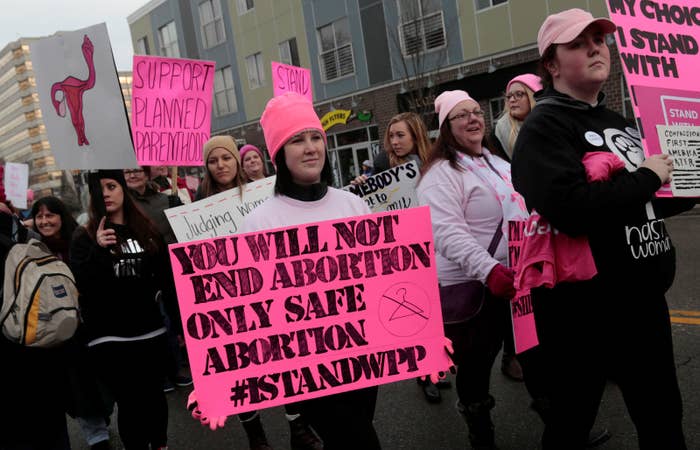 The Trump administration told Planned Parenthood officials they could keep their federal funding if they stopped providing abortion services, an informal proposal the women's health organization rejected.
"The White House proposal that Planned Parenthood stop providing abortion is the same demand opponents of women's health have been pushing for decades, as a part of their long-standing effort to end women's access to safe, legal abortion," Planned Parenthood President Cecile Richards said in a statement Monday. "We are glad that the White House understands that taking away the preventive care Planned Parenthood provides is deeply unpopular and would be a disaster for women's health care."
The New York Times reported Monday that White House officials engaged in private conversations with "people close to Planned Parenthood," and suggested more than once that the organization's funding could even be increased if they agreed to end abortion services.
President Trump did not directly confirm the conversations, but in a statement said there is "an opportunity for organizations to continue the important work they do in support of women's health, while not providing abortion services."
Republicans have long attempted to strip Planned Parenthood of the roughly $500 million in federal funding the organization receives each year. Under federal law, none of that money goes toward abortion services, but instead provides reimbursement for cheap or free health services for low-income women.
Now, with the GOP in control of both chambers of Congress and the executive branch, the prospect of Planned Parenthood losing its funding seems more likely than ever. Last week, a draft of a House bill repealing the Affordable Care Act and defunding Planned Parenthood was leaked to the media.
However, the move to defund remains unpopular among voters, with around 62% opposed cutting funding to Planned Parenthood, according to a recent Quinnipiac poll.
Should the organization be defunded, Planned Parenthood has warned that the majority of its 2.5 million patients would not be able to receive the care they need at the price they can afford, and that some clinics could close. Many providers at the other federally funded women's health clinics that Trump, House Speaker Paul Ryan, and other GOP members of Congress say Planned Parenthood's money should be reallocated to have said they would not be able to absorb Planned Parenthood's low-income patients.
Trump himself even spoke favorably of the care Planned Parenthood provides during his campaign, while maintaining that he would support defunding it if it continued to provide abortions.
"Millions and millions of women — cervical cancer, breast cancer — are helped by Planned Parenthood," Trump said during a debate last February. "I would defund it because I'm pro-life, but millions of women are helped by Planned Parenthood."
On Monday, he maintained his stance.
"As I said throughout the campaign, I am pro-life and I am deeply committed to investing in women's health and plan to significantly increase federal funding in support of non-abortion services such as cancer screenings," Trump said in the statement. "Polling shows the majority of Americans oppose public funding for abortion, even those who identify as pro-choice. There is an opportunity for organizations to continue the important work they do in support of women's health, while not providing abortion services."
Democratic Sen. Kristen Gillibrand called the deal a "non-starter" and suggested that Trump's administration "knows it."
The New York senator said she, her colleagues, and Planned Parenthood's supporters will continue to oppose any effort to cut the organization's funding in Congress.
"The Trump administration needs to stop playing political games that would put access to the full range of safe reproductive care at risk," she said, "or they will get the fight of their lives."