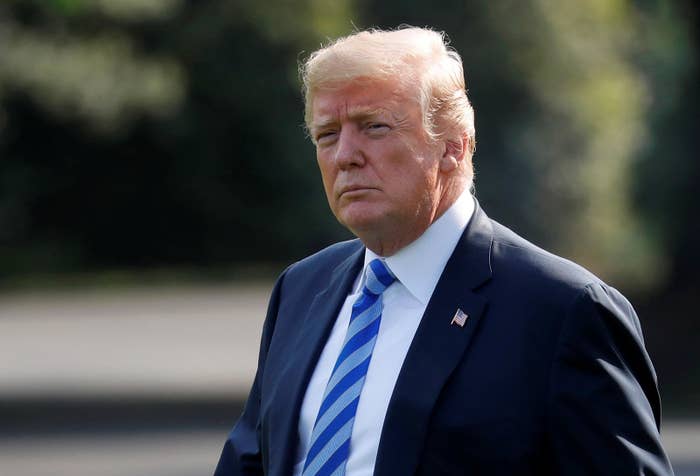 The Trump administration took another step Tuesday to create new barriers for family planning organizations, including Planned Parenthood, to providing and discussing abortions.
The proposed rule takes aim primarily at Planned Parenthood — which serves over 40% of the patients that receive care through the federal family planning funding grant program called Title X — but is likely to affect the majority of organizations currently receiving family planning funding.
The new regulation from the Department of Health and Human Services prevents federal family planning money from going to clinics and organizations that offer non-abortion services — such as contraception services, gynecological exams, and cancer screenings — in the same facilities where they perform abortions. (Federal law already prevents any federal funding from paying directly for the abortions themselves.)
The rule essentially requires those organizations to split in two if they want to keep drawing federal family planning dollars. Clinics and organizations that receive Title X family planning dollars would have to create physical and financial barriers between taxpayer-funded family planning activities and any part of the organization that deals with abortion, which will now have to be solely privately funded, according to background information from the White House.
"Any grantees that perform, support, or refer for abortion have a choice — disentangle themselves from abortion or fund their activities with privately raised funds," according to the White House.
Planned Parenthood said in a phone call with reporters Friday that the rule, which has not been finalized, amounted to "eliminating Planned Parenthood from Title X," the largest participant in the grant program, which would affect primarily "low-income and underserved communities."
The rule would not remove all funding from Planned Parenthood, however, as they would remain eligible for Medicaid reimbursements for nonabortion services. But it would hit the organization, and others like it, hard. Senior policy analyst for Planned Parenthood Federation of America Kashif Syed told BuzzFeed News in early May that such a rule is very likely to cause some providers to close or reduce their hours significantly.
The move comes following a massive lobbying and media campaign from conservative anti-abortion groups like Susan B. Anthony List, the Family Research Council, and March for Life, as well as letters signed by 153 Republican members of Congress demanding the Trump administration implement this policy.
But the rule doesn't go as far as many of those groups wanted. It does not include a provision, referred to as a "domestic gag rule" by opponents, that would prevent organizations receiving funding from discussing abortion as an option for patients, or referring patients to other clinics to receive abortions. It does, however, do away with a Clinton-era policy that requires all Title X grant recipients to refer for abortions.
Anti-abortion groups have been pushing the Trump administration to implement a rule like this since the transition, even before President Donald Trump took office, Vice President of March for Life Tom McClusky told BuzzFeed News. Republicans have been pushing to fully defund Planned Parenthood for years, taking numerous votes to do so in the House when former president Obama was in office.
Starting soon after the election, anti-abortion interest groups like March for Life met with members of the White House to discuss the issue. By late April 2018, Axios reported that the cause was taken up by Kellyanne Conway and White House political director Bill Stepien, who met with President Trump to persuade him that issuing the rule was politically advisable.
"We thank President Trump for taking action to disentangle taxpayers from the abortion business," SBA List president Marjorie Dannenfelser told BuzzFeed News over email. "President Trump has shown decisive leadership, delivering on a key promise to pro-life voters who worked so hard to elect him. This is a major victory which will energize the grassroots as we head into the critical midterm elections."
The rule "would make it impossible for patients who rely on Title X to get birth control or preventive care from reproductive health care providers like Planned Parenthood. … This is an attempt to take away women's basic rights. Period," Planned Parenthood vice president Dawn Laguens said Friday. "A president who doesn't know the difference between HIV and HPV should not be interfering in the doctor-patient relationship."
HHS published the proposed rule on Tuesday, allowing 60 days for members the public to submit comments before it is finalized. Once that happens, organizations that accept Title X funds will have 60 days to financially separate non-abortion and abortion services, while they have a year to create a physical separation, according to the proposed rule.

The proposed rule is similar to one first issued by former president Ronald Reagan in 1988, which blocked funding from women's health organizations receiving federal funding from discussing abortion with patients or referring them to clinics that provided abortion. Reagan's rule was quickly caught up in litigation before it could go into effect and remained under injunction for years.
It is likely that groups like Planned Parenthood and Center for Reproductive Rights will quickly file lawsuits to block Trump's version of this rule from being implemented as well, however, the Trump administration has legal precedent on its side. In 1991, the US Supreme Court held that Reagan's rule was a "permissible construction of Title X," and should be allowed to be implemented. Before it could go into effect, however, former president Bill Clinton repealed it.
Earlier this month, Planned Parenthood and the ACLU filed two separate lawsuits against the Trump administration related to Title X. The suits accuse the Department of Health and Human Services of changing funding requirements to favor anti-abortion and pro-abstinence organizations over contraception-oriented health organizations.
UPDATE
This story was updated after the Department of Health and Human Services officially released the text of the proposed rule on Tuesday.