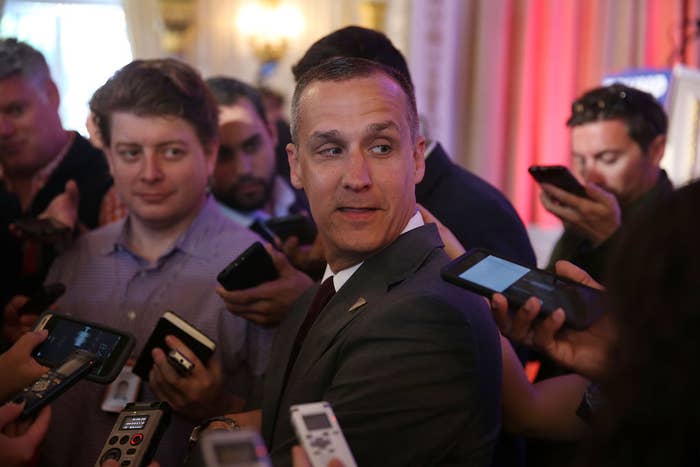 A Florida state attorney announced Thursday he will not prosecute Donald Trump's campaign manager, Corey Lewandowski, for grabbing a reporter, saying there was insufficient evidence to support a conviction.
Lewandowski was charged in March with one count of misdemeanor simple battery after then-Breitbart News reporter Michelle Fields filed a police report accusing him of forcefully grabbing her and nearly throwing her to the ground while she was trying to ask Trump a question at an event at his Florida resort.
Fields tweeted images of bruises on her arm she said she received from Lewandowski. A Washington Post reporter saw the incident and said Lewandowski was responsible.
"Although the facts support the allegation that Lewandowski did grab Miss Fields' arm against her will … there is sufficient evidence to presume his innocence," Palm Beach County State Attorney Dave Aronberg said.
Aronberg clarified that although Jupiter, Florida, police had found "probable cause" to charge Lewandowski, the state prosecutor did not have "enough evidence to obtain a conviction."
"It is unethical for us to file cases when we believe there is not a good-faith basis to proceed," he added.
Jupiter police released a video from surveillance cameras showing Lewandowski reaching for and grabbing Fields.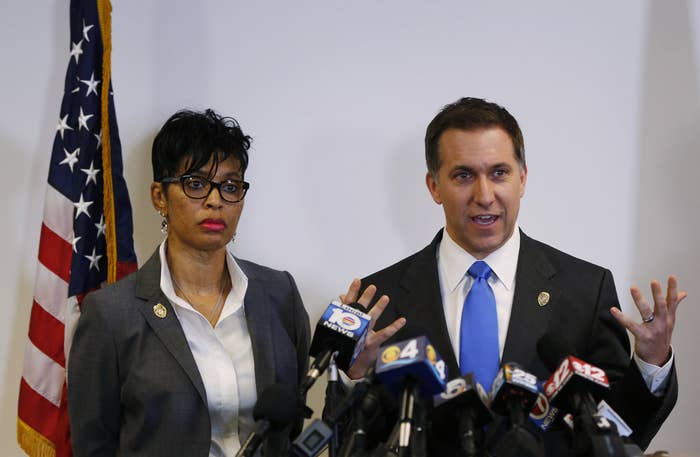 Aronberg on Thursday summarized a "close out" memorandum detailing analysis of the evidence and their conclusions on the case.
The state attorney said a full video recording of the incident shows Secret Service agents clearing a pathway through the crowd ahead of Trump and forming a circle around him. Fields was directed to the back of the room and initially complied before "returning to the pathway" to ask Trump questions, Aronberg said.
Based on the video and the photo from the Washington Post reporter, "Ms. Fields brushed or touched Mr. Trump's arm," He said. "[Trump] then appears to react to Ms. Fields by pulling his arm back and away from her at which time Mr. Lewandowski reached forward and grabbed Ms. Fields' arm, pulling her away from Mr. Trump."
Though there is "no reasonable doubt" that Lewandowski pulled Fields back, Aronberg continued, based on an affidavit submitted to the prosecutor's office by a former FBI agent, Lewandowski was likely participating in a "secret service bubble" around the presidential candidate to protect him.
"It is not uncommon for a candidate's inner circle staff members known to the agents to assist in clearing a safe pathway," Aronberg said. "It should be noted, however, that one agent was positioned directly behind Miss Fields and appeared to show no concern over her actions."
After the incident, he said, Lewandowski publicly denied ever having touched Fields, a statement which Aronberg said "might undermine Lewandowski's potential defense" — though he said it was not enough to press charges.
"It's our belief that what we saw in the video, that any contact was incidental and that is not contemplated under the simple battery statute which requires an intentional and unwanted touching," Aronberg said.
The day before the official announcement was made, Fields spoke about the leaked reports on Twitter. She said prosecutors approached her about a deal, and that she had been open to the idea, but that Lewandowski had not yet followed through.
Aronberg denied that there was a deal in which they would drop charges in exchange for an apology.
"The apology in a case like this obviously would be encouraged," Aronberg said, adding that their decision "had nothing to do with the existence or non-existence of an apology."
Aronberg said he has seen a draft of an apology Lewandowski's lawyers had written to Fields but was not sure if it had been delivered.
In response to a questions from reporters, Aronberg said they have spoken to both Fields and Trump during the course of the case. Trump "gave his version of the facts" over the phone a few weeks prior to the decision, and said he didn't think his aide should be prosecuted.
Lewandowski's attorneys did not immediately respond to a BuzzFeed News request for comment, but the Trump campaign issued a statement saying he was "gratified" by the decision.
Corey Lewandowski is gratified by the decision to drop the misdemeanor charge and appreciates the thoughtful consideration and professionalism by the Palm Beach State Attorney and his staff who carefully reviewed this matter, as well as Mr. Trump's loyalty and the support of his colleagues and family during this time. The matter is now concluded.
In Jupiter police reports obtained by BuzzFeed News, investigator Marc Bujnowski said that according to his analysis of the video Lewandowski reached "between Donalf Tump and another unidentified male ... and grab[bed] Fields' left arm, as if to physically separate her from Mr. Trump."
Later Bujnowski photographed Fields' arm and reported "pronounced discoloring/bruising" of Fields' arm that "measured approximately three inches in length." They monitored the bruising as it grew over time.
A witness named Michael Spellman, the president of a Florida glass company and self-proclaimed member of Trump Nation, was present at the Trump event and nearby the incident. He gave numerous reports to the police, repeatedly calling Fields' fall "fraudulent."
In a video of his sworn statement taken on an officer's body camera, he can be heard telling police that he saw Fields "rush Trump," before, from his perspective, she made "a dramatic spin and turn" that looked "like a basketball player that was faking a foul," he told the police.
"I studied her after [her fall] because at first I thought she was drunk," he told police, though he eventually determined she was not.
He said he saw Fields "jam her phone at Mr. Trump, toward his neck area, holding it like a frying pan," the witness report states, and that he didn't see anyone touch her, though his wife saw someone touch her elbow. The police report noted that the video showed Fields was holding her phone near Trump's waist.
Spellman also commented on Fields' appearance, saying that he noticed she was wearing jeans and was wondering how she got into the Trump rally wearing jeans.
"She looked pretty good in them by the way," he added, laughing.
Spellman did not immediately return BuzzFeed News' request for comment.
Watch his full statement below:
Fields expressed disappointment with the decision Thursday, Aronberg said, as she wanted the case to go forward.
Aronberg, a registered Democrat who went to Harvard law school with Ted Cruz and knows Trump personally, insisted that neither his decision to consider the case nor to drop the charges had anything to with his "very public" political affiliations.
Aronberg was expected to announce he would not pursue prosecution after sources leaked news of the decision to Politico.
In interviews conducted by BuzzFeed News with more than half a dozen sources who have worked with Lewandowski, he was accused of physical aggression and making sexually suggestive comments.
He was accused of pushing a CNN reporter who tried to ask the candidate a question; physically confronting an aide for a rival campaign in a post-debate spin room; publicly shouting threats over the phone at a restaurant; making sexual comments about female journalists; and calling up women in the campaign press corps late at night to make unwanted romantic advances.
Lewandowski has denied all accusations.