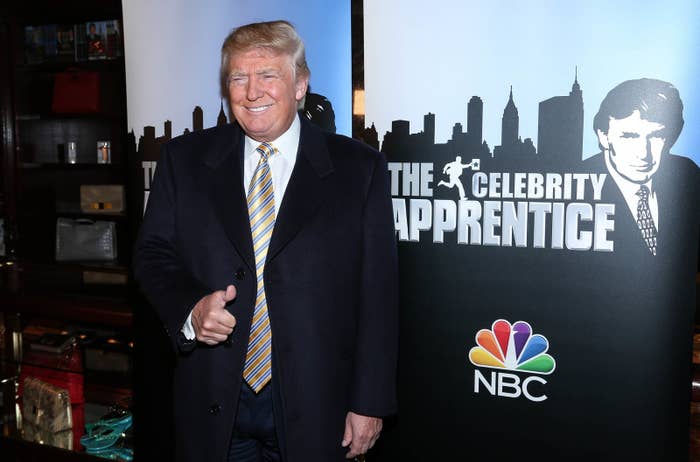 A sound engineer who attached Donald Trump's microphone on The Apprentice told BuzzFeed News that Trump repeatedly referred to him as a "fucking monkey" and regularly sexually harassed the women on set — including pointing out their butts.
The engineer, who is white (and asked to remain anonymous out of fear of retribution), was a sound mixer on NBC's The Apprentice for two seasons in 2004 and 2005. Sometimes it was the engineer's job to mic up Trump, which involved intimate physical contact, including threading the wire up Trump's shirt and around his collar.
"Micing him was honestly the most abusive, humiliating experience of my 15 years as a sound engineer," the engineer told BuzzFeed News. "He treated me like I wasn't a human being."
The engineer said the first time he was assigned to put a mic on Trump, the television personality refused to shake his hand, instead turning to one of his many assistants and saying, "'Whoa, whoa, whoa, who's this fucking monkey?'" the engineer said, adding that the comment was not racially charged.
He said that throughout their interactions, Trump refused to address him directly, instead aiming all of his comments about the engineer to his assistants.
"'I'm not gonna let this fucking monkey touch me unless he washes his hands," Trump said, according to the engineer. Trump then made one of his assistants escort the engineer to the bathroom and watch him wash his hands, before walking him back and telling Trump he washed up.
"Trump just kept calling me a 'fucking monkey' over and over," the engineer said. "I've mic'd everyone from Ben Affleck to Renée Zellweger, and never, ever in my career have I run into something like that."
The engineer said everyone on set was treated badly by Trump. He spoke of Trump pointing out a female camera operator's butt in front of everyone and saying other misogynistic things.
"Everyone was walking on eggshells," the engineer said.
He eventually quit The Apprentice because "no amount of money was worth that toxic environment."