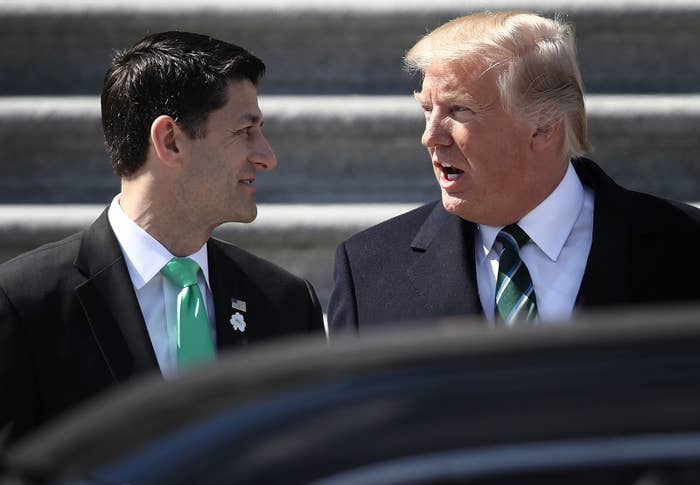 President Trump may have initially blamed Democrats for Friday's failure of the bill that would have repealed and replaced the Affordable Care Act, but it took only two days for him to start blaming Republicans, too.
"Democrats are smiling in D.C. that the Freedom Caucus, with the help of Club For Growth and Heritage, have saved Planned Parenthood & [Obamacare]!" Trump tweeted Sunday morning.
This tweet, from his personal account instead of the official @POTUS handle, came a day after he told his followers to watch his longtime friend and Fox News host Jeanine Pirro's segment that night.
In it, Pirro demanded Speaker of the House Paul Ryan's resignation and said emphatically that Trump was not to blame for the bill's failure. She added that she had not spoken with Trump before making these proclamations.
White House Chief of Staff Reince Preibus said on Fox News Sunday morning that the tweet about Pirro's show and her message were a coincidence, and that the White House didn't orchestrate her attack on Ryan.
On Friday, Trump blamed Democrats for the bill's failure, and expressed magnanimity toward Republicans, who control the House and the Senate. "I want to thank the Republican Party," Trump said in a speech then. "I want to thank Paul Ryan. He worked very, very hard, I will tell you that. He worked very, very hard."
Trump's Sunday tweet did not mention Ryan, and his spokesperson AshLee Strong told BuzzFeed News that Trump and Ryan had talked for an hour Saturday, and their relationship was "stronger than ever."
"The two spoke again today and the president was clear his tweet had nothing to do with the speaker," Strong added. "They are both eager to get back to work on the agenda."
Trump instead turned on the Freedom Caucus, who he had also taken aim at on Twitter Friday, prior to the bill's failure.
"The irony is that the Freedom Caucus, which is very pro-life and against Planned Parenthood, allows P.P. to continue if they stop this plan!" the President wrote about the group of conservative House Republicans.
The 30 to 40 Republican members of the Freedom Caucus wanted a complete repeal of Obamacare and therefore many of them refused to vote for Ryan's plan. Conservative action groups, such as the Heritage Foundation and the Club for Growth lobbied against the bill for the same reason, causing Ryan to come up around 20 votes short to pass the bill.
In the opening of her segment Pirro, a former prosecutor, blamed Ryan for the bill's failure with full force.
She kicked off the intro by firmly demanding his resignation, and explaining exactly why she wanted it.
"This bill didn't just fail. It failed when Republicans had the House, the Senate, the White House and the timing," Pirro said. "It failed within the first 70 days of Donald Trump's administration, a president who made replacement of Obamacare the hallmark of his campaign."
"Speaker Ryan, you come in with all your swagger and experience and you sell 'em a bill of goods," She continued, "which ends up a complete and total failure, and you allow our president in his first 100 days to come out of the box like that, based on what?" Pirro said.
In the middle of her speech, delivered with theatrical annunciation, Pirro paused to assure viewers that she had not spoken to Trump, but insisted the failure was "Not on President Trump, no one expected a business man to completely understand to nuances, the complicated ins and outs of Washington."