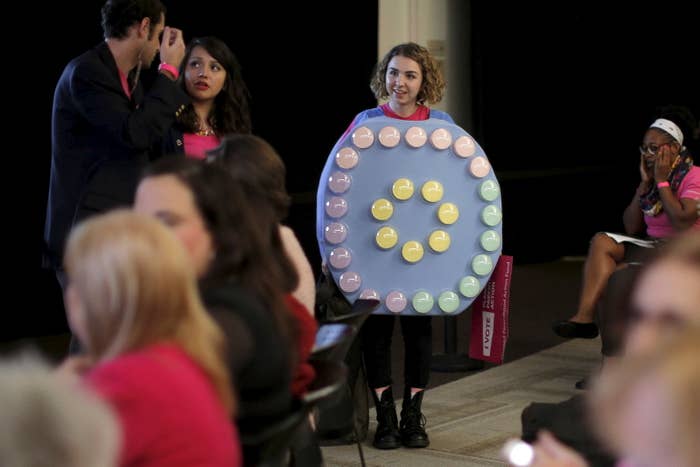 The department of Health and Human Services is instating two new rules rolling back Obamacare's mandated birth control coverage on Friday morning, allowing employers with a "moral" or "religious" objection to stop covering contraception for their employees.
The rules will go into effect immediately.
The new rules, one for religious and the other for moral objections, implemented by the US Department of Health and Human Services, would greatly broaden the ability of employers, universities, religious institutions, and even health insurers themselves, to opt-out of covering birth control.
Senior HHS officials, who asked not to be named, said that they estimated that "no more" 120,000 women would lose contraception coverage under this rule. Officials, in a conference call with reporters Friday, maintained that "99.9%" of women would maintain contraception coverage under the new rules and not take advantage of the new exceptions.
"We believe that the folks who are most impacted are very circumscribed to the universe of people who sued" over Obamacare's contraception mandate — that's about 200 employers in 50 lawsuits, the HHS official said. "In comparison to the US population, that's very small."
"The rules apply relief to those who seek it, it doesn't provide relief for those who don't seek it," one HHS official said.
In the rule regarding religious exceptions to the mandate, HHS argues that "contraception could, among some populations, affect risky sexual behavior in a negative way." The rule gives the example of teenagers and young adults who rely on their parent's health insurance and currently have access to free contraception through the mandated coverage. HHS says in the new rule that it does not "advance Government interests" to cover contraception for "teenagers and young adults who are not already sexually active and at significant risk of unintended pregnancy."

Four advocacy groups —the ACLU, the Center for Reproductive Rights, and the National Women's Law Center, and Americans United for Separation of Church and State — announced lawsuits against the new rules that they hope to file as soon as Friday, challenging the changes as forms of gender discrimination and violations of the separation of church and state. The lawsuits, should they go forward, could potentially put the new rules on hold.
California Attorney General Xavier Becerra also said that his office is prepared to sue and is in talks with other states about legal strategy.
Under Obamacare, religious institutions that opposed contraception could apply for an exemption from the law's mandate, and the government would provide separate contraception coverage for its employees. Although the Supreme Court expanded the institutions who could apply for exemptions to include "closely held" for-profit corporations who opposed contraception for religious reasons in its 2014 Hobby Lobby ruling, the practice remained rare.
Under the new rules, however, employers and insurance companies would no longer be required to alert the government that they planned to drop contraception coverage or the reason for the change. They would merely have to inform their employees for whom they cover health insurance, and the government would no longer ensure separate contraception coverage for employees.
The rules also apply to additional employers, large corporations and schools who can now end contraception coverage for employees and, in the case of schools, covered students. It would also apply to publicly traded companies, the HHS officials said, though it would depend on state laws.
"Corporations do have first amendment rights, like media corporations for example," the HHS official said. "As long as their [objections] are sincerely held."
It was unclear how HHS would determine that the objections were "sincerely held," given that the corporations would not need to report their objections to the government.
The health research organization the Kaiser Family Foundation, found that 99% of sexually-active women in the US use at least one method of contraception at some point during their lifetime. One KFF study estimated that Obamacare's mandate saved a total of about $1.4 billion dollars per year in out-of-pocket savings for women across the country. These new rules would not immediately return the amount of people without contraception coverage to pre-Obamacare levels, but it would enable institutions large and small who provide health care coverage to more easily remove that component of their plans.
According to Planned Parenthood, a prescription for the birth control pill can cost $50 per month (or $600 a year) without insurance, while other long-acting, reversible birth controls like IUDs are more expensive.
An IUD can prevent pregnancy for three to twelve years, depending on the kind, but can cost up to $1,000 for the device, while the appointments to insert the device, to check up on it a month later, and to remove it after it is no longer effective can cost up to around $250 each.
Beyond religious organizations and those that have openly opposed contraception, it is hard to predict who will take advantage of the new rules. Based on the results of a Freedom Of Information Act request filed by the Center for American Progress, a progressive public policy organization, and provided to BuzzFeed News, slightly more than half of the 45 entities who filed for exemption under the Obama administration between January 2014 and March 2016 were for-profit corporations. Twenty percent were religiously affiliated colleges and universities, and 27 percent were religiously affiliated non-profits.
Five of the for-profit, non-religious companies that filed for exemptions were subsidiaries of larger corporations, but the rest of them ranged in size from 50 to 1,000 employees, CAP said, and were in a variety of industries including industrial machinery, landscaping, publishing, real estate, construction, apparel, agriculture, and food service, among many others.
The administration's new rules apply to the most controversial of eight preventative health benefits for women that the Affordable Care Act requires health plans to cover without any cost to the patient. The other benefits, which remain place, include domestic violence screenings, annual check-ups, HPV screening, and breastfeeding supplies.
The Trump administration's decision to implement these rules is no surprise, though the timing was unpredictable. During his campaign, Trump indicated he would roll back the Obama-era contraception rule, vowing to "make absolutely certain religious orders like the Little Sisters of Poor" — a 178-year-old religious order that fought Obama's contraception mandate all the way to the Supreme Court — "are not bullied by the federal government because of their religious beliefs."
A number of Trump's appointees including former HHS Secretary Tom Price and FDA Chief Scott Gottlieb — have also publicly expressed opposition to mandated contraception in the past. And in late May, a leaked copy of a draft of these rules — then combined as a single rule — was obtained by Vox.
Removing mandatory birth control coverage was the subject of many signs and speeches at the Women's March the day after Trump's inauguration. Concern about changes to contraceptive coverage and access in the wake of his election lead to a reported 19% spike in prescriptions for intrauterine devices (IUDs) in the last few months of 2016.
The administration's move Friday will come as a relief to conservative, anti-abortion organizations who set their sights on altering or eliminating the contraception mandate as soon as Trump was elected. Susan B. Anthony List, Becket Fund, the Heritage Foundation, the Family Research Council, and the March For Life (who have a pending lawsuit against the Department of Justice over the Obama-era rule), expressed surprise and frustration, in both interviews with BuzzFeed News and in public, over the delay in passing the rules and being kept in the dark about it.
Following Congress' recent failure to defund Planned Parenthood within the failed health care bill, the general lack of anti-abortion actions coming from the administration has led to growing impatience among anti-abortion groups with a White House that is supposed to be on their side. The resignation of Price, a vocally anti-abortion advocate, didn't help things.
"Folks are getting really impatient," Melanie Israel, a research associate at the Heritage Foundation told BuzzFeed News in late September. "It's been eight months. Trump stood in the rose garden told Little Sisters Of The Poor that this was a done deal, frankly it's time to make good on that promise."
These anti-abortion groups groups believe that some of the contraceptive methods approved by the FDA, such as intrauterine devices (IUDs), are a form of abortion because they can destroy an egg after it's been fertilized. Many OB-GYNs argue that conception begins when the fertilized embryo implants, as many women frequently discard fertilized eggs in their periods without any knowledge of fertilization.
Several of the anti-abortion organizations who spoke to BuzzFeed News, including March For Life and the religious freedom law firms Becket Fund and Alliance Defending Freedom, have pending lawsuits filed over the contraception mandate. The groups had hoped that those cases would protect organizations with moral objections to covering contraception, should a future administration decide to overturn the Trump administration's new rules.
In the 2016, the Supreme Court sent many of the pending lawsuits against the Obama administration's contraception mandate back down to the lower courts in Zubik v. Burwell. At the time, the Court specified that a resolution must be met that "accommodates petitioners' religious exercise while at the same time ensuring that women covered by petitioners' health plans 'receive full and equal health coverage, including contraceptive coverage.'"
Lawyers for Becket and ADF told BuzzFeed News that they are "in negotiations" with the Department of Justice over settling their lawsuits, but it is yet unclear how Friday's announcement will affect those talks. Before Friday's announcement, many members of the conservative groups expressed concerned that the new rules could render the suits invalid.

UPDATE
This story was updated with the news that four advocacy groups are filing lawsuits against the Trump administration over the new rules.