KTLA anchor Chris Burrous publicly apologized after a clip of him handing meteorologist Liberté Chan a sweater while she was doing a live weather report drew criticism from people on social media.
The clip shows Burrous handing Chan the sweater from off screen during the Saturday morning weather segment on the local Los Angeles news show.
"What's going on?" Chan asked, eyeing the sweater skeptically. "You want me to put this on? 'Cause it's cold?"
"We're getting a lot of emails," Burrous told a confused Chan. "There you go."
Chan then put the sweater on, saying, "Now I look like a librarian," and tying it at her waist.
KTLA did not immediately respond to BuzzFeed News' request for comment.
Burrous then tweeted a picture of Chan, writing, "Problem solved! Half the emails love dress, half not so much. Here's our compromise."
When the Twittersphere responded with outrage to the clip and Burrous's tweet, calling him sexist and saying he "publicly shamed" Chan, the anchor at first said it was just a joke, then later apologized.
"No shame. Just kidding, offering up sweater," Burrous wrote. "Good friends kid each other. Sorry I offended. We have a good time."
When the outrage continued and escalated, Burrous responded to some of the angry tweets, tagging KTLA, apologizing, and asking "for another chance."
Chan, who has a fashion and lifestyle blog, posted a series of videos to her Snapchat of another anchor reading the angry emails about her dress, and showing her and her co-worker's reactions.
"Liberté Chan's dress is totally inappropriate for Saturday morning news, looks like she didn't make it home her cocktail party last night," Burrous read as Chan recorded on her phone. "Lovely," he commented sarcastically.
"Chan looks like she stayed out late at a party and came to work in the same dress," another email read. "The show's producer should not have let her do the report in that dress."
Other emails also called the dress "inappropriate" and said that it showed "very poor judgment" on Chan's part as well as the network's. The other KTLA employees gathered around Burrous, laughing in disbelief.
"It's a dress, people!" Chan can be heard saying. "Can we talk about my weather performance?"
She then told her Snapchat followers that she had had another dress on before that was "very demure" but that "didn't work" on camera, so she changed into the other dress, which was a loan.
"I don't know why everyone's hating. I don't know what to tell you — it's a black dress," Chan said. Later she said she would not wear that outfit on camera again.
"I'm sorry if I was inappropriate," she said. "Tomorrow I better knock it out of the park, I better make everybody happy. I need to go shopping. This is a lot of pressure."
"Nobody cares about what I'm saying on the green screen," she continued. "I would like some critiques."
Then Burrous got up from his chair, showing that while he was anchoring in the show, he had been wearing shorts. "Talk about inappropriate!" Chan said.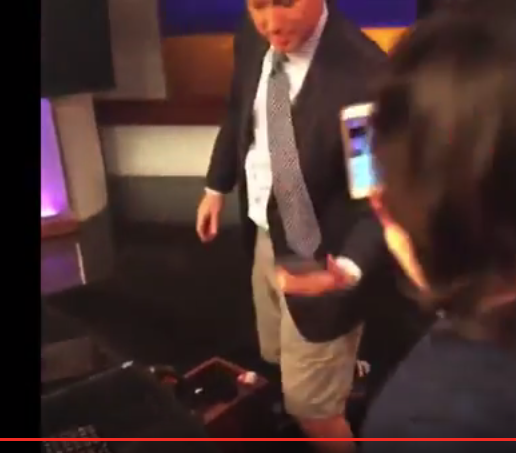 Late Sunday, Chan shared some "personal thoughts" on her website:
After receiving a number of requests for interviews regarding my LBD/Sweater moment on the KTLA Morning News this weekend, I thought I would share a few personal thoughts.

For those who missed what happened Saturday, March 14th, I was wearing a black, beaded sparkly dress and apparently, the station received a slew of negative emails from viewers saying the dress was inappropriate for air.

I've worked on-air for 10 years and by now, I've learned that everyone has an opinion and you have to have a thick skin to work in this business. It's a visual medium and sometimes your outfit works and sometimes it doesn't.

During the 8am hour, my co-anchor came over and handed me a sweater and said, "we're getting a lot of emails." I was surprised since I hadn't seen any of the emails and didn't think there was anything that inappropriate (the beads/sequins were probably a little much for the morning, but what girl doesn't like something that sparkles?!), so I played along and put on the sweater.

That prompted a barrage of tweets and more emails from viewers, some of which I included below.

To be perfectly honest, the black beaded dress was a backup. The pattern on my original black and white dress didn't work on the weather wall (for some reason, it turned semi-transparent), so after my first weather hit at 6am, I changed.

For the record, I was not ordered by KTLA to put on the sweater. I was simply playing along with my co-anchor's request, and if you've ever watched the morning show, you know we poke fun at each other all the time.

And, also for the record, there is no controversy at KTLA. My bosses did not order me to put on the cardigan, it was a spontaneous moment.. I truly love my job, I like my bosses and enjoy working with my coworkers. Since talking to my team, I want our viewers to know it was never our intention to offend anyone. We are friends on and off the air and if you watch our newscast, you know that.

More importantly, I hope my viewers were able to plan their Saturday once they heard my forecast and enjoyed the sunny weather after the clouds cleared.