There's A Feud Going On Between The First Two Smokable Clothing Lines
First of all, there are now clothes you can smoke. Second of all, there's a fight about it.
With marijuana legalization quickly taking over America, it was only a matter of time before people started building weed paraphernalia into their clothes.
Unfortunately, two companies — Hood Horkerz and VapRwear — seem to be having a pretty heated disagreement over who thought of it first.
"I invented the pipe hoodies back in 2011 in Vermont," Hook Horkerz owner Sean Oliver told BuzzFeed News.
"I was at my buddy's snowboard shop and he didn't have a pipe to smoke out of and I kinda pulled on my hoodie strings and was like, 'Man! This would be the perfect place for a pipe!'"
After Oliver took a trip to Home Depot he constructed the first hoodie and brought it to a party. "Everyone was like, 'Aw man, where can I get one?' And I was like, 'Nowhere... yet.'"
"About two weeks after that I invented the vape one," the Santa Cruz, California resident added. "I just decided to go with the pipe one because it cost less money."
VapRWear, the other smokable sweatshirt company that only manufactures vape sweatshirts, is owned by a Colorado man named Elvis "Papi" Edwards.
"I invented the [vape sweatshirt] on 4/20 in Denver last year," Edwards told BuzzFeed News. "I saw Sean and his partner, I knew their hoodies, and I knew how to make them better."
Edwards grew up in the Caribbean where his father was "in the weed business," he said. "Everybody thought I was gonna be the biggest drug dealer, but I never even smoked weed!" He says he only smokes hemp oil out of his vapes.
"I didn't want to get into the weed business because that's still frowned on in my country," he said. "But last 4/20 in Denver, I saw this opportunity. I saw the future. Eight months later, VapRwear happened."
The VapRwear sweatshirt works with an e-cig vaporizer that gets screwed on to one end of the hood's laces and smoked through the other, like so: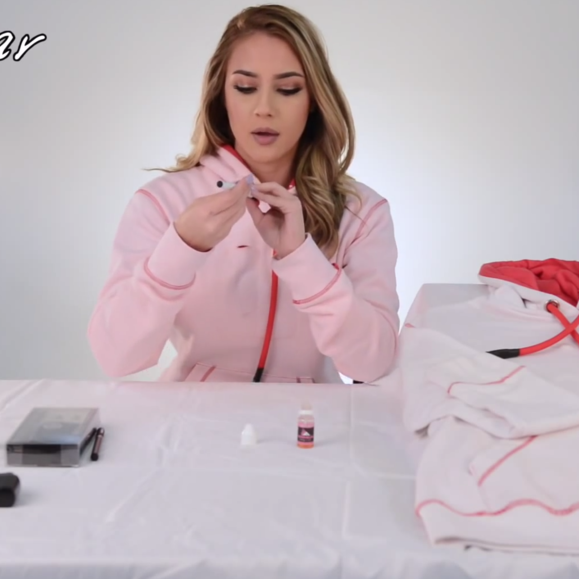 The vape is kept in a little pocket and charged with its USB charger.
Hood Horkerz offers a glass bowl on one end of the drawstring and a mouthpiece on the other.
The hoodlace is made out of high-temperature silicone tubing and outside fire retardant shoe lace material, Oliver said. The ends are made of handblown glass.
Oliver told BuzzFeed News that he and Edwards met in early 2014 when he hired Edwards to plan a party in Denver for Hood Horkerz.
At that point he said they had already manufactured the vape hoodie, and that his partner showed it to Edwards.
The VapRwear owner disagrees with this telling, but confirms that he did work with Sean on the party and saw and loved the pipe sweater.
Both men mentioned that there was at first a brief discussion of working on the clothing lines together but that it didn't pan out.
"Sean's just jealous because I'm actually making money off mine," Edwards said, adding that his clothes are being featured on an upcoming MSNBC special about marijuana.
"We haven't been concentrating on selling and marketing [the pipe hoodies] right now," Oliver said. "Just getting them to the right people, making them specially for celebs and the like."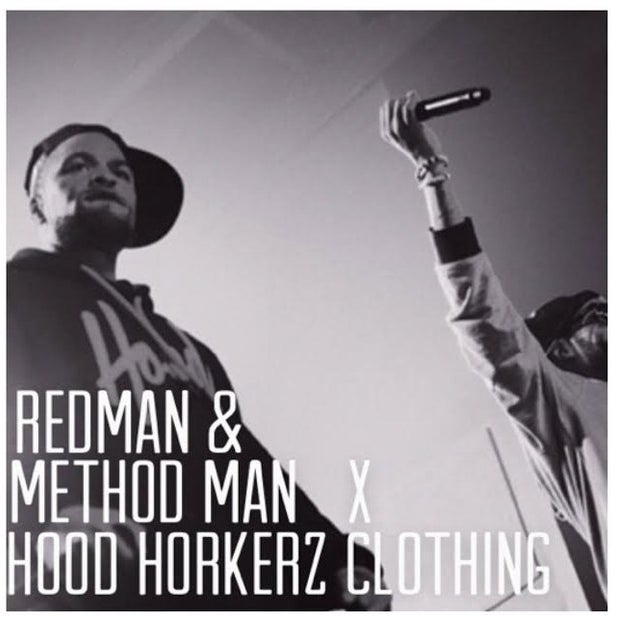 Rappin 4 Tay wore a Hood Horkerz pipe suit to this year's Grammy's.
Oliver said after inventing Hook Horkerz he paid a lawyer to make sure no one else had thought of a similar idea, then filed a patent for both the pipe hoodie and the vaporizer hoodie.
He says the vape hoodie has been pending since 2013, but that they'll start manufacturing them in the summer.
Hood Horkerz had set up Instagram and Twitter accounts devoted to calling Edwards a "thief," but they have since been taken down.
"This feud isn't new," Edwards said. "This has been going on for a year now."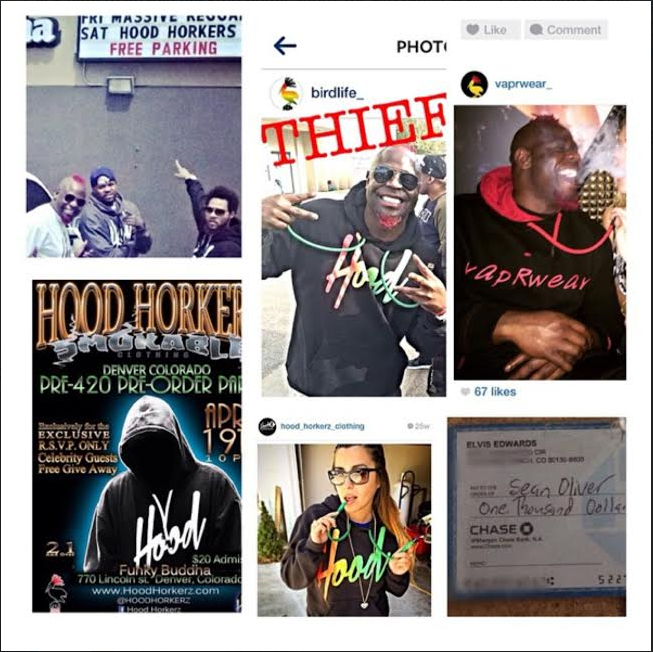 Regardless of the drama, the two owners can agree on one thing: Smokable clothing is the future.
"If you are a designer and you don't have a smokable line, you are out of business," Papi told BuzzFeed News. "I swear, next New York Fashion Week, you'll see VapRwear on the runway."
"Oh yeah, smokable clothing is it," Oliver echoed. "Everyone will be wearing it soon."
The owner of Hood Horkerz's name is Sean Oliver. An earlier version of this post referred to him as Sean Owens.