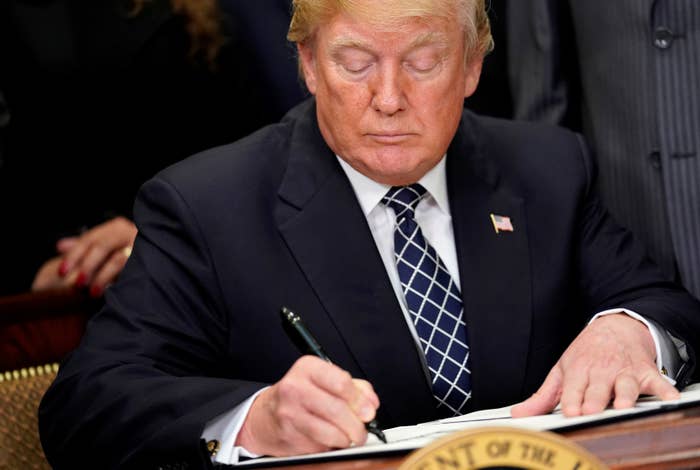 The Department of Health and Human Services' Office of Civil Rights is creating a new division to protect health workers with moral or religious objections to performing certain procedures, including things like abortions or sex reassignment surgery for transgender patients.

The new division is called the Conscience and Religious Freedom Division, and will be officially announced Thursday morning at an event at HHS.
According to an invitation to the event provided to BuzzFeed News, the division will specialize "in enforcement of and compliance with laws that protect conscience and free exercise of religion, and that prohibit coercion and discrimination." HHS did not immediately respond to BuzzFeed News' request for comment.
The announcement comes as conservative groups have urged the Trump administration to provide protections for medical workers who have been fired or believe they have been professionally discriminated against for refusing to perform procedures they oppose for religious or moral reasons.
The event will feature several anti–abortion rights speakers, including House Majority Leader Kevin McCarthy, Missouri Rep. Vicky Hartzler, and Sara Hellwege, a nurse midwife who was turned down for a job because "she is a member of a pro-life medical association and has a faith-based objection to abortion," according to the announcement.
HHS is also announcing the move on the first day of the March for Life, an annual anti–abortion rights event in Washington, at which President Trump is scheduled to speak via satellite on Friday.
Issuing "conscience protections" is not new for the Trump administration, which issued two rules in October allowing employers with religious or moral objections to drop coverage for contraception. But those rules were blocked by a federal judge in mid-December. President George W. Bush's HHS issued very similar "conscience protection" rules during his time in office, but the Trump White House seems to go further in creating a new division.
The head of OCR, Roger Severino, said in June that issuing these protections was a "priority" for his office. His former employer, the Heritage Foundation, released a report in December urging the administration to provide these kinds of protections for medical workers.
Establishing the Conscience and Religious Freedom Division represents a dramatic policy reversal for HHS's civil rights office. Under former president Obama, OCR implemented the Obamacare requirement that employers provide cost-free contraception to all female employees on their health insurance. And in 2016, it reinterpreted the law barring health care discrimination as applying to transgender individuals.
Abortion rights advocates called the new division "incredibly dangerous." Planned Parenthood's Vice President of Public Policy Dana Singiser said that the activity of the division could "prevent women and transgender people from getting the care they need" by enabling medical professionals to refuse to perform requested procedures.
Anti-abortion groups, however, see the establishment of a new division as a step in the right direction. Mallory Quigley of the anti-abortion group SBA List said in a statement to BuzzFeed News that the move makes it clear "the Trump administration has made it a serious priority to protect the freedom of conscience."