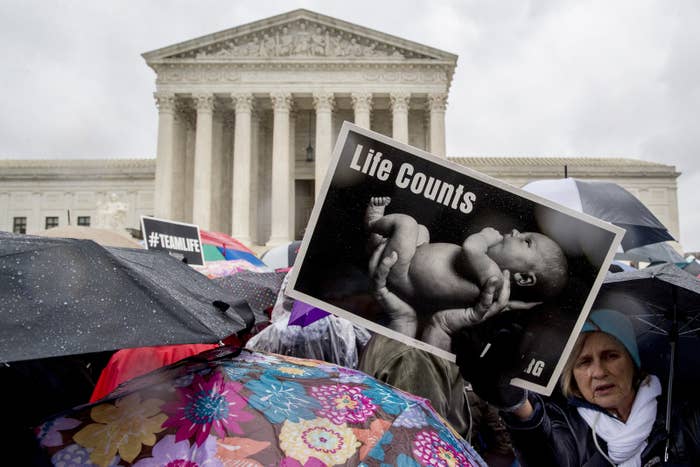 The US Supreme Court heard arguments Tuesday in the case of anti-abortion "crisis pregnancy centers" suing the state of California over a law requiring them to post information about abortion services.

In 2015, California passed the Reproductive Fact Act, which requires clinics and centers that provide certain services — among them pregnancy tests, ultrasounds, prenatal services, and pregnancy or contraception counseling — to disclose their lack of medical certification if they are unlicensed, and to display information about available abortion services and contraception offered by the state. An advocacy group called National Institute of Family and Life Advocates (NIFLA) sued the state in response, casting the law as a violation of their freedom of speech.
The US Court of Appeals for the 9th Circuit upheld the law as constitutional, saying that California had the right to regulate "professional speech" and had a valid interest in protecting public health access. Despite what NIFLA claimed, the judges said, the signs required by the law do not encourage abortion but provide information about state services.
Now the Supreme Court will consider whether the First Amendment prevents California from requiring these anti-abortion centers to display information about abortion and birth control, and to disclose their licensure status in print and digital advertising.
During arguments on Tuesday, Justices Elena Kagan and Samuel Alito Jr. pressed California's lawyer, Joshua Klein, to explain the state's motivation in adopting the laws at issue — whether the main goal was to educate low-income women about affordable state-provided services, or to target crisis pregnancy centers and other types of anti-abortion clinics that the state believes are deceiving women.
If the law was "gerrymandered" to only apply to certain types of service providers, that would be a problem, Kagan said. Alito said that even if a law was neutral on its face, it could still be unfairly discriminatory if it had "crazy exemptions" that limited its application to a particular subset of providers. Alito highlighted exemptions in California's laws that he found puzzling, such as the fact that they only applied to clinics whose primary purpose was pregnancy-related services — what about a big clinic that provided those services to a lot of women, but was exempt because that wasn't its primary purpose, he asked.
Klein said the main purpose of the law was to inform women about available services, but he said that wasn't mutually exclusive from also trying to address the issue of deception. He said the law was crafted to target offices that provide free or sliding-scale services, since that was where low-income women were most likely to seek help.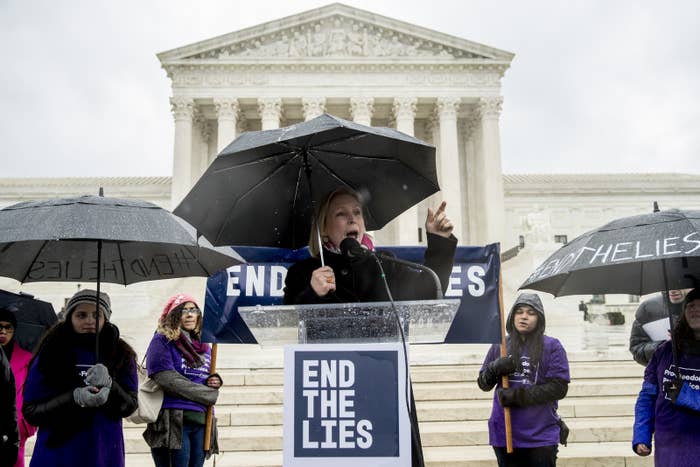 Several justices also expressed concern with how the law would apply to providers' advertising. Justice Anthony Kennedy asked how the law would apply to an unlicensed facility that wanted to put up a billboard with the message "choose life" or "pro-life," and whether the facility would also have to include the disclosure about it not being licensed, as required by the California law. That would seem to create an "undue burden," Kennedy said. Near the end of arguments, Justice Sonia Sotomayor also asked about that, saying it seemed more burdensome if the ads weren't tied to providing medical services.

Klein replied that if a service provider wanted to make that argument, they could bring a separate case with specific allegations about the burdens the law allegedly created.
If the goal was to inform women, why should the state "free ride" on a limited number of clinics to provide that information, Justice Neil Gorsuch asked. Klein said there were shortcomings to other methods of trying to advertise its services — what Gorsuch described as a "free ride" was a state imposing a regulation on professional speech, he said.
Justice Stephen Breyer questioned why states shouldn't be able to regulate the speech of anti-abortion providers, similar to how some states require abortion providers to tell patients about alternatives to abortion. "What is sauce for the goose is sauce for the gander," he asked.
But Breyer suggested it may be premature for the court to rule before there was a trial to determine the actual scope of the law's effect — the challengers appeared to "have a point" if the law only applied to a select group of 60 to 70 anti-abortion centers, Breyer said, but he asked why there shouldn't be a trial first to determine if that was true.
But the "gerrymandering" of the law was clear on its face, said Michael Farris, who argued for NIFLA.
Sotomayor said she visited the websites of a few unlicensed providers and saw references to medical procedures — an image of an ultrasound machine, the use of medical terminology in discussing abortion-related advice, and a reference to federal law concerning health information, for instance.
If there was a reasonable chance a person visiting the website would think the office provided medical services, she said, why shouldn't there be a requirement that they make clear that they don't? Farris replied that unlicensed facilities don't provide medical services; it was illegal in California to practice medicine without a license, and if that was happening, the state would find a way to enforce it, he said.
The US Department of Justice is also arguing that the California laws violate the First Amendment. Justice Ruth Bader Ginsburg asked if the state could require clinics that provide women's health services to disclose all the services they do provide. Deputy Solicitor General Jeffrey Wall said that would appear to be permissible — the problem, he said, was when a law moved more towards requiring a provider to list services that are not provided, such as, in this case, abortion.
If California wanted to help women understand what contraception or abortion services were available to them through the state, California could advertise that on its own, Wall said.
While commercial speech — such as the ingredients listed on labels of commercially sold food items — can be regulated by the government, the regulation of professional speech — the conversations that take place between a professional and their client — has never been directly ruled on by the Supreme Court.
Alito said he was troubled about formalizing "professional speech" as a new category under the First Amendment. Couldn't that apply to other professionals who engage in speech, such as journalists, economists, or even fortune tellers, he asked Wall. Wall said the types of professions that Alito identified were different, because historically they hadn't been regulated by the government. The government is arguing for the court to apply a higher level of scrutiny under the First Amendment for the type of abortion-related speech than California would like, but a lower level of scrutiny than NIFLA would like.
A Question of Deception
"Crisis pregnancy centers" came into being around the time of the Supreme Court's 1973 Roe v. Wade decision that legalized abortion across the country. Many of them began in church basements, but soon opened in storefronts resembling abortion clinics, sometimes near or even directly next to the clinics themselves. Many of these centers do not have any overt sign of their religious affiliations. Many have medical licenses, others have ultrasound machines and STI testing equipment, but some are unlicensed and only provide counseling, pregnancy tests, and supplies like baby food and diapers.
Abortion rights advocates and the California legislature argue that these centers attempt to "pose" as abortion clinics in order to "trick" women seeking out abortion clinics. NARAL alleges crisis pregnancy centers are often staffed by "untrained individuals posing as medical professionals" who "frequently deceive women and lie about medical facts to convince them not to have an abortion," according to a website they set up to prepare for the Supreme Court case.
"This law is designed to protect low-income pregnant women who need to make an important, life changing decision in a time-sensitive manner," Brianne Gorod, chief counsel for the progressive group Constitutional Accountability Center, said during a panel about the case the week before opening arguments. The center filed an amicus, or "friend of the court," brief in the Supreme Court on behalf of members of Congress who are backing California.
"What [this law] does not do is regulate how NIFLA and other centers counsel the women who come to them," Gorod continued. "They can discourage women from getting abortions as vehemently as they want and in whatever manner they want."
Proponents of the crisis pregnancy centers deny this and argue there is no known case of a woman actually being deceived. Denise Harle, a lawyer with the conservative religious freedom group Alliance Defending Freedom, which is representing NIFLA, said at the panel that there is "no evidence that even a single woman has ever been deceived by any of these pregnancy centers."
The justices may be interested in asking California if there are specific examples of this sort of deception. In a similar case in January, the US Court of Appeals for the 4th Circuit ruled against a Baltimore regulation that required crisis pregnancy centers to post signs saying they don't provide abortion. The 4th Circuit judge cited a lack of examples of any women "who entered the Greater Baltimore Center [for Pregnancy Concerns]'s waiting room under the misimpression that she could obtain an abortion there," Judge J. Harvie Wilkinson III wrote in the opinion.
Wilkinson also noted, however, that while California's law applies to both licensed and unlicensed clinics, the Baltimore rule only applied to unlicensed, religiously-associated clinics.
In recent funding moves, the Trump administration's Department of Health and Human Services made it easier for centers like those represented by NIFLA to apply for federal family planning grants as alternatives to federally funded women's health clinics like Planned Parenthood.
The Obama administration and many women's health advocates have argued that these organizations cannot replace medically qualified health centers that provide abortion and contraception. If the Supreme Court rules in NIFLA's favor it could serve to bolster claims from conservatives that they can. However, if the Supreme Court rules favor of California, this could encourage other states to pass similar laws and potentially contradict the anti-abortion push present in recent Trump administration guidances.
UPDATE
This story was updated with information from the Supreme Court's oral arguments Tuesday morning.