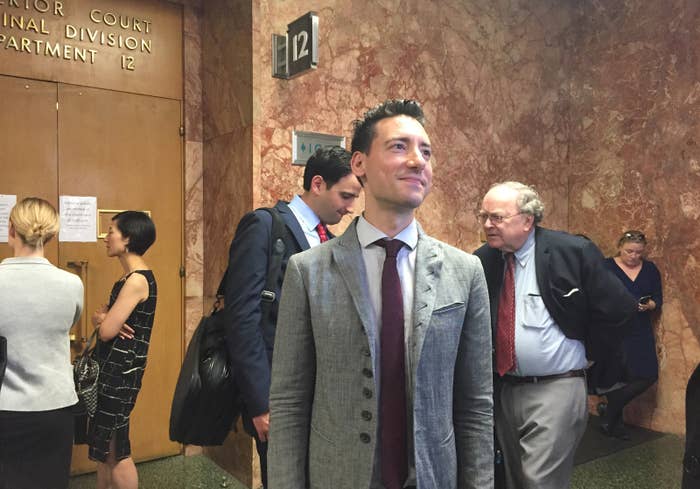 The anti-abortion activist behind the videos accusing Planned Parenthood of selling "baby parts," as he put it, could be going to prison. And now his criminal defense lawyers could join him.

Late last month, David Daleiden and his team of criminal attorneys allegedly flouted multiple injunctions and court-issued seals by posting more shocking videos of abortion providers and identifying 14 of the John/Jane Does participating in the state criminal complaint against him and his recording partner Sandra Merritt. Those names were previously under a court seal.
This apparent defiance of court orders may end up landing Daleiden and his criminal attorneys in contempt of both state and federal court, potentially resulting in fines and jail time — and disbarment for the lawyers.
Daleiden's work once caused multiple congressional investigations and nearly shut down the government. Two years and multiple lawsuits and legal hurdles later, the 28-year-old and his Planned Parenthood investigation have faded out of the headlines.
But as the cases against Daleiden continue — and grow more complicated — he has become a central figure of the somewhat sidelined culture wars, now playing out in both federal and state court in California. On the one hand, his opponents contend that Daleiden is an extreme activist who edited illegally obtained footage in order to harm the biggest abortion provider in the country and, by proxy, its employees. On the other, is a fierce collection of devoted, anti-abortion followers who see the prosecution of Daleiden as an attack on the First Amendment and the oppression of a "hero" by liberal courts and elected officials.
All along, Daleiden has continued fighting his case in court, perhaps no more vigorously than when he and his criminal attorneys released the new tapes and list of names. Daleiden and his criminal defense lawyers argue that the tapes are protected by the First Amendment and, moreover, represent a last-ditch effort to wrangle witnesses to accuse Planned Parenthood of criminal conduct and help his case.
But a lawyer representing the abortion providers featured in the videos dubbed the release a "cold-blooded, calculated hit job" that could lead to violence against providers, a final punch-back from a man already facing federal and state charges, including 15 felonies.
At midnight on May 25, attorneys Brentford Ferreira and his partner Steve Cooley, who are representing Daleiden in a state criminal case brought by California Attorney General Xavier Becerra, posted the list of names of Daleiden's accusers in the case, as well as a short cut-together of Daleiden's hidden camera footage and a link to seventeen new videos, secretly recorded at the National Abortion Federation's (NAF) 2014 and 2015 annual meetings.

The newly released footage shows women at the meetings seeming to discuss gruesome tales of the trade, including dealing with sharp skulls and eyeballs falling onto their laps during abortion procedures, and admitting that they altered procedures for financial gain. While the images described are shocking, they are seconds-long clips with no context.
There is reason to look at the new footage with some skepticism. The videos Daleiden released in 2015, recorded around the same time as the new footage, were misleading. A Planned Parenthood-sponsored analysis found them to be deceptively edited and more than a dozen state investigations into the video's claims found no evidence that Planned Parenthood sought to profit off of the sale of fetal tissue. Another congressional investigation, run by the GOP-led Oversight committee, also ended without finding evidence of wrongdoing by the organization.
However, in 2016, GOP members of the House's select committee investigating Planned Parenthood recommended multiple affiliates of the health organization to state attorney generals, as well as the Departments of Justice and Health and Human Services for potential criminal charges and recommended that the federal government defund Planned Parenthood. Democrats, who boycotted the committee, dismissed the report as a witch hunt. Republican Sen. Chuck Grassley also referred Planned Parenthood to the FBI for criminal investigation. Texas Attorney General Ken Paxton's office was the only, thus far, to take any action.
A federal court issued a preliminary injunction in a now two-year-old civil lawsuit brought by NAF, blocking Daleiden, his lawyers and any third party from releasing any new footage or names of those filmed until the case is closed. US District Judge William Orrick granted the injunction in February, 2016 in response to NAF's claims of "death threats and severe harassment" against its employees. After the state of California brought a separate criminal case against Daleiden and Merritt in March of this year, the list of names of those accusing them was placed under a confidential court seal as well.
Daleiden and his criminal attorneys published the videos and the list of names anyway. And last week, Daleiden's criminal defense lawyers hired a criminal attorney of their own. That attorney, Vicki Ileen Podberesky, did not immediately respond to a request for comment for this story.
Ferreira, one of Daleiden's criminal lawyers, maintains that releasing the footage was not in fact in violation of the original court order. And he's argued that the fact that the videos have been repeatedly taken down from YouTube and news sites that covered their release is a "blatant violation of the First Amendment."
"Every reporter in the US should be up in arms about what the Attorney General and Judge [Orrick] are doing," he told BuzzFeed News emphatically.
"We had a good reason for releasing the footage," Ferreira told BuzzFeed News, alleging that they posted the videos in an attempt to help Daleiden's case. Ferreira said they hoped to find witnesses who "were injured in the modified procedures used by Planned Parenthood doctors to extract fetuses for sale" to testify in support of Daleiden.

No such women have yet appeared, he said, "but that's because people keep slamming [the videos] down!"
One of NAF's lawyers, Derek Foran, however, argued that the posting represents a "purposeful and knowing violation of a federal court order. No more or less."
Many of the people on the list Daleiden's criminal attorneys released have received death threats and harassment online, Foran said, adding that NAF had to immediately ramp up security to do "everything possible to protect the individuals and make sure they are safe."
Ferreira told BuzzFeed News that the fact that abortion providers are receiving death threats was no reason to "violate the First Amendment" by keeping the footage under seal.
"Of course people are receiving threats, but so is David," Ferreira told BuzzFeed News, "There is no more fraught issue in America than abortion, but the fact that people are receiving threats doesn't mean anyone will get hurt."
Last week, NAF and the California Attorney General's office filed two separate requests for Daleiden and his criminal attorneys to be held in contempt of court. Contempt of court hearings will take place later this month, potentially resulting in fines and even jail time for Daleiden and his criminal lawyers on both the state and federal levels on top of the federal civil lawsuit and the charges he's already facing in the state criminal case.

Hours after Daleiden's team posted the footage, Orrick, who instituted the original preliminary injunction, called an emergency phone hearing which, to his apparent annoyance, Daleiden and his two criminal lawyers, refused to attend. In a transcript of the call obtained by BuzzFeed News, Orrick ordered Daleiden and his criminal lawyers to remove the footage and names from their site and YouTube within 15 minutes of the end of the call.

"Mr. Daleiden better be well advised by his lawyers … that he is obligated to follow the Court's orders and not try to skate around them and cause real harm to human beings and [legally] to himself," Orrick instructed Daleiden's apologetic civil lawyers to tell his absent criminal lawyers, Ferreira and Cooley.
Ferreira, Cooley, and Daleiden begrudgingly complied.

In an interview with BuzzFeed News Ferreira argued with dizzying logic that the footage was part of the public record because it was submitted as evidence for the state criminal case, and criminal cases are public proceedings. What he left out was that Ferreira and Cooley entered the footage into the case themselves — attaching a thumb drive of the footage to a written objection, or demurrer, contesting the Attorney General's 15 felony charges against Daleiden, including that he used fake IDs and set up a phony corporation in California in order "to obtain surreptitious recordings" in violation of NAF's confidentiality agreements, which is illegal in the state — unless it contains evidence of criminal activity. His criminal defense lawyers attached the thumb drive, arguing that Daleiden had so much footage the lawyers were not sure which parts of it he was being charged for.

Why wouldn't that violate the federal injunction? Ferreira's argument is that the federal preliminary injunction prohibiting release of the footage does not apply to state criminal proceedings. As Daleiden's attorneys in the state criminal case, he believed the videos were part of public record and releasing them would not violate the federal injunction — even though both cases involve the same footage.
"Our position is that this federal, civil injunction doesn't apply to the Attorney General's [case] in a separate sovereignty" Ferreira said.
As for the names, Ferreira argued: "The names were under seal by the [California state] judge, but the videos were not." Because the names were featured in the videos that he and Cooley believe are public record, his argument continues, they believe the names are public record as well.
Ferreira's final argument was that because he and Cooley released the footage, and not Daleiden himself, it was not in violation of the injunction. The temporary restraining order that Orrick extended to the preliminary injunction specified that Daleiden's attorneys could not publish footage or names, but the injunction itself was less explicit. The injunction prohibited Daleiden and others who worked with him to obtain the footage from "publishing or otherwise disclosing [the footage] to any third party."
Nine days after the footage went public, NAF filed a request for Daleiden to be held in contempt of federal court. In the document, the group alleges the most recent videos have caused "a similar spike in incidents of harassment and intimidation that presaged the murders at a NAF-member clinic in Colorado" in 2015, referring to the Planned Parenthood shooting in Colorado Springs, in which Robert Dear shot and killed three people, while quoting the language from Daleiden's earlier videos. (The new footage was recorded around the same time as those 2015 clips).
When asked about the Dear shooting and its ties to Daleiden's original videos, Ferreira simply asked: "Who can control a madman?"
For violating the order, NAF's lawyers have asked Orrick to refer Daleiden, Ferreira and Cooley to the US Attorney's Office for "investigation and potential prosecution for criminal contempt of court," to refer both criminal defense lawyers to the California Bar for potential disbarment, and to require them to pay NAF $17,103.26 to reimburse them for the amount they say the spent on security and other expenses because of the footage.
The California Attorney General's office has also requested a disbarment investigation and that Daleiden and his criminal attorneys be held in contempt of state court for violating the seal on the names of complainants. The maximum sentence for contempt is $1,000 and six months jail time.
Last week, Daleiden's team postponed the scheduled federal contempt of court hearing by filing a request for Orrick to be removed from the case for bias. In a letter demanding Orrick's disqualification from the case, Daleiden's civil attorneys cited Orrick's 2001 work with a charity called the Good Samaritan Family Resource Center, which allowed Planned Parenthood to put a clinic on their property — an affiliation NAF's lawyers claim Orrick disclosed when he first took on the case.

The civil attorneys also said that in 2015, Orrick's wife "pinkified" her Facebook page and added "I stand with Planned Parenthood" as her profile picture. "'Pinkifying' showed one's support for Planned Parenthood and one's belief that the videos were fraudulent," the lawyers wrote.

In the request, Daleiden's team included a list of Good Samaritan's donors, which featured Orrick's home address. The US Marshal's' office told The Recorder, a weekly paper in California, that they will monitor whether Orrick receives any threats as a result and "look into" how his address got into the filing. Orrick's address has since been removed from the public record. Daleiden's civil attorneys did not immediately respond to questions about whether this inclusion was accidental.
Daleiden will have a contempt of court case before the California state Superior Court with Judge Carol Yaggy on June 21. The hearing regarding Orrick's recusal is slated for the following day. Depending on how that goes, Daleiden will have a federal contempt hearing with either Orrick or a new judge. Both judges will then decide separately whether to hold Daleiden, Ferreira, and Cooley in contempt of court and, if so, their sentences.
When Daleiden released the first undercover videos in 2015 accusing Planned Parenthood of profiting off of fetal tissue distribution, they led to a massive political outcry. Presidential candidates discussed the videos during debates and a Republican demand to federally "defund" Planned Parenthood nearly shut down the government.

As the videos disappeared from headlines and television news, and the gruesome phrase "baby body parts" coined by Daleiden faded from the speeches of anti-abortion members of Congress, the GOP fight to defund Planned Parenthood has picked up other arguments, largely discarding Daleiden's allegations.
But Daleiden retains a strong influence in the loyal anti-abortion community and conservative media outlets. During an interview with BuzzFeed News at the March for Life in January, Daleiden could not get through more than a sentence or two without strangers coming up to him and thanking him for his work and grasping, shaking, and in one case kissing, his hands.

Following the forced removal of the videos last week, Lila Rose president of the anti-abortion group Live Action appeared on Tucker Carlson's Fox News show in support of Daleiden's videos, calling their withdrawal "censorship." Susan B. Anthony List, another anti-abortion group, also sent out an email condemning the lack of media attention to Daleiden's work.
SBA List and other conservative and anti-abortion groups and media outlets told their supporters where they could still find the footage on social media and other file-sharing sites, and also listed the names and quotes of some of the abortion providers in the videos. That information quickly spread among other anti-abortion online networks on Facebook, Twitter, and other YouTube channels.

"They keep proliferating, so it's kind of like a game of whack-a-mole," NAF's lawyer Foran said. NAF's team made calls and sent dozens of emails to different organizations and social media sites explaining the situation and asking for the footage to be removed. Most of those attempts were successful, but the videos and the names are already out there.
"The way David is being treated is so it's very, very, very, unfair," Ferreira said. "But hopefully some good will come of it all."