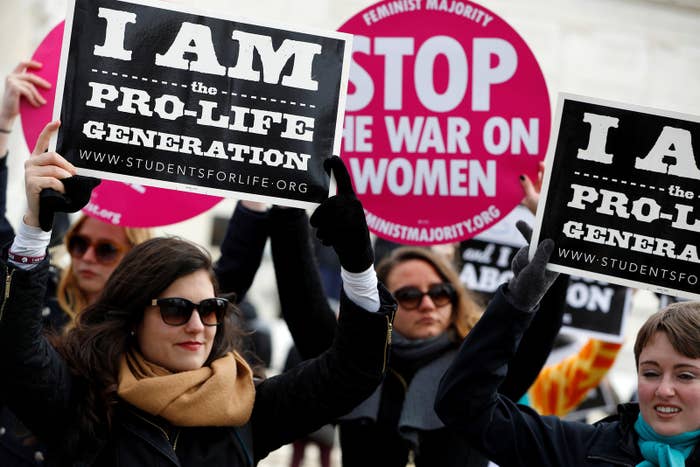 Despite suffering the most dramatic in a series of failures in the years-long effort to "defund Planned Parenthood" just last month, anti-abortion advocates and lawmakers aren't giving up. In fact, they're reigniting federal efforts and state level work-arounds as lawmakers prepare to return to Washington in the fall.

In late July, when the Republicans' health care bill failed with a dramatic downward turn of Sen. John McCain's thumb, abortion rights advocates breathed a sigh of relief. The bill, along with repealing and replacing Obamacare, would have stripped federal funding from Planned Parenthood for a year. That provision was key to GOP Senators Susan Collins' and Lisa Murkowski's no votes, giving Senator John McCain the opportunity to torpedo the bill at the last minute.
But now, as Congress's fall session legislative challenges loom menacingly into view, anti-abortion advocates are bending the ears of sympathetic lawmakers to make sure their cause is not lost in the fray, while abortion rights advocates steel themselves for yet another fight, both with an eye on the 2018 elections.
Four major anti-abortion lobbying groups told BuzzFeed News in August that defunding Planned Parenthood was still in their top priorities for the fall, expressing impatience with Congress on the issue. All of them have the ear of Trump's administration.
Andrew Guernsey, a lobbyist at the Family Research Council, a conservative Christian group, told BuzzFeed News that the GOP had "no more excuses." Leaders at the conservative Heritage Foundation and the March for Life, which organizes an annual anti-abortion rally, emphasized that defunding Planned Parenthood was a campaign promise that they expect President Donald Trump and Republicans in Congress to keep.
"Defunding is one of the promises the president made to the pro-life community," anti-abortion lobbyist Tom McClusky, vice president of government affairs for the March for Life, told BuzzFeed News. "By the 2018 elections they're going to have to have checked something off that list or they're gonna be in trouble."
Mallory Quigley of the anti-abortion group Susan B. Anthony List told BuzzFeed News that, come September, it plans to make it publicly and privately clear to Republican members of Congress that "failure is not an option" in defunding Planned Parenthood.
"How can we have a pro-life president and a pro-life Congress and not have Planned Parenthood defunded?" she asked. "Now it's time for Republicans to do their job."
SBA List is a major organizing force for supporting anti-abortion candidates and mobilizing voters. By the end of August it had already knocked on about 50,000 doors of anti-abortion voters in Florida and Ohio who inconsistently turn out to vote, Quigley told BuzzFeed News, adding that this is just the beginning.
If Congress fails to defund Planned Parenthood, Quigley said, "it will make it that much more difficult to engage an otherwise enthusiastic base."
On the other side, abortion rights groups have spent the dog days of summer steeling themselves for yet another fight, barely taking time to celebrate their narrow escape in July. Planned Parenthood recently announced an on-the-ground, volunteer-driven initiative to protect women's health care — including funding for the organization. NARAL Pro-Choice America has also spent some of the summer mobilizing their ranks.
"Lawmakers should take note for the 2018 elections," said Danielle Wells, Planned Parenthood's assistant director for state policy media relations, indicating that removing funding for what is often the only family planning clinic in the area, according to the nonpartisan research organization National Campaign to Prevent Teen and Unplanned Pregnancy, is not popular. "Voters just don't want to see attacks on their health care," Wells said. "It's as plain as that."
A poll from the nonpartisan Quinnipiac University released in January showed that 61% of voters overall oppose cutting funding from Planned Parenthood. However, it also showed that 63% of Republican voters support the defunding effort.
"How can we have a pro-life president and a pro-life Congress and not have Planned Parenthood defunded?"
"Defunding," a term that Planned Parenthood claims is a misnomer, refers to ending the federal reimbursements Planned Parenthood gets for providing patients on Medicaid with free or discounted care. Due to a federal law, none of these reimbursements actually go toward providing abortions, but anti-abortion advocates claim that the reimbursements for other services help keep Planned Parenthood alive, enabling it to continue providing abortions. About 60% of Planned Parenthood's roughly 2.5 million patients rely on either Medicaid or Title X (another federal funding grant) for nonabortion health care services. Removing Medicaid funding would likely cause clinics to close, affecting even those patients who do not rely on the government grants.

"Planned Parenthood has become a symbol for both sides," McClusky said.
"There is not a lot the Democrats would give up for it," and there isn't much that will stop Republicans from trying to insert it into any legislation they can, McClusky added, no matter how doomed they know it may be.
Republican members of Congress have introduced bills to defund Planned Parenthood for years, and some passed easily in the Republican-dominated House when former president Barack Obama was still in office. The closest anti-abortion advocates have gotten was in January when Republicans in the House and Senate passed symbolic legislation to repeal Obamacare and defund Planned Parenthood with the knowledge that it would be immediately vetoed by Obama, who had just two weeks left in office.
Anti-abortion advocates point to that accomplishment as a reason to be optimistic about finally defunding Planned Parenthood under Trump, despite the failure of the health care bill this summer. "In the pro-life movement we're optimistic to the point of running our heads into a brick wall," McClusky said.
Opponents of Planned Parenthood are pinning their hopes on Republicans' plans to try to pass a tax reform bill this fall. They'll be using what's known as the "reconciliation process" — the same method they used to try to repeal Obamacare — which allows Congress to pass legislation with only a simple majority of members, meaning no Democrats will need to cooperate. Anti-abortion advocates have been pushing Republicans to include the Planned Parenthood provision in that tax reform package and are confident they will, at least initially.
"If we have the same votes we did in 2016, which I believe we do, I know we can achieve victory in reconciliation," Guernsey, lobbyist for the Family Research Council, told BuzzFeed News.
However, both Guernsey and McClusky conceded that this is easier said than done, with McClusky acknowledging that the obstacles around tax reform "are even tougher than with the health care bill," partially because of disparate views among Republicans on tax reform. But McClusky also said reverberations from the health care fight could affect tax reform as well. "[Republican] leadership is now scared of rocking the boat when the boat is already rocking," he said.
Republicans are still working on writing a tax reform bill, and with so many views among members, the process could easily fall apart, just like the health care bill did. And even if Republicans find a larger agreement on tax reform, they could end up scrapping the Planned Parenthood language in order to get a few, final swing votes on board. Collins and Murkowski have both long opposed defunding Planned Parenthood, for example, and absent their votes Senate Republicans would just have a one-vote margin for error.
There is one other major option on the table, but it's not one anti-abortion activists are too hopeful about. Republicans have already indicated they will include defunding language in a major spending bill needed to avoid a government shutdown at the end of September, congressional aides and lobbyists told BuzzFeed News. But both sides seem to be in agreement that this is a pipe dream. The bill will need 60 votes — at least eight Democrats in the Senate, none of whom support defunding Planned Parenthood — to pass.
One senior Democratic congressional aide told BuzzFeed News that he thought including Planned Parenthood in these budget processes was "a total waste of time," while another likened it to "praying for rain in a desert." Guernsey said he would "prefer not" to have to fight for the defunding effort to be tied to an attempt to avoid a government shutdown, and McClusky more or less ruled it out.
Congress has taken one step toward defunding Planned Parenthood this year — at least at the state level. Back in March, Vice President Mike Pence stepped in to settle a tied Senate vote to enable states to block Title X federal family planning funds from Planned Parenthood. Since, Republican-run states that were blocked or punished financially for attempting to stop funding the organization have felt a new freedom to act. On Friday, South Carolina Gov. Henry McMaster released an executive order barring state funds from going toward any medical practice affiliated with an abortion clinic, specifically calling out Planned Parenthood.
While anti-abortion activists wait for Congress to do more, Texas remains the focus of a lot of the defunding attention. Under the Obama administration, the state gave up its federal Medicaid funding in order to exclude Planned Parenthood and other clinics that offered abortion services from its Medicaid waiver program. (Federal law requires states to fund "any willing provider.") Now, under Trump, Texas is asking for those funds back. If the administration grants Texas's request, made in May, it would send a message that any state could kick Planned Parenthood off their Medicaid programs without facing a loss in federal funding. That potential outcome has drawn the battle lines over abortion rights pretty clearly — Planned Parenthood called it "catastrophic for women," while the March for Life said it was "inspiring."
For now, the state fights look more promising for anti-abortion advocates, but they'll keep pushing on the federal level. Even if their plans for legislation in Congress fail this fall, it's only a matter of time before Republicans bring up another defunding bill and the fight starts all over again.