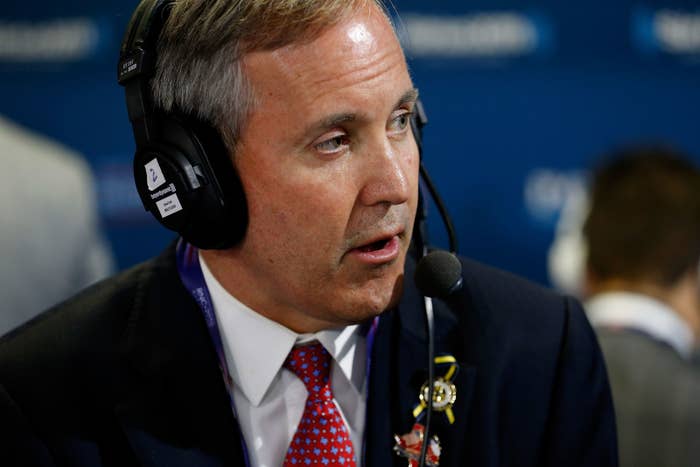 Texas lost federal funding for family planning back in 2013 when it passed a law banning any use of the funds for women's health clinics that provide abortions. But now, after the Trump administration has made a series of moves that favor clinics that oppose abortion, Texas Attorney General Ken Paxton is asking for their money back.

Paxton wrote a letter to Health and Human Services Secretary Alex Azar Thursday, asking them to reverse an Obama administration ban on Texas receiving federal family planning funding.
"Because of the Obama Administration's unconscionable, ideological pro-abortion requirements, Title X funding was discontinued to Texas in 2013," Paxton wrote, asking the administration to also review Title X practices. "We hope that such a review will assure that Texas law forbidding the extension of taxpayer funds to entities that perform or promote elective abortions, or otherwise affiliate with abortion-promoting or abortion-performing entities, will not summarily disqualify Texas from otherwise participating in the Title X program."
Paxton's letter comes as HHS has made changes to its family planning and "conscience protection" policies and the Trump administration, more broadly, has made moves that favor anti-abortion organizations.
Just over a year ago, Vice President Mike Pence cast a tie-breaking vote in Congress to repeal an Obama-era rule that prevented states from stripping Title X funding for organizations like Planned Parenthood that provide abortion. In January of this year, HHS opened a new office expressly devoted to protecting medical workers with religious or moral opposition to performing abortion, gender reassignment surgery, or other medical procedures. And just last month, HHS announced new, abstinence-oriented guidelines for Title X family planning grants — the program that the Obama administration cut Texas out of — which will likely make it easier for clinics that do not provide abortions or contraception to receive federal funding.
Those moves have emboldened Texas to make their request to be added back to the list of states eligible to apply to and receive federal family planning grants. "We very much appreciate the work you and your staff are accomplishing in restoring the rule of law and respect for the religious and conscience rights of Americans," Paxton wrote in the letter Thursday.
HHS did not immediately respond to BuzzFeed News' request for comment about whether they were considering Paxton's request.
Texas lost its Medicaid women's health funding when the state passed a law to end Medicaid funding to any organizations — like Planned Parenthood — that provide abortion. A federal law prevents government money from going to pay directly for abortions, instead covering services like STD testing, cancer screening, and women's health exams, but Texas argued that the money helped keep abortion clinics open.
In response, the Obama administration said the move violated Texas's Medicaid contract, cut off their funding, and, Paxton's letter says, removed the state from the Title X grant recipient list. Paxton said Texas then started its own family planning program — funded by state taxes — which excludes abortion providers.
Applications for federal Title X funding are due May 24, and Paxton said in his letter that Texas is reapplying. Though the Trump administration appears to be sympathetic to situations like Texas's, Paxton wrote, they have not added Texas back to the list of Title X–eligible states.
"The prejudice of the past leaves Texas with reasonable questions as to whether a new application will be received with respectful consideration or the same derision of the prior administration," Paxton wrote in the letter.
"While Texas undertakes the exhaustive task of reapplying to become yet again a recipient of Title X monies, we request that your office undertake a simultaneous review of agency practices."