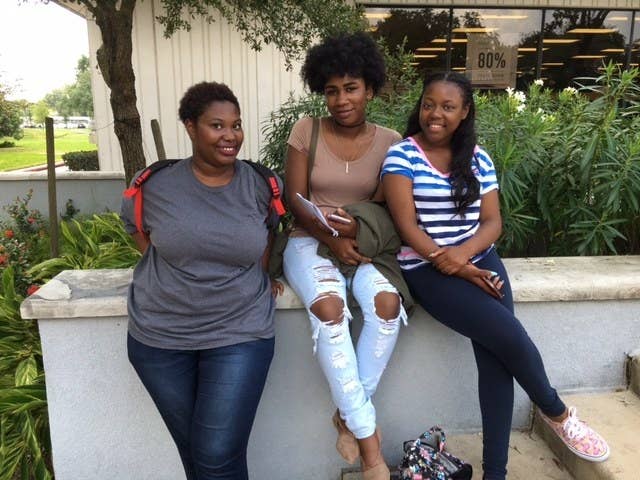 HOUSTON — Many students at Texas Southern University, one of the state's nine historically black colleges or universities, are worried about how the newly implemented law permitting licensed gun holders to take their firearm on campus will affect their safety.
But unlike students at other Texas state-run campuses — who told BuzzFeed News they were mostly concerned about peers "snapping" in class or heated arguments with professors over grades — TSU students said they are worried about how the law might affect interactions with Houston and TCU police officers, classmates, and the community around the campus.
"Many of the men on this campus, young black men, are not allowed to walk outside their house without getting stopped by police," Denasia Green, a 20-year-old communications major, told BuzzFeed News. "So now if they're going to class and have a gun in their possession... It's not good for them."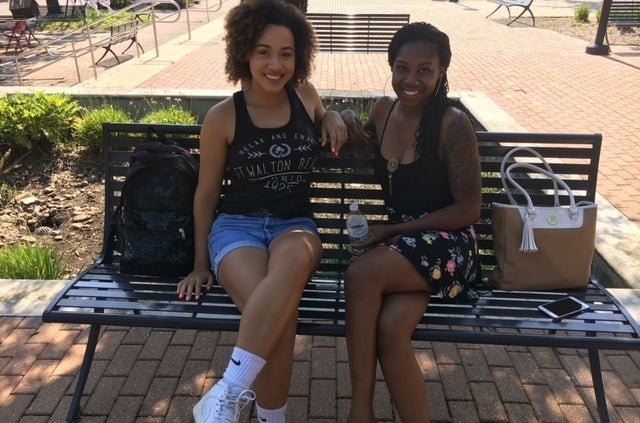 Laura Jones, 19, wondered what would happen if someone opened fire in a classroom. If one of the few white students on campus "pulled a gun in a class," and one of the many black students took out their gun to defend the classroom, "when the cops show up, they're gonna think it's the black guy," Jones said.
Several students said they believe many of their peers already carried guns on campus before the law went into effect on Aug. 1, and that the new law could remove the last dissuasion from carrying a gun. Now police could enter every situation on campus reasonably assuming a student is armed.
"[Police] expect violence from us because of where we come from and our color," said Jasmine Biscoe, a 19-year-old communications major. "Now they have even more of an excuse."
Victor Senties of the Houston Police Department told BuzzFeed News that while they do collaborate with TSU police, and have helped them investigate shootings in the past, they are not the first responders to on-campus incidents. "In terms of concerns about racial profiling … we wouldn't be the ones conducting traffic stops or dealing with suspicious characters on campus," Senties said. "Our presence on campus on a daily basis would be extremely minimal."

TSU police are licensed, armed "peace officers" with arrest powers "all over the state of Texas," TSU spokesperson Kendrick Callis told BuzzFeed News. They work in conjunction with TSU security officers and, Callis said, only call Houston police onto the campus for help "if we have an event expecting a tremendously large crowd." Many of the students who talked to BuzzFeed News were not sure of the difference between campus security, campus police, and Houston police.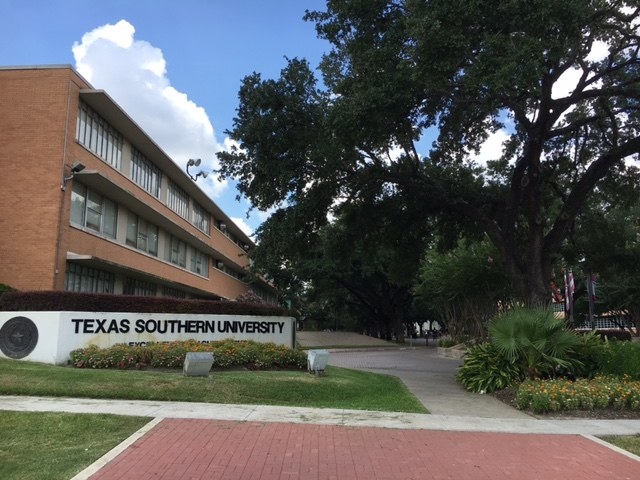 Like all state schools, TSU has "exclusion zones" where guns are not allowed, including all residence halls, health centers, and research labs. TSU President John Rudley has expressed anger over the campus carry law, saying he wished he could make the "entire university" an exclusion zone.
"Too many guns are accessible to students and to people in general in our community. I mean, we have guns everywhere," Rudley told KHOU in 2015 when the law was passed. "I don't want to be in the position that we have to explain why our students are dying." Rudley did not immediately respond to BuzzFeed News' request for comment.
Ten students told BuzzFeed News that police response isn't their only concern — they worry that more firearms on campus means more of a threat from fellow students and the community.
Last academic year — before the law went into effect — there were four on-campus shootings at TSU. Two students died and at least four others were wounded. The suspects are not students. (Supporters of campus carry, including Texas lawmakers, often justify the law by saying it can help students defend themselves against mass, premeditated school shootings.) The gun violence that TSU experienced was the result of personal disputes or robberies, the Houston Press reported.
After those shootings and since the law went into effect, TSU police and administrators increased the number of unarmed security guards and armed police on campus and the frequency of their patrols, Callis said. They also worked to inform students via social media, pamphlets, and town halls about what campus carry means for them, said Roberta Gibson, the project manager for the TSU Department of Public Safety.
"The campus community knows that we're here for them," Gibson told BuzzFeed News. "We make ourselves visible, have our boots on the ground, and show them that safety is our priority."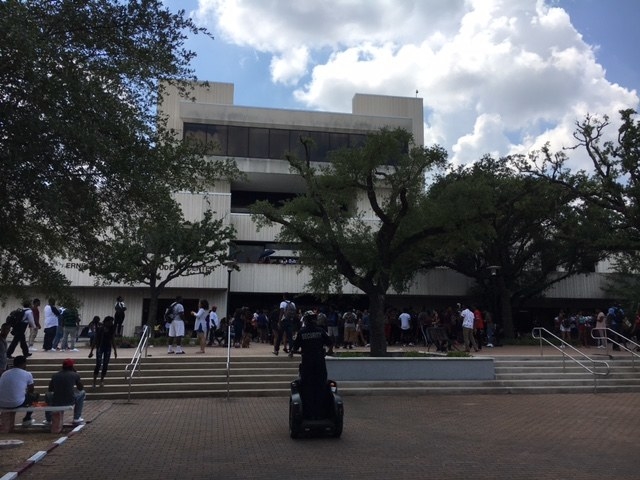 Sure enough, security guards on foot and riding Segways are particularly visible on campus, especially during a weekly outdoor, daytime dance party called Hump Day on Wednesday.
Still, students are wary.
Tatiana Walker, a 22-year-old broadcast journalism major, said she was concerned about the shootings in the last academic year. "But that didn't make me want to carry a gun," she told BuzzFeed News. "There's no way having more guns on campus will make us safer, no matter who has them."
"People are already hot-tempered in college," Walker's friend, Janay Bullock, 21, added. "Of all these people walking past," she said, motioning to the main campus in front of her, "I used to assume most of them didn't have guns. Now 90% of them might be carrying and that's terrifying."
Sheema Kashaka and Laura Jones said that they've heard a lot of their male classmates bragging about bringing firearms to campus. "They're all showing off, giving themselves more power," Kashaka said. "It's mostly talk, but it's still worrying."
Jones added, "I won't get near anyone who talks like that."
But some students say that the law could increase security, especially when it comes to the surrounding community. Keairra Smith said, "This is an open campus in a bad neighborhood," referring to the Third Ward, which in 2013 was contained the 15th most dangerous neighborhood in the US, based on FBI data.
"Anyone could walk on here at any time, and sometimes they do," she said, "We need to be able to protect ourselves."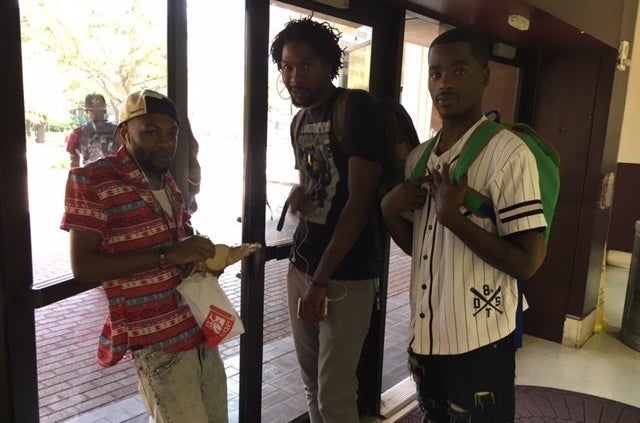 Deron Webster, a 22-year-old business administration major, told BuzzFeed News that he owns a gun and plans on carrying on campus, though he doesn't plan to tell people that.
"If you know someone's got a gun, you're gonna approach them differently," he said.
Another student, who did not want to be named, said, "The people who want guns here were carrying when they wanted to already."
"The truth is this law isn't for us. It's for those white boys over at [University of Houston]," said the student, who said his main focus of study was "urban rhetoric." UH is only a few blocks from TSU and, while still diverse, has a much higher population of white students. "We actually have [guns] for protection, not because of some hero fantasy about saving your school, or to make some political point."