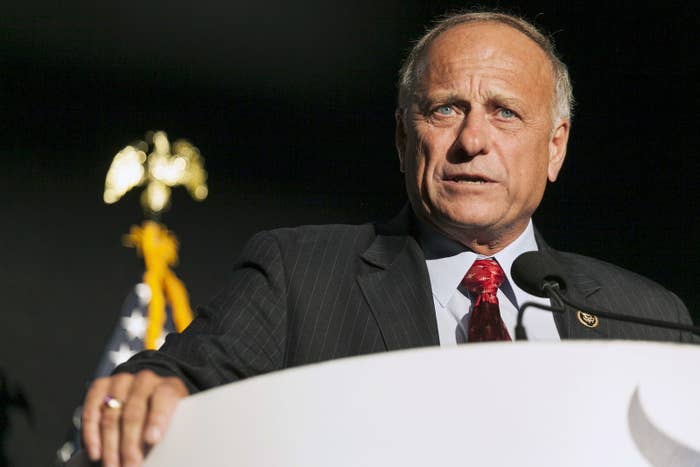 Anti-abortion groups are considering taking a step back from one of their most vocal allies, Rep. Steve King, after he went to war with one of the oldest and largest anti-abortion organizations in the country.
The rift began last month, when King gave an hour-long speech on the floor of the House, accusing the National Right to Life Committee of blocking his anti-abortion bill in favor of more moderate legislation. Many anti-abortion groups argued King's legislation was too rushed and too extreme to pass, or even provide good talking points for the movement — but most, including the NRLC, stopped short of outright opposing it.
Since, King has repeatedly attacked the NRLC in speeches and on Twitter, to the dismay of his longtime allies in the anti-abortion community.
Multiple leaders of influential anti-abortion organizations told BuzzFeed News that they were "disappointed" and "surprised" by King's actions, and felt they were "divisive" within a normally unified community.
"We're the pro-life movement, we're not the Kardashians," vice president of March for Life Tom McClusky told BuzzFeed News. "We all have the same goal, and tearing each other down is not the way to accomplish it."
Leaders of multiple influential anti-abortion and socially conservative lobbying organizations told BuzzFeed News that they found King's behavior "excessive" and potentially destructive. While none of the organizations have yet gone so far as to say publicly that they will withdraw their support for King, some said his continued criticism of the powerful NRLC could end up isolating him from some of the most influential anti-abortion groups in the country.
One leader of a prominent anti-abortion group (who asked that he and his group not be named so as to stay out of a "sensitive" debate) told BuzzFeed News that a version of King's dispute with the NRLC "dates back decades." It's a long-fought battle that has divided advocate groups and caused schisms within the movement, between those like King who have an "absolutist" approach of pushing to make abortion entirely illegal wholesale, and those, like the NRLC, who prefer an "incremental" approach to ending abortion by pursuing restrictive laws that can withstand court challenges one at a time.

But King's current crusade, the leader said, is an "escalation" of this debate and "unlike anything I've seen before."
The conflict began when the Iowa Republican gave a speech on the House during the March for Life — which marks the anniversary of abortion being legalized in the US and serves as the most visible day of action for anti-abortion advocates — on Jan. 19. King spent most of the speech criticizing the NRLC for not openly supporting his Heartbeat Protection Act.
"Why wasn't [my bill] here on the floor Mr. Speaker? Why not?" King said emphatically.
"National Right to Life has been granted a de facto veto power and the effect of it is to block a bill from coming to the floor."
King told BuzzFeed News that he believes there is an unofficial rule in the House barring any anti-abortion legislation from being brought to a vote unless it is supported by NRLC and two other influential anti-abortion lobbying organizations: the Family Research Council and Susan B. Anthony List. Both these organizations have donated to King's campaigns in the past.
"National Right to Life is a blocking agent and there's no rational reason for it," King told BuzzFeed News. "I chock it up to a turf battle, [the bill] wasn't their idea."
King's bill proposes a ban on abortion after around a month and a half of pregnancy (about the time a fetus's heartbeat can be heard with an ultrasound).
But all three major anti-abortion groups chose to put their weight behind less radical bills in the lead-up to the March for Life. The Born Alive Abortion Survivors Protection Act, which would create criminal penalties for doctors who do not transport a fetus that survived an abortion to a hospital, ended up passing the House with the support of every Republican, including King, during the March for Life. And the groups have also backed the Pain-Capable Unborn Child Protection Act, a 20-week abortion ban that passed the House, but was voted down in the Senate by a slim margin last week.
King met with the leaders of many of these groups to convince them to support his "heartbeat" bill instead, he told BuzzFeed News. SBA List showed support for the concept of the bill, but ultimately supported the "born alive survivors" bill for a vote instead, and FRC did not respond to BuzzFeed News' request for comment. King has focused his criticism NRLC because they didn't publicly pledge support for his bill, though they did not publicly oppose it either.
"National Right to Life President Carol Tobias personally told Rep. King that we do not oppose his heartbeat legislation," NRLC spokesperson Tatiana Bergum told BuzzFeed News in a statement. "We don't understand why he is singling out National Right to Life for his unfair attacks when some other national pro-life groups have taken the same position."
McClusky said that March for Life had supported King's bill, but that that support was "contingent on it not being used to attack allies in the pro-life movement."

"The pro-life movement is being put in the middle of this very public fight and I hate that," he said.
Three anti-abortion organization leaders said they wouldn't get behind King's bill because it was not yet "ripened." They said the bill needs more time to build support in state legislatures and to perfect cogent talking points before a fight to pass it can be effective on the national stage.
Anti-abortion bills that are unlikely to get the bipartisan support they would need to pass the Senate are often brought to a vote for "public education" purposes; not because the bills' supporters actually think the bills have a chance of becoming law. Along with these votes, members and advocates need to have carefully crafted, catchy language they can use in speeches, in the media, and when asked about the bills by their constituents.
The leaders said King's bill — which is more extreme than most proposed bills, in that it would ban abortion almost entirely nationwide — was lacking those pieces.
"Some members could be hit for voting for a bill they're not prepared to explain to their constituents," one of the leaders explained. "If people can't get in your headspace, the bill won't succeed viably."
Unlike the "pain-capable" 20-week ban, which has been enacted in some form in 21 states, the heartbeat bill has not been successfully made law anywhere. A version of the heartbeat bill was passed by Ohio state legislature in late 2016, sparking numerous protests, but Ohio Gov. John Kasich vetoed it in favor of a version of the pain-capable 20-week ban. The heartbeat bill is currently being considered by the Tennessee and Iowa legislatures, but if it is signed into law, it will likely be instantly challenged by abortion rights advocates and could be blocked by the courts.
Despite having 169 cosponsors on his bill, so far, King has been alone in his public campaign against NRLC. "I don't want to go ask somebody, 'We have to have this fight now, will you join me?' I think the cause is just and I shouldn't have to say that," King told BuzzFeed News during House votes this week.

"There's a lot of members that have reached that level of frustration with National Right to Life, but it's hard for them to step forward against any pro-life organization and I understand that," he told BuzzFeed News. "But, as they realize what's going on here, more and more members are getting ready to step up, you'll see."
New Jersey Republican Rep. Chris Smith, another prominent anti-abortion member of Congress, told BuzzFeed News that he thought NRLC was "a great group" and said he believed King was alone in his opinion of the group.
Tennessee Rep. Marsha Blackburn, who chaired one of the congressional committees that investigated Planned Parenthood, told BuzzFeed News that she was supportive of King's bill, but was unaware of his dispute with the NRLC.
But the leader of another prominent anti-abortion lobbying organization argued that King's fight might actually help him outside of Washington. While the major lobbying groups may be frustrated with King's actions, he argued, Iowa-based anti-abortion PACs have "nowhere to go" with their donations, and "smaller, more radical pro-life donors will love that he's going after NRLC," who some consider "establishment." Individual donors likely "won't pay attention to the squabble," he argued.
Regardless of public support, King has no plans to stop his campaign anytime soon.
"I can't give up on this. There's no walking away from it," King told BuzzFeed News Tuesday. "If I need to put up more posters, if I need to make more speeches, if I need to rent a bus and drive around America talking about this, I'll do whatever it takes."