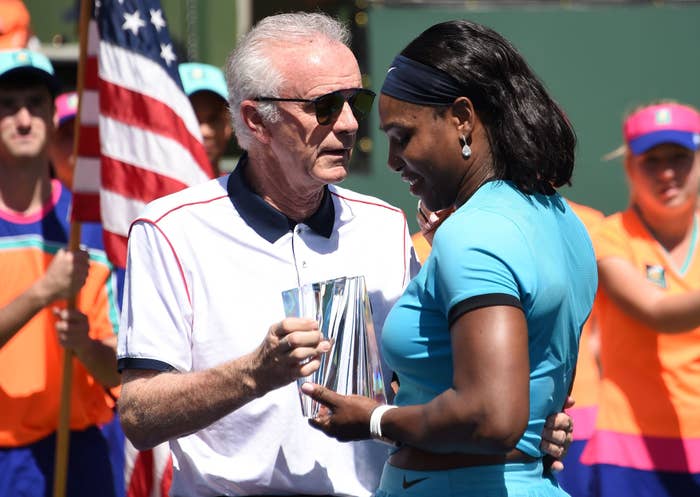 The tennis tournament director who drew sharp criticism Sunday after saying professional women players "ride on the coattails of the men" has resigned, Indian Wells owner Larry Ellison announced Monday night.
When asked about the Women's Tennis Association during a press conference on Sunday, BNP Paribas Open Tournament Director Raymond Moore said that in his "next life" he would like to be reincarnated as someone in the WTA, "because they ride on the coattails of the men."
"They don't make any decisions and they are lucky, they are very, very lucky," said Moore, 69, while laughing.
"If I was a lady player, I'd go down every night on my knees and thank god that Roger Federer and Rafael Nadal were born," continued Moore, referring to two top male tennis champions, "because they have carried the sport, they really have."

Later in the media session, Moore referred to female tennis champions who he thought were "physically attractive and competitively attractive."
Ellison, owner of the BNP Paribas Open, said in a statement late Monday that Moore had decided to step down after the comments.

"Earlier today I had the opportunity to speak with Raymond Moore," Ellison said. "Ray let me know that he has decided to step down from his roles as CEO and Tournament Director effective immediately. I fully understand his decision."
"I would like to personally thank all the great women athletes who fought so hard for so many years in the pursuit of equal prize money in professional tennis," Ellison continued. "And I'd like to congratulate them on their success. All of us here at the BNP Paribas Open promise to continue working with everyone to make tennis a better sport for everybody."
The resignation came hours after Women's National Basketball Association President Lisa Borders and other prominent figures in women's sports — including former World No. 1 tennis player Billie Jean King — condemned the sexist remarks.

"Female athletes are no different than their male counterparts," Borders' statement read:

They inspire millions of fans and work hard to be the best in their sports by competing at the highest levels, breaking records and winning championships. At a time when the physical and emotional benefits of athletic participation have never been more clear, we need to empower female athletes and promote opportunities for girls and women to play sports, rather than promote outdated, offensive and uninformed opinions.
Within a few hours, Moore issued an apology for his statements:
"At my morning breakfast with the media, I made comments about the WTA that were in extremely poor taste and erroneous. I am truly sorry for those remarks, and apologize to all the players and WTA as a whole.

We had a women's final today that reflects the strength of the players, especially Serena [Williams] and Victoria [Azarenka], and the entire WTA. Again, I am truly sorry for my remarks.
Afterwards, Serena Williams, the top-ranked women's player, responded on ESPN, calling Moore's statements offensive and inaccurate.

"Obviously, I don't think any woman should be down on their knees thanking anybody like that," Williams told press, contesting the concept that women tennis players "ride on the coattails" of men.
"If I could tell you every day how many people say they don't watch tennis unless they're watching myself or my sister, I couldn't even bring up that number, so I don't think that is a very accurate statement," she said, adding that she thought there were female and male players that were equally exciting to watch.

Williams also refused to believe that Moore's comments could have been taken out of context, as some reporters present suggested.
"Well, if you read the transcript, you can only interpret it one way. I speak very good English. I'm sure he does too," she said.
"Get on your knees, which is offensive enough, and thank a man, which is not — we, as women, have come a long way," Williams concluded. "We shouldn't have to drop to our knees at any point."