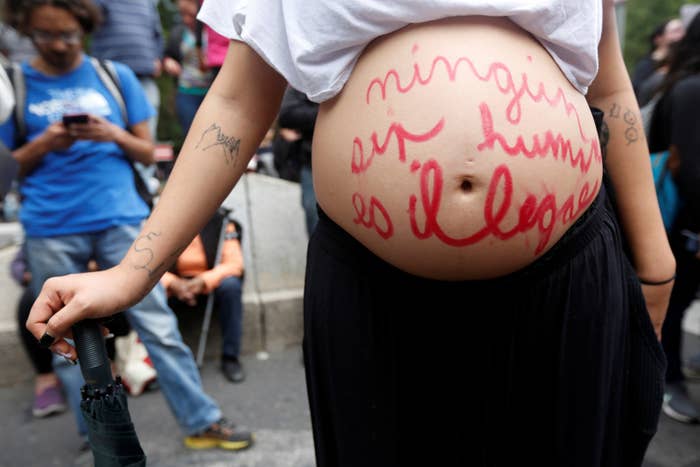 Four Democratic senators are calling for an investigation into the treatment of pregnant women detained in Immigration and Customs Enforcement (ICE) facilities, following a BuzzFeed News report on several women who said they were mistreated while in immigration detention.
The letter to the Department of Homeland Security Acting Inspector General John Kelly, sent Friday, cites BuzzFeed News' reporting on the conditions pregnant women in ICE and Customs and Border Patrol custody have faced under the Trump administration, particularly following a new policy issued in December allowing pregnant women to be detained. Under the Obama administration, ICE was ordered to release pregnant women past their first trimester from custody.
"Recent reports cite the inadequate care that pregnant women receive while in ICE custody, pregnant women's lack of access to medical care, and their heightened vulnerability to sexual assault," the letter reads. "Given the multiple findings of harmful and substandard conditions of detention for this particularly vulnerable population, we ask that you open an investigation into the treatment and care of pregnant women in ICE detention facilities."
The letter was organized by Sen. Kamala Harris and signed by fellow Democratic Sens. Patty Murray, Maggie Hassan, and Tom Carper. A spokesperson for Harris's office told BuzzFeed News that Harris was working "with a group of senators on legislative options to address this as well."
In a story published Monday, BuzzFeed News related the stories of three women who had miscarriages while in the custody of ICE and Customs and Border Patrol and said they did not receive adequate medical care while pregnant or miscarrying. One woman told BuzzFeed News she was physically abused by CBP officials. All three said they bled for days without medical care and all said they were shackled while pregnant at some point during their detention. Shackling pregnant women is prohibited by ICE's and CBP's most recent standards-of-care policies, as well as by a congressional directive.
The report also included interviews with 11 legal, medical, and advocacy workers who work with pregnant detainees in or near detention centers, as well as two affidavits signed under "penalty of perjury" in which a fourth woman described being given clothes so small for her pregnant belly they gave her welts and "pain in [her] uterus." A fifth woman said she underwent repeated X-rays, despite this being against the Food and Drug Administration's recommendations and against CBP's (but not ICE's) policies for pregnant women.
"Pregnant women have repeatedly described the fear, uncertainty, and exhaustion they experience as a result of being detained," the senators wrote in Friday's letter. "Detained pregnant women have stated they experience routine mistreatment, including malnutrition, inadequate bedding, insufficient access to basic medical care, lack of privacy regarding their medical history, and even shackling during transportation for medical care."
The senators' letter said there was a 35% increase in the number of pregnant women detained by ICE in the fiscal year of 2017 compared to the year before, under the Obama administration. During that year, ICE detained nearly 68,000 women, 525 of whom were pregnant, the letter stated, and an additional 590 between December 2017, when the policy change was issued, and April 2018.
In June, Harris toured Otay Mesa Detention center, where the three women BuzzFeed News spoke with were held while miscarrying. There, Harris met with mothers who had been separated from their children as a result of the Trump administration's "zero tolerance" policy, which has triggered national outrage, court cases, and an executive order from President Trump.