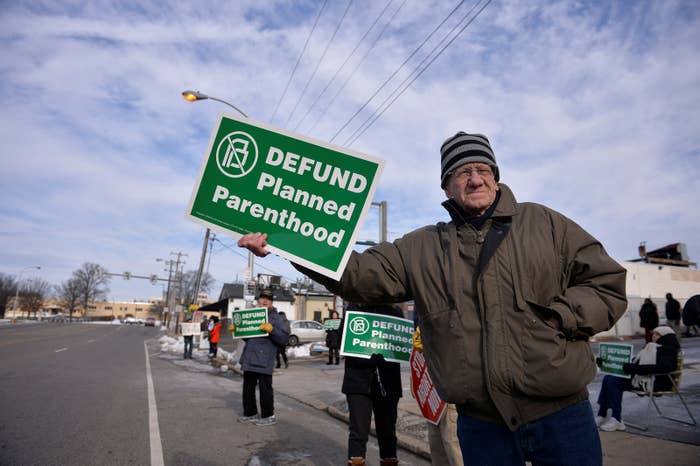 The Supreme Court declined to take up the case of an anti-abortion activist, who is working to win the full release of secretly recorded videos he took of abortion providers.
David Daleiden — the man responsible for the 2015 videos accusing Planned Parenthood of profiting off of the sale of fetal tissue procured during abortions — appealed a lower court's decision to block the release of additional footage after a judge determined there was no evidence of wrongdoing that justified the videos' release.
With the Supreme Court declining to hear Daleiden's case, the lower court's ruling stands. While the outcome was not unexpected, Daleiden says he and his organization will keep trying to release the videos.
"Planned Parenthood and their allies are on notice that [the Center for Medical Progress, Daleiden's organization] will continue to pursue every appealable avenue to vindicate our First Amendment rights and those of all citizen journalists," Daleiden said in a statement sent to BuzzFeed News on Monday.
This is the latest development in a series of intertwining legal battles since Daleiden first released his videos nearly three years ago. Daleiden is facing criminal charges and two civil lawsuits for recording Planned Parenthood and National Abortion Federation employees without their consent — which is illegal in California, where much of the filming took place — as well as creating and using fake IDs and setting up a phony corporation to gain access to them.
Daleiden and the Center for Medical Progress recorded the videos while posing as agents from a "tissue procurement" firm, meaning an agency that facilitates the donation of fetal tissue from abortion clinics for scientific and medical research. Daleiden attended numerous meetings with abortion providers, including Planned Parenthood affiliates, as well as an annual conference hosted by the National Abortion Federation.
In 2015, National Abortion Federation sued Daleiden and his group to block the release of further videos, citing incidents of violence and threats of violence against abortion providers due to claims made in the videos that had already been released. The suit also named Center for Medical Progress board member Troy Newman as a defendant. Newman is the president of Operation Rescue, an anti-abortion organization known for distributing Wild West–style "wanted" posters featuring abortion doctors.
"There's no denying that the smear campaign launched by the defendants has put abortion providers at risk," National Abortion Federation president Vicki Saporta, told BuzzFeed News in a statement. "We are grateful that the Supreme Court denied the defendants' latest attempt to circumvent the very necessary security precautions NAF has in place."
When first released in the summer of 2015, the CMP videos that were not sealed by a court caused an uproar among anti-abortion advocates and politicians, launching more than a dozen state investigations and several congressional investigations into Planned Parenthood.
More than two years later, no concrete evidence of Planned Parenthood profiting from fetal tissue has been found, though Planned Parenthood stopped accepting financial reimbursements for the costs of providing fetal tissue for medical research.
Judge William Orrick, a US District Judge in San Francisco, sealed the rest of the footage in 2016. Orrick rejected claims by Daleiden's legal team that sealing the videos was in violation of the First Amendment because he and his group were acting as "citizen journalists."
In his ruling, Orrick cited the safety risks faced by abortion providers as a result of the videos that had already been released, specifically noting a November 2015 incident in which a man fatally shot three people at a Planned Parenthood clinic in Colorado and used language from Daleiden's videos to explain his actions to police.
At one point in the case, Daleiden's team accused Orrick of bias, though another judge dismissed that motion. Daleiden's lawyers then flouted the seal and released new footage, along with a list of names of the people in them on their website. Orrick ordered them to immediately remove the information, and held Daleiden and his lawyers in contempt of court. Next, Daleiden appealed the seal to the 9th Circuit Court of Appeals in San Francisco, which upheld Orrick's decision last year, so Daleiden's team appealed the decision to the Supreme Court.
In December 2017, the Department of Justice asked Congress for records pertaining to its investigation into Planned Parenthood and multiple fetal tissue procurement agencies, a sign it is taking steps to open its own investigation into the groups.
"As the U.S. Department of Justice continues to investigate Planned Parenthood for the criminal sale of baby body parts," Daleiden continued in his statement Monday, "the undercover footage that Judge Orrick continues to suppress will only grow more and more relevant until it can finally be revealed to the public."