Massive Sandstorms Overtake Syrian Refugee Camps Across The Middle East
So far at least eight people have died in the region and hundreds are suffering from respiratory problems.
A massive sandstorm hit a large portion of the Middle East on Monday, prompting school closures and emergency responses at Syrian refugee camps.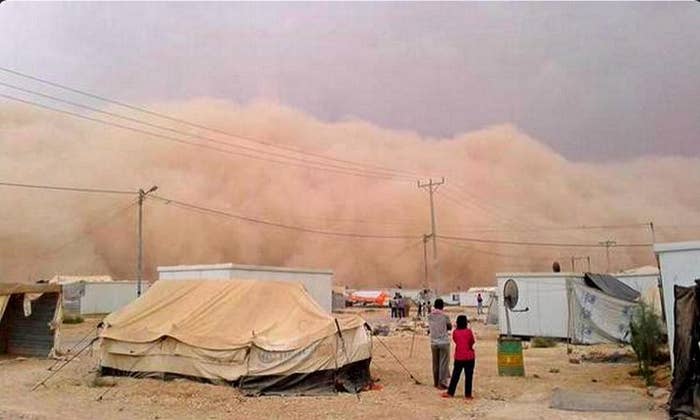 In an interview with BuzzFeed News over Skype, Nasreddine Toualbia, a photographer and UN Refugee Agency Public Information Associate for Jordan's massive refugee camp at Za'atari, said a "huge cloud of dust" descended over the area in the morning.
"The weather is so hot here you could honestly fry an egg," Toualbia said.
The sandstorm, which overtook Israel, Lebanon, Syria, Jordan, Cyprus, and Iraq starting on Monday, has killed at least eight people in the region and caused respiratory problems for hundreds, AFP reported.
The storm was so large that it was visible from space.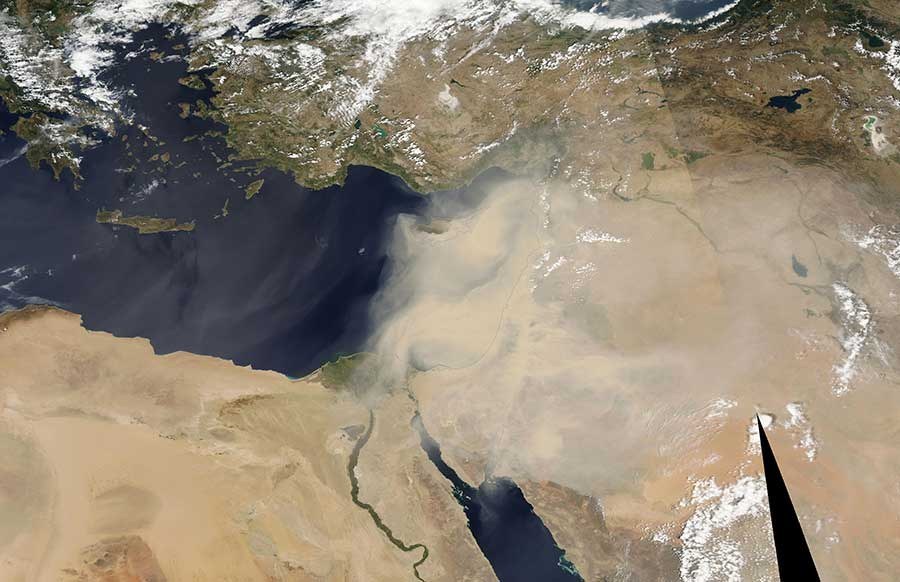 The storm has most affected refugees living in tents and caravans that are unable to entirely keep out the dust.
All of the nine health clinics and one hospital located in Jordan's refugee camp, which holds around 83,000 Syrians, provided face masks and nebulizer treatments, Toualbia reported over Twitter.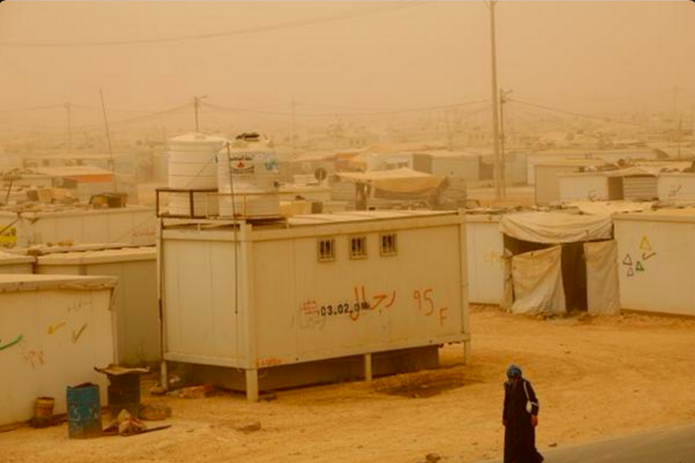 Toualbia, who spoke with BuzzFeed News from his home in Jordan as the dust blew in from the windows next to him, said the storm had continued into Tuesday night. Schools in Amman, the capital of Jordan, have been closed for Wednesday.
No fatalities or injuries have occurred at the Jordanian camp yet, Toualbia said, and the emergency response is more preventive than anything.
"We had a dust storm like this in the beginning of August," Toualbia told BuzzFeed News, adding that they are relatively common toward the end of summer. However, the Jordanian winters are almost as bad, he added.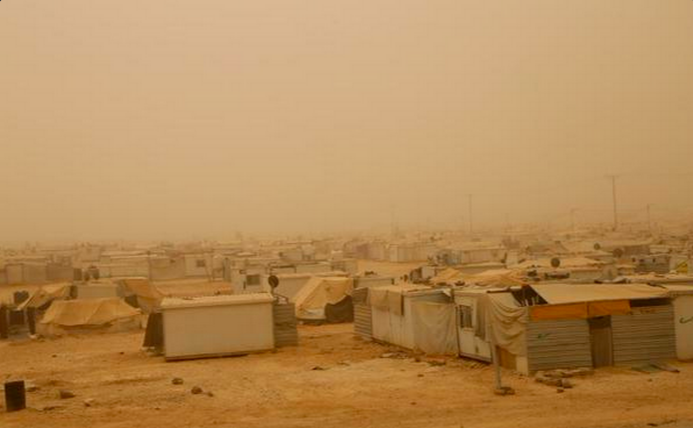 Due to its location, the Za'atari camp — built in 2012 in a large desert area about an hour's drive from Jordan's capital — experiences particularly harsh weather conditions nearly year round. The summer can get up to 105 degrees, and the winter often sees blizzards, heavy rain, and freezing temperatures..
"We do everything within our capacity to help," Toualbia said of the UN team and other organizations that help run the camp. But over the years, he added, many of the refugees have developed their own ways of dealing with the harshest parts of the seasons.
"They dig these big pockets of water – like pools – to cool off in during heat waves," Toualbia told BuzzFeed News. "In the winters, I've seen families opening their shelters to receive other families flooded by heavy rains and snow, or [go] grocery shopping for single mothers who can't leave their children behind to get food."
Two of the six killed in the sand storm were in Bekaa Valley in Lebanon. Though the country's health ministry did not specify their nationality, according to the UN.
Bekaa Valley has a particularly high population of Syrian refugees. The ministry did not immediately respond to BuzzFeed News' request for comment.
Khaled Kabbara, who also works for the UNHCR, posted pictures of refugees in the sand storm on Twitter. Schools in Lebanon were also ordered to be closed.
Police, meanwhile, handed out face masks and warned the elderly and those suffering from health problems to stay in doors.