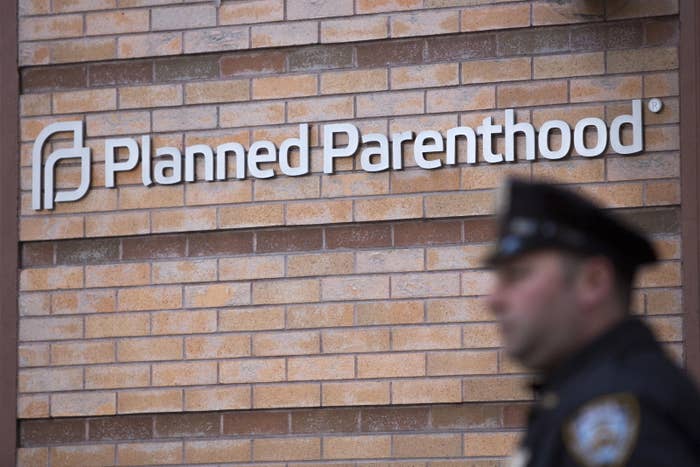 A majority of Republicans in the House and Senate on Tuesday joined 86 anti-abortion advocacy groups in asking the Trump administration to cut federal family planning funding from Planned Parenthood and other organizations that discuss or provide abortions.
In three separate letters sent Tuesday, House Republicans, Senate Republicans, and anti-abortion groups, asked the Department of Health and Human Services to return to a Reagan-era policy that would cut all Title X federal family planning funding from organizations that refer patients for abortions, counsel patients about abortions, or provide abortions in the same building as other family planning services.
"Title X programs which are co-located with abortion clinics or refer for abortion send a message that abortion is considered a method of family planning in federally-funded family planning programs, contrary to the law," the letter signed by 41 Senate Republicans reads.
Kansas Rep. Ron Estes, who took the lead on getting 153 members to sign on to the House version of the letter, told BuzzFeed News that he and the other top signatories — GOP Reps. Vicky Hartzler, Diane Black, and Chris Smith — had spoken with members of President Trump's HHS, and that the agency had seemed "really receptive" to the idea. HHS did not immediately respond to BuzzFeed News' request for comment.
Estes described the letters as essentially a way to let the White House know what members of Congress want. "Something you often run up against is the executive branch not following what the legislative intent was," he said last month.
Though the request takes aim primarily at Planned Parenthood — which serves over 40% of the patients that receive care through the Title X federal family planning grant program — it does not entirely "defund" the organization. Planned Parenthood receives most of its federal funding through reimbursements from the government for providing nonabortion health care services to those on Medicaid.
Should the Trump administration move forward with the rule, however, it would have a drastic effect on other family planning clinics as well. While federal law prevents federal funding from paying for abortions themselves, many clinics that receive family planning funding for services like contraception, cancer screenings, and gynecological exams also provide abortions on the same premises.
"This would be an unprecedented type of regulation on the health care industry that would really disrupt access to care," senior policy analyst for Planned Parenthood Federation of America Kashif Syed told BuzzFeed News in the days leading up to the letters' release. "It's definitely a possibility, and even maybe the aim of this move, that health care providers would have to close or reduce their hours significantly."
HHS is due to release a new round of Title X grants at the end of May, and Estes said he thinks it's unlikely that a new policy will come out before then, but he is hopeful that HHS officials deciding who gets the grants will take the letters into consideration.
The Title X "gag rule," as its called by opponents, was implemented by former president Ronald Reagan in 1988, but was quickly blocked by lawsuits from Planned Parenthood and other organizations. Although the Supreme Court ruled in 1991 that the rule could go forward, it was never fully implemented. Former president Bill Clinton again put it on hold when he entered the White House and later replaced it with new rules requiring all Title X recipients to refer patients seeking abortions to abortion providers.
Reinstating the Reagan rule would be the most drastic anti-abortion policy implemented by the Trump administration domestically, but it is very similar to the Mexico City Policy executive order Trump enacted in his first few days in office, which prevents US funding from going to any international organizations that discuss abortion with patients or provide abortions using separate funds.
"It is time to act swiftly to disentangle abortion centers from the Title X network," the letter from the anti-abortion groups, led by Susan B. Anthony List, reads. "Doing so would be consistent with the President's pledge and subsequent actions to defund Planned Parenthood and reallocate funding to alternative providers."
While HHS did not respond to questions about whether they are considering implementing this rule, they have already taken other steps to alter Title X funding. In March, HHS announced new, abstinence- and "natural family planning"–oriented guidelines for organizations applying for the grants and gave then-secretary for population affairs Valerie Huber final say on who gets the grants. Huber has since been promoted to senior policy adviser to the assistant secretary of health.