The Republican Presidential Candidates Really, Really Aren't For Abortion
Here's what they said about abortion, Planned Parenthood, and Buicks during Thursday's debates.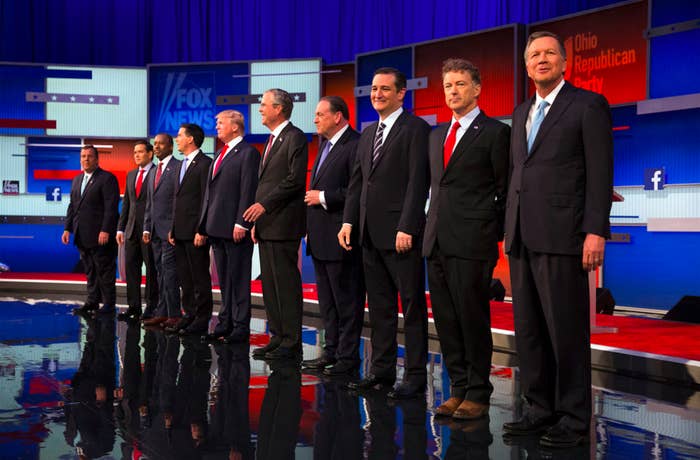 Former Pennsylvania Sen. Rick Santorum
"You know, these Planned Parenthood tapes, what they're showing are partial-birth abortions," Santorum said, beginning the conversation on abortion during the early debate of the seven GOP candidates trailing in the polls. "Abortions being done where the baby's being delivered first, to preserve those organs, and then they crush the skull."
Santorum used an example of a bill he authored on partial-birth abortion that he said the Supreme Court first found unconstitutional.
"What did I do? I didn't stop," Santorum said."We worked together. The House and Senate, under my leadership, and we passed a bill, and we said, 'Supreme Court, you're wrong.'"
Former New York Gov. George Pataki
When debate moderator Martha MacCallum called Pataki the "pro-choice Republican candidate running," the former governor nodded, but then proceeded to take a relatively anti-abortion stance.
In response to MacCallum's statement that he has said he would vote to defund Planned Parenthood, a bill that could potentially lead to a government shutdown, Pataki said that this was true but that his stance on abortion has not been changed by the videos.
"I've always been appalled by abortion. I'm a Catholic, I believe life begins at conception," Pataki said. "Roe v. Wade, it's has been the law for 42 years, and I don't think we should continue to try to change it."
Instead, Pataki suggested not only the defunding of Planned Parenthood, but, "an absolute permanent ban on any taxpayer dollars ever being used to fund abortions."
"When you look at these videos, they are horrific and show just a hideous disrespect for life," Pataki continued. "What else we can do is that we should believe in science."
"Hillary Clinton's always saying how Republicans don't follow science? Well, they're the ones not listening to the scientists today, because doctors say that at 20 weeks that is a viable life inside the womb. And at that point, it's a life that we have the right to protect, and I think we should protect."
Pataki concluded by outlining legislation he would pass as president banning abortion after 20 weeks.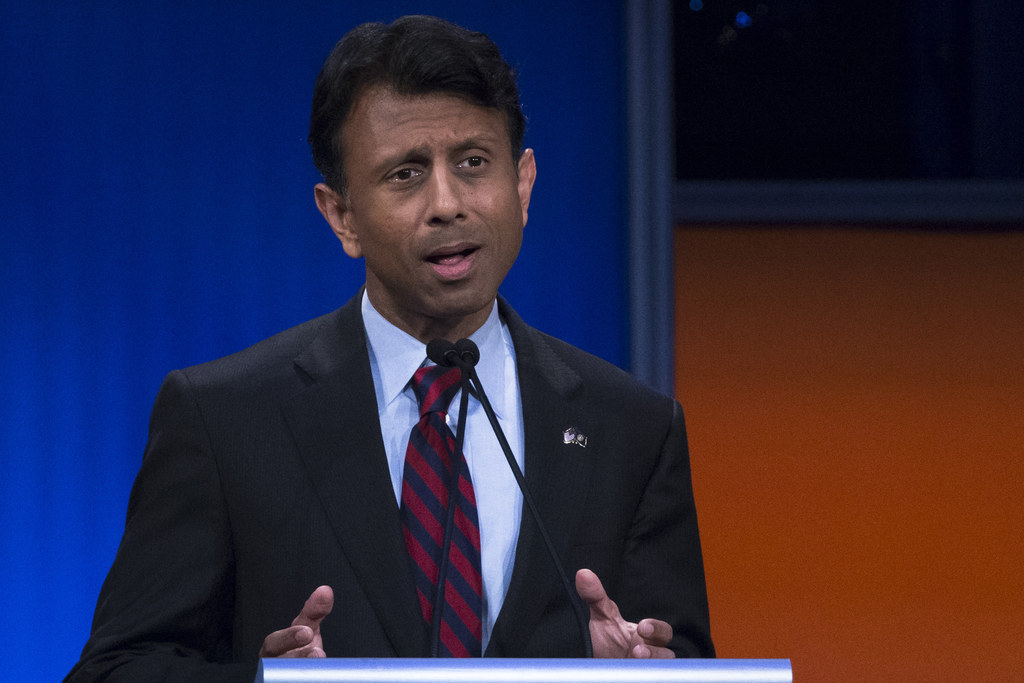 Louisiana Gov. Bobby Jindal
MacCallum continued her questions on abortion, referring to a statement former Hewlett Packard CEO Carly Fiorina said last week in which she stated she would shut down the government in order to defund Planned Parenthood, asking Jindal if he would do the same.
"Planned Parenthood had better hope that Hillary Clinton wins this election," Jindal began, "because I guarantee under President Jindal, January 2017, the Department of Justice and the IRS and everybody else that we can send from the federal government will be going into Planned Parenthood."
In other words, Jindal said, he would absolutely shut down the government over this issue. "This is absolutely disgusting, and revolts the conscience of the nation," he said of the videos.
"In my own state, for example, we launched an investigation, asked the FBI to cooperate. We just, earlier this week, kicked them out of Medicaid in Louisiana as well, canceled their provider contract."
Then, seemingly in contradiction to his previous point, the governor pointed out that Planned Parenthood's Louisiana clinics never actually provided abortions or fetal tissue.
South Carolina Sen. Lindsey Graham
Graham, who was reportedly the only Republican to miss the procedural vote on defunding Planned Parenthood, responded to MacCallum's suggestion that his views could be interpreted as a "war on women" by turning his response into a comment on national security.
"I don't think it's a war on women for all of us as Americans to stand up and stop harvesting organs from little babies," Graham responded. "Let's take the money that we would give to Planned Parenthood and put it in women's health care without having to harvest the organs of the unborn."
"You want to see a war on women?" the senator continued. "Come with me to Iraq and Afghanistan, folks. I've been there 35 times. I will show you what they do to women."
Wisconsin Gov. Scott Walker
In the second debate of the night, featuring 10 top polling candidates, moderator Megyn Kelly brought up the topic of "exceptionism" in terms of abortion.
She said that Walker, who has said publicly that he believes abortion should be illegal even in the case of rape or incest, recently signed a law in Wisconsin that has an exception in case of risk of the mother's life.
"Would you really let a mother die rather than have an abortion?" she asked.
"I believe that that is an unborn child that's in need of protection out there," Walker responded, "and there are many other alternatives that can also protect the life of that mother. That's been consistently proven."
Walker concluded by pointing out that he defunded Planed Parenthood in Wisconsin four years ago "long before any of these videos came out."
Florida Sen. Marco Rubio
When Kelly said that Rubio favors exception to abortion bans in the cases of rape and incest, the senator denied ever having said that.
"I have never advocated that. What I have advocated is that we pass law in this country that says all human life at every stage of its development is worthy of protection," Rubio responded. He added, to much applause, "In fact, I think that law already exists. It is called the Constitution of the United States."
Rubio went on to make a similar point to Walker's, arguing that fetuses have personhood and are protected under the law, "whether they can vote or not. Whether they can speak or not. Whether they can hire a lawyer or not. Whether they have a birth certificate or not."
"I think future generations will look back at this history of our country and call us barbarians for murdering millions of babies who we never gave them a chance to live," Rubio concluded.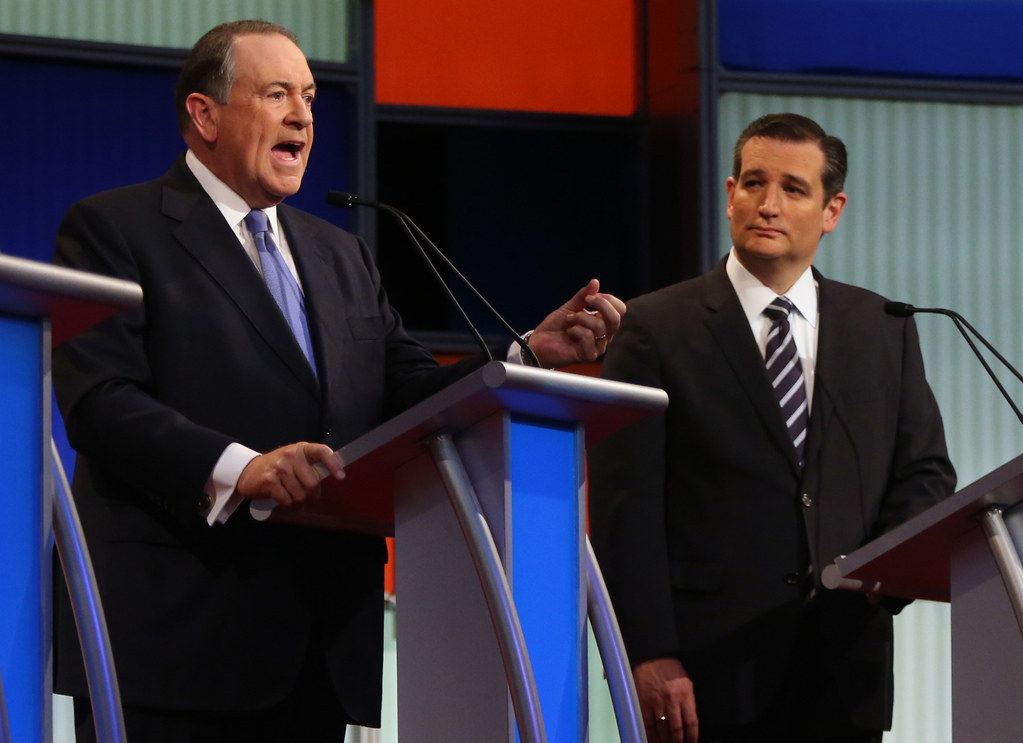 Former Arkansas Gov. Mike Huckabee
"A lot of people are talking about defunding Planned Parenthood, as if that's a huge game changer," Huckabee said in response to a question from debate moderator Chris Wallace. "I think it's time to do something even more bold."
"Now that we clearly know that that baby inside the mother's womb is a person at the moment of conception — the reason we know that it is, is because of the DNA schedule that we now have clear scientific evidence on," the governor continued, reiterating a point he has made often in his campaign. (It's unclear what science he was referring to, other than the fact that DNA is present in a fetus at conception.)
"We just continue to ignore the personhood of the individual is a violation of that unborn child's Fifth and 14th Amendment rights for due process and equal protection under the law."
Huckabee argued that the it's "time that we recognize the Supreme Court is not the supreme being." He concluded by emphasizing a need to "change the policy to be pro-life and protect children instead of rip up their body parts and sell them like they're parts to a Buick."
Florida Gov. Jeb Bush
Bush, who first defunded Planned Parenthood in Florida in 2001, touted his anti-abortion record:
"Here's my record. As governor of the state of Florida, I defunded Planned Parenthood. I created a culture of life in our state. We were the only state to appropriate money for crisis pregnancy centers. We expanded dramatically the number adoptions out of our foster care system. We did parental notification laws. We ended partial-birth abortion. We did all of this and we were the first state to do a choose life license plate."
"I am completely pro-life and I believe we should have a culture of life that is informed by my faith from beginning to end."
Businessman Donald Trump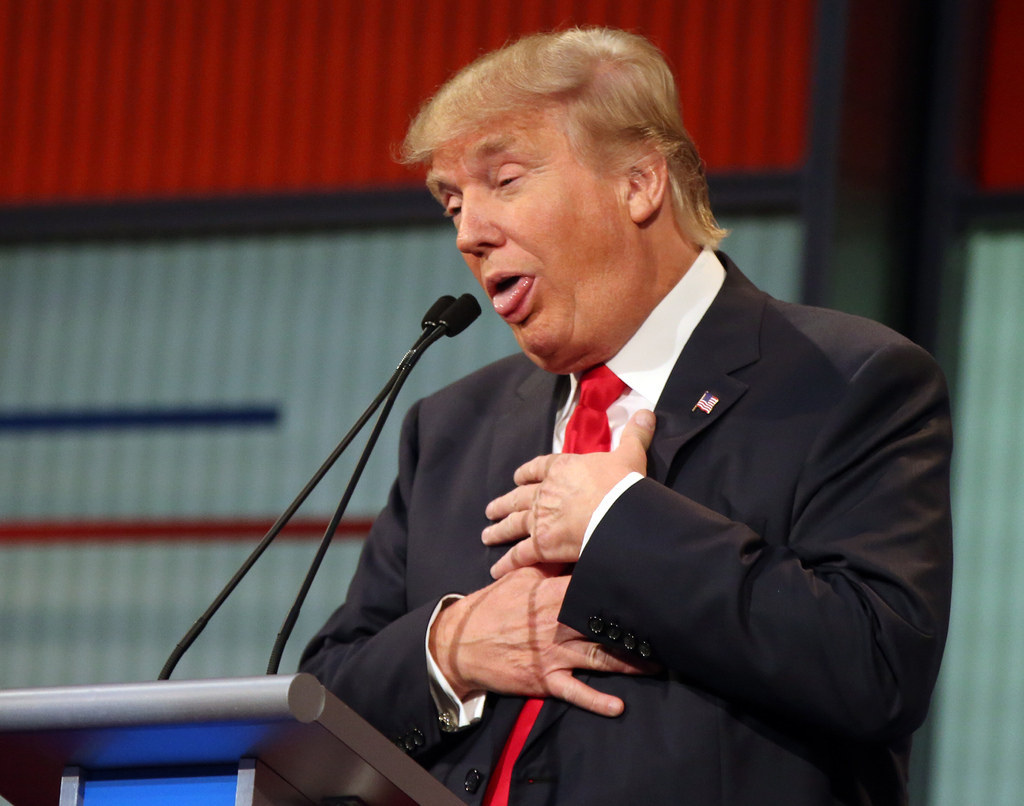 Trump, as Kelly pointed, used to be a Democrat and said in 1999 that he was "very pro-choice." Now, however, he's taking a more personal stance on abortion.
"I am pro-life," Trump began. "And if you look at the question, I was in business. They asked me a question as to pro-life or choice. And I said if you let it run, that I hate the concept of abortion... And then since then, I've very much evolved."
Trump then detailed the origin of his evolution of thought: "Friends of mine years ago were going to have a child, and it was going to be aborted. And it wasn't aborted. And that child today is a total superstar, a great, great child."
Azeen Ghorayshi contributed reporting.