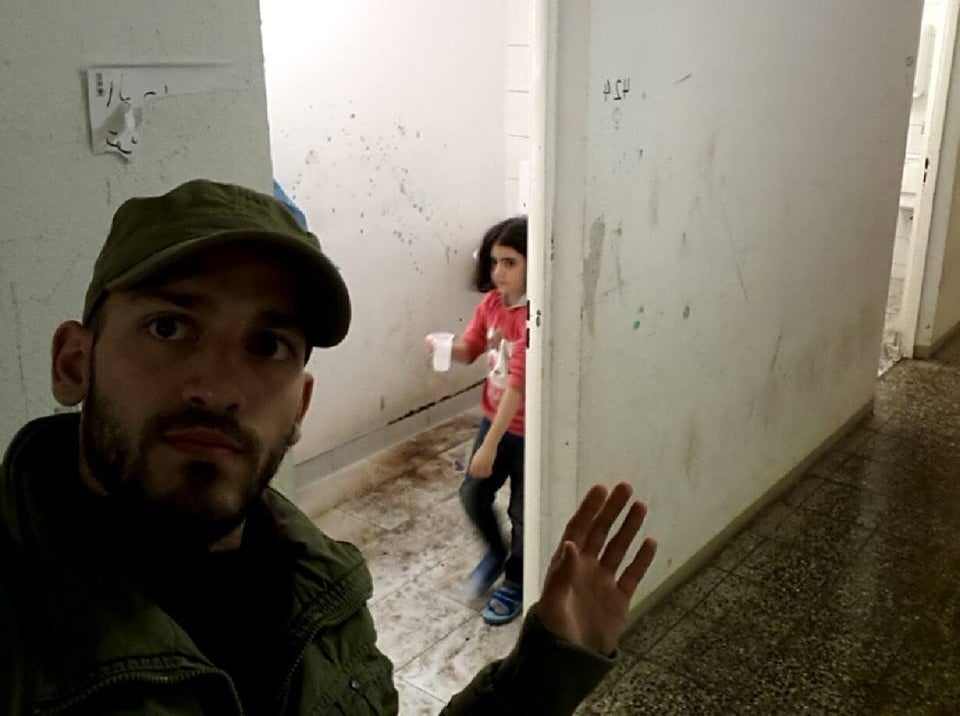 In September, the photo of a dead 3-year-old boy who drowned at sea and washed up on the shores of a Turkish resort town shocked the world into paying attention to the Middle East's refugee crisis. Days later, a more uplifting photo, this time on the shores of Greece, traveled around the globe: a Syrian man who successfully ferried his kitten across the Mediterranean in an inflatable raft.
That was Moner Al Kadri, a former journalist in his mid-twenties with a degree in architectural engineering. He said the last few years have been so terrible, he has a hard time distinguishing one from the other. "When you live in the war, you can't feel everything in your life," he said. "You can't taste your food, feel your connection to other people. You can't feel the fun things."
He and his wife were married in Istanbul just before they boarded the raft to Greece with the cat, Zaytouna — "olive" in Arabic. They spent the first month of their marriage traveling all across Europe, but not in the style of most newlyweds.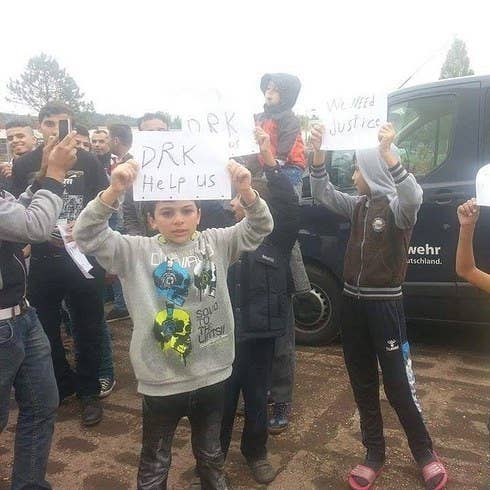 The couple is now in a large refugee camp in Suhl, a city in eastern Germany's federal state of Thuringia. The conditions, Al Kadri said, are deplorable. Syrians, Iraqis, Afghans, and other families fleeing Middle East conflicts pad through inches of water to get to the bathroom and receive small food rations, and they are subject to spreading diseases.
"It's like a prison here," Al Kadri said over the free texting service WhatsApp.
"When we say complaints they say, 'If you don't like it here, go back to Syria,'" he said. "It is so painful when they say that."
In the past week, hundreds of refugees of all ages have stood outside a building containing the camp managers' office protesting the conditions, which Al Kadri called "dangerous and unlivable."

When they first arrived at the camp, their kitten was taken away for tests. Over a month later, they don't know where Zaytouna ended up.
"They told me they put our little cat in a new place with some German family until we can find a flat here," Al Kadri told BuzzFeed News. "My wife told me, 'Let's pretend we are cats, maybe then they will find a place for us!'"
An official with the German federal government told BuzzFeed News that migration officials are "aware of the conditions" at the camp — but refused to outline what will be done.

The transfer camp, run by the German Red Cross, called the DRK, is estimated by residents to hold about 2,000 people. Hundreds more seem to arrive every day.

A DRK medical worker at the camp, who asked not to be identified out of fear of losing his job, confirmed Al Kadri's descriptions to BuzzFeed News.
The medical worker called the conditions "unhealthy" and a "bad situation." There are two doctors for the entire camp, he said, and each of them sees over 30 patients a day.
"It is very hard to control disease here because ... [the conditions] are not healthy," the medical worker said. "So many people have scabies, one child has hepatitis A. ... We all think [they] got it from here."
Many families were quarantined and were delayed transferring out of the camp after being exposed to the contagious infection, the medical worker said.
Al Kadri said he sought medical attention for bones nearly poking through the skin on his two feet. He got the injuries in Syria — he said he was unable to safely reveal how — and was told he had to wait until he was transferred out of the shelter to get treated. That was over a month ago.
"We came to Europe to have justice," Al Kadri told BuzzFeed News shortly after leaving one of the daily protests. "We ran away from Syria to have real life, to [experience] some humanity."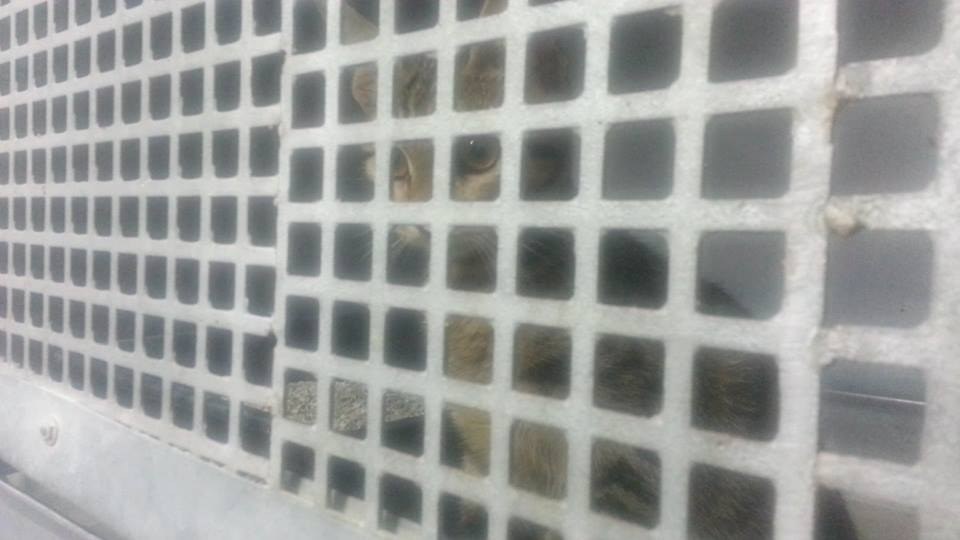 The DRK medical worker said he and his colleagues, some of whom work for other aid organizations, are often confused by which families are transferred out of the camp and why.
Families are sometimes moved into private apartments in German towns within a few days — while others wait two or three months, the medical worker said. He and his colleagues have tried to get the management to quickly transfer refugees with grave medical afflictions — one man, the medical worker said, had severe multiple sclerosis and was unable to move. But even after "begging them," he said, the managers took no action.
He said the managers gave him the same response they gave to Al Kadri: "If they don't like it, they can go home."
On Tuesday, 130 residents of the camp showed a signed petition against the camp's management, obtained by BuzzFeed News, to the local DRK headquarters and local media. Aid workers in the camp who agree with the residents' complaints told Al Kadri they sent the petition to the local Ministry of Migration and Refugees. The petition alleges "abuses" and says refugees have been told by managers to "go back to Syria," which, they said, "scares us and makes us think she can send us back."
It's unclear to many of the refugees and workers — and, seemingly, officials — which entity actually has ultimate oversight of the camp, especially Buildings 18 and 19, which Al Kardi and the medical official said are in the worst condition. The press officer for the central DRK offices, Alexandra Burck, told BuzzFeed News that her branch of the DRK was not responsible for the Suhl camp and "did not even know about it."

Burck then said the camp is managed by the local DRK office and Thuringia state officials. A social worker at the DRK office in Suhl, who declined to give her name, told BuzzFeed News that the camp's manger is Cardulla Zetzmann, who is employed by the DRK.
But Al Kadri said he was told at the camp's headquarters that the DRK only ran Building 20 — the most livable building in the camp, which also houses administration offices — and the other two buildings were run by other aid organizations. When Al Kadri asked aid workers employed in Buildings 18 and 19, they said the entire camp was overseen by the DRK.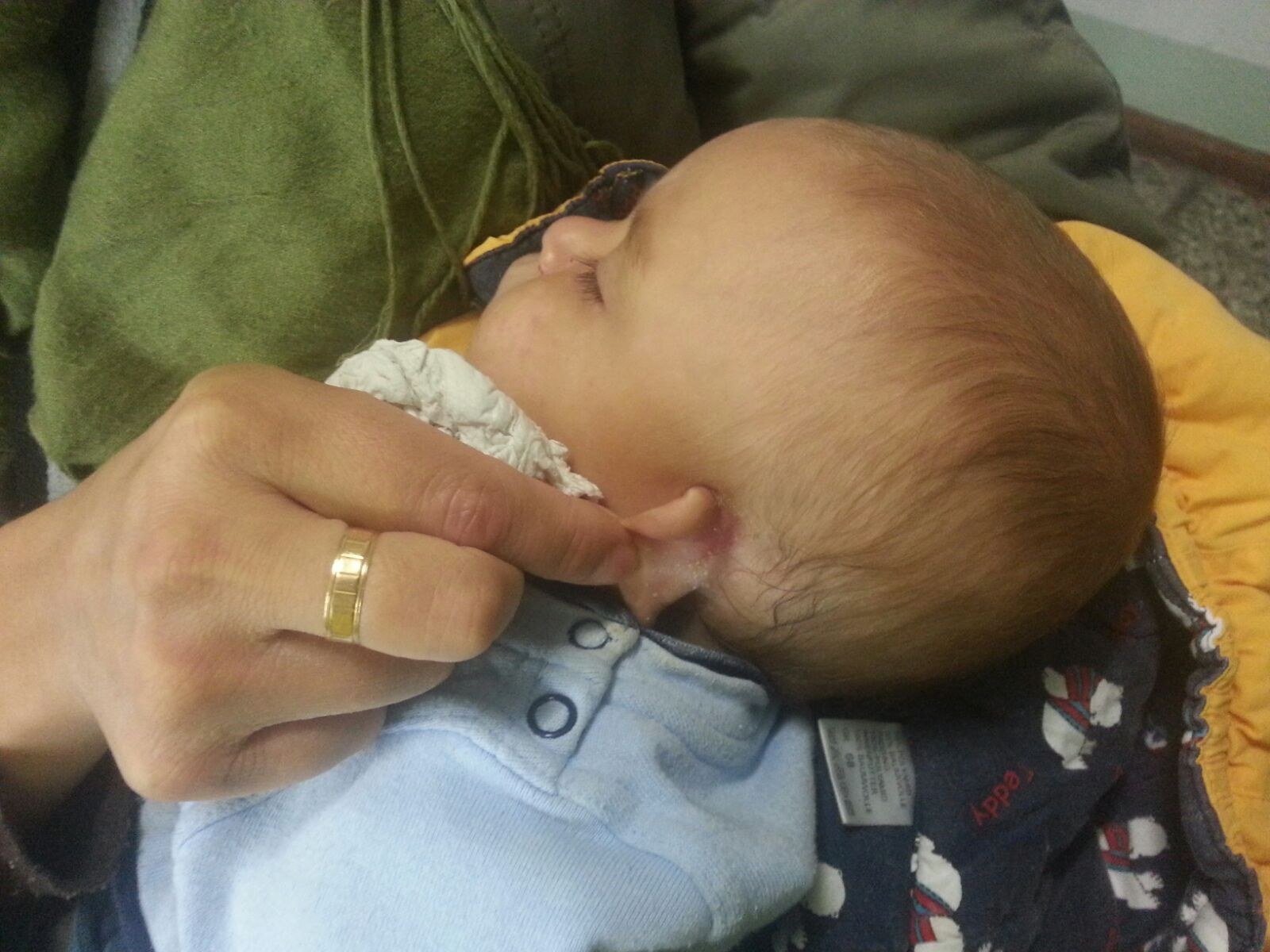 A social worker with the Workers' Samaritan Federation (ASB), which is responsible for the families and upkeep of Building 18, told BuzzFeed News that the DRK managers have taken over all administrative decisions at the camp.
"Three or four weeks ago these DRK people showed up and stopped sending us transfer [orders]," said the social worker who asked to remain anonymous so as "not to cause trouble" in his job.
He told BuzzFeed News that the DRK administrators are normally supposed to listen to their suggestions about who should be transferred to private apartments — usually based on medical conditions, the size of the family, and the amount of time they've been in the camp — but in the past month or so, DRK been deciding on their own.
"People are only supposed to [live] here for a week" or so, he said, but recently many of the migrants have been staying in the overcrowded camps for up to 50 days, while others leave within two or three days.
Another spokesperson for the central DRK, Dieter Schütz; representatives in Germany's ministry of migration; Cardulla Zetzmann; and other workers in the Suhl DRK office did not respond to or refused multiple requests for comment.
Days after moving in, Al Kadri and his wife said security physically pushed them out of Building 20. They were told it was because the building was only for single men, but Al Kadri said he had seen a number of other families staying there. He told BuzzFeed News that he was not sure why they would not let them say, but that he did notice his wife was the only woman in the building wearing hijab, implying, he said, a bias against her beliefs.

"My wife every day is crying," he said, "saying, 'please can we go back to Austria, or the Netherlands, anywhere from here.' She just wants to take our Zaytouna and go."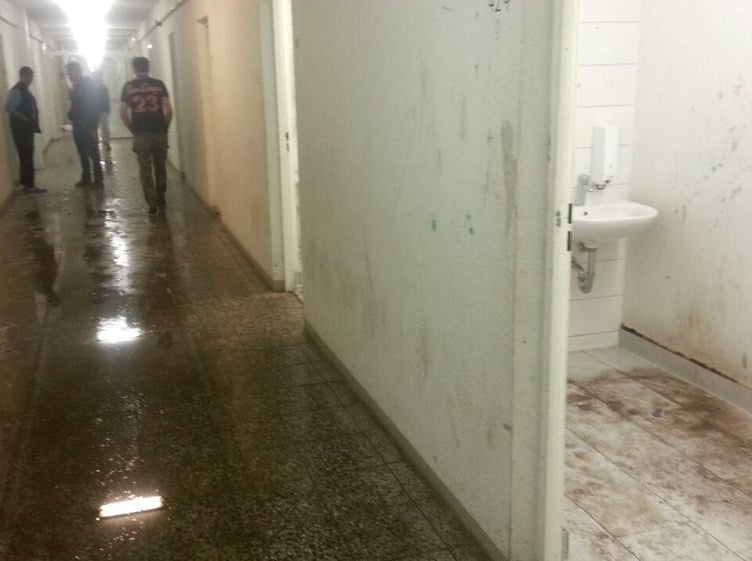 Hundreds of thousands of refugees have fled to Europe this summer. Aid workers and local governments have meanwhile attempted to create accommodations for them wait as their applications for asylum are processed. About 800,000 refugees were expected to cross into Germany by the end of 2015, though German vice chancellor Sigmar Gabriel recently said that number may end up being over a million.

The camp Al Kadri resides in has seen religious conflict before. In August, a riot reportedly broke out after a group of Muslim refugees attempted to "lynch," officials said, a 25-year-old Afghan Christian who tore up pages of the Qur'an and tried to flush it down a toilet. Six local police officers were reportedly wounded trying to stop the mob. Also in August, German supporters of a right-wing movement called Thuegida marched through Suhl as part of a campaign against "Islamisation." Al Kadri said he has been told not to go into the town of Suhl, because they "do not like refugees."

Since the riot, German police unions have recommended asylum shelters separate the residents by religious or ethnic lines to prevent further clashes. Al Kadri said in the month he's been there, he hasn't seen any violence between residents.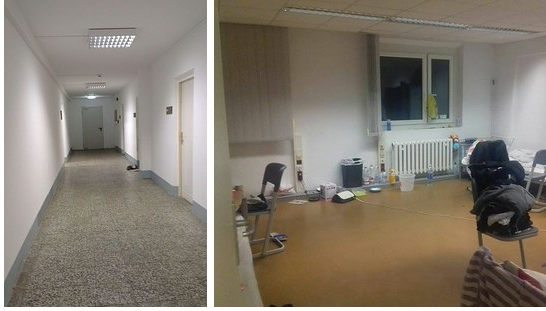 Al Kadri said that some security workers and administrators at the camp often asked refugees for money from their government-issued asylum benefit packages in exchange for cell phones, cigarettes, better accommodations, and faster transfers out of the camp into private apartments in the city. Al Kadri said that single men without families to provide for are often better able to produce the money and were given the nicer housing. The ASB social worker said he had heard this takes place but didn't witness the requests for money. The DRK in Suhl did not respond to BuzzFeed News' repeated requests for response to these claims.
Al Kadri and his wife were eventually moved into a building with smaller rooms that mostly housed families — usually with around five to seven people to a room and many young children, the DRK medical worker confirmed. There, they found the hallways and bathrooms were wet and dirty most of the time and were cleaned once or twice a week despite being used by hundreds of people every day.
They ate the same food almost every day for over a month, "it's some kind of spaghetti and some kind of potato and thin, white sausage," Al Kadri said. "We have breakfast at 8 a.m., lunch at 12 p.m., and dinner at 5 p.m., then we do not eat for 15 hours — even the babies." There is a food market in the town, he added, but it is nearly an hour's walk away in the now-cold German fall.
As he grew more exasperated, Al Kadri began taking photographs and attempting to contact humanitarian organizations. One night, during a protest, security guards noticed him filming, told him to put his camera away, and threatened to confiscate his phone and call the police. They then took his resident ID card and wrote in German that he was banned from entering Building 20. He said he caught part of the interaction in this video.
Some camp workers support Al Kadri's attempts to expose the conditions. Many workers — most of whom, he said, did not work for the DRK — whispered apologies to him and the other residents. One of the social workers, he said, came to his room one night, crying over how the refugees live and the way they are treated. Al Kadri said the worker thanked him for his attempts to expose the camp conditions.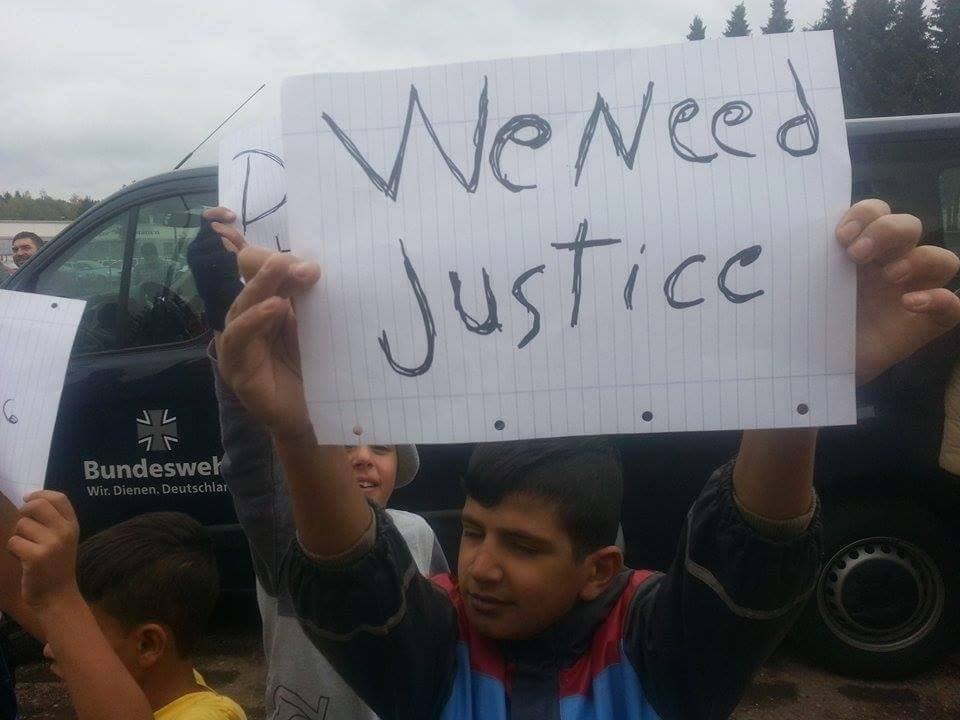 "I don't know why the social [workers] are so afraid of the management here; they keep telling me they wish they could do something but they tried and it made no difference," he said.
On Tuesday morning, after the complaint was filed, there seemed to be the beginnings of change.

As the camp residents walked to Building 20 for their daily protest, they noticed police vans around the area. Al Kadri said some of the social workers told them the police were there to keep the peace, but, he said, many refugees don't trust officials.
"Anyone in uniform we feel is there only to arrest or kill us," Al Kadri said, and many of the protesters began to retreat.
Then a camera crew for ZDF, a local news station, showed up.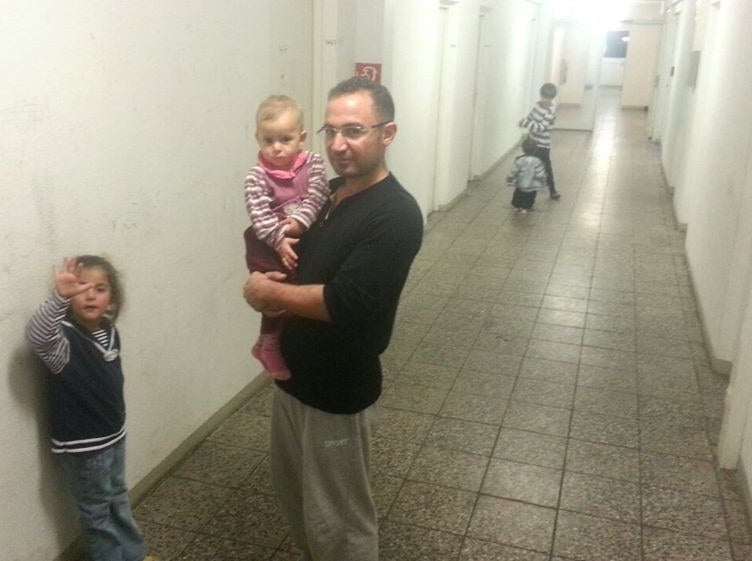 "The management [immediately] turned around and went back inside. ... When I found the journalists, they were surrounded by hundreds of people" talking about the conditions, Al Kadri said.
Once the camera crew left, Al Kadri said, the management came out and distributed to refugees about 55 transfer papers to other camps or apartments. Many went to the families who had been quarantined and unable to transfer due to hepatitis A exposure.
The following morning, some of the social workers who had been helping Al Kadri discreetly put him and his wife in a car and drove them to the Suhl DRK headquarters to meet with the director there, a woman he said was called Frau Rathke.
They spoke through a translator, as she barely spoke English, he said. He listed the complaints, showed her pictures of the conditions, and showed her the petition signed by hundreds of residents.
In response, he said, she repeatedly told him, "No I don't think this is right," or "Mrs. Zetzmann is a very nice woman; she would not do this."
Al Kadri said Rathke agreed to send inspectors from the DRK to the camp early next week to investigate his complaints. The DRK office in Suhl did not respond to multiple requests for comment about this.
The workers at the office also offered Al Kadri and his wife a transfer to another camp or private home. He declined.
"They know me and my wife because of the cat; they want to move me because I am causing problems," he told BuzzFeed News after leaving the meeting. "But this is not only my problem. I will stay until all these people get out of this camp, then we will take Zaytouna, and we will go."