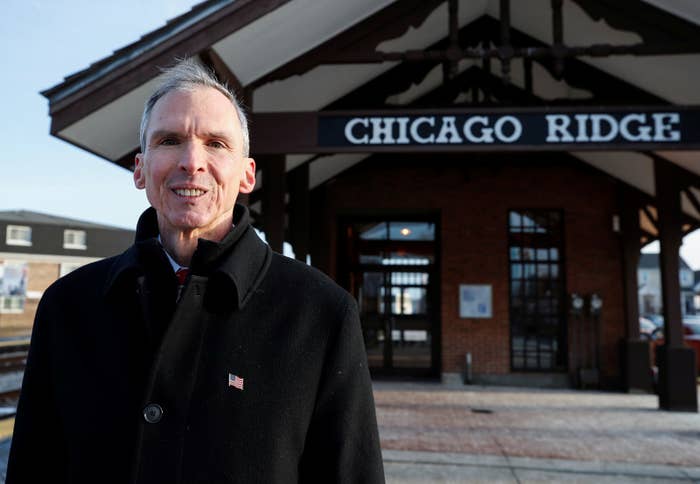 Illinois Rep. Dan Lipinski, one of the last remaining anti-abortion Democrats in Congress, narrowly won Tuesday night's primary election and will very likely keep his seat, following a last-minute push by one of the biggest anti-abortion groups in the country.
Lipinski won the primary in Illinois's 3rd District in an extremely tight race Tuesday night, narrowly staving off a competitive challenge by progressive candidate Marie Newman. The AP called the result at 12:17 a.m. Central time, with Lipinski beating Newman 50.9% to 49.1%.
The race drew national attention when major progressive groups like NARAL Pro-Choice America, MoveOn, and Planned Parenthood, as well as a slew of Democratic members of Congress, endorsed Newman in an attempt to oust Lipinski. On the other side, the Trump-aligned anti-abortion group the Susan B. Anthony List launched a major last-minute campaign on Lipinski's behalf, something it had never previously done for a Democrat.
And the election grew heated. Just before 11 p.m. local time on Tuesday night, Newman ended her election night party saying that she would not concede the race, which was down to less than a two-point difference. "I would like Lipinski to have a very painful evening," Newman said, taking the stage for the first time Tuesday night. "So we're gonna wait."
Newman conceded the race Wednesday morning, saying she she had wanted to see a fully tally of the votes. "I plan on continuing to hold [Lipinski] accountable so that every person in our district has access, opportunity, and equal rights," she wrote in a Facebook post. "I hope the race we ran will make him a better representative for all of us in Congress."
Advocates on both sides of the abortion issue saw the primary contest as an early test of a hotly debated question for Democrats: Should the party accept anti-abortion candidates as it works to regain seats from Republicans and take back control of Congress?
Last week, Democrats in the suburbs of Pittsburgh enthusiastically elected Conor Lamb, who is personally anti-abortion but has said he would not support a 20-week abortion ban in Congress. In the Illinois contest, the Democratic Congressional Campaign Committee and House Minority Leader Nancy Pelosi both backed Lipinski for reelection. Pelosi has argued that Democrats should not have a litmus test on abortion.
While Lipinski is staunchly anti-abortion, he has deep ties in his district and it's clear his long-held stance on abortion wasn't a deal breaker for his constituency in the primary. Lipinski has held his seat since 2005 and inherited it from his father, Bill Lipinski. He and his father are well known in the white, working-class neighborhoods of Illinois's 3rd District, and in the past 14 years he frequently ran unopposed.
"I am currently fighting against extremists on both sides to get [my job] done," Lipinski said in a statement sent to BuzzFeed News ahead of the election Tuesday. "And I will continue to fight for better jobs, affordable health care, better treatment of women in the workforce, and support for seniors and veterans."
NARAL president Ilyse Hogue was at Newman's election night party Tuesday and gave the crowd a pep talk as Lipinski edged ahead in the polls.
"They said this was going to be a wash. They said, 'Why go against the … dynasty of the Lipinski family?' But here we are," she said to the crowd, who cheered, though half-heartedly.
Many of those gathered at Newman's election night party were disappointed, but said they were encouraged by how close the race was. Hogue told BuzzFeed News before the race was called that no matter how the night turned out, "Dan Lipinski knows his days are numbered."
"If he squeaks through this time, 2020 is definitely in the hands of Marie or someone like her who recognizes the value of all people in her district, and not just some," Hogue said.
Katherine Einhorn, a volunteer for Newman's campaign, said that she has leukemia and turned on Lipinski when she found out he voted against Obamacare. She said now that Lipinski has won, "We're gonna be even further up his butt and he knows it."
"This race shows that Democrats aren't going to take Republicans posing as one of us anymore," Einhorn said. "We're not going to take the lies lying down."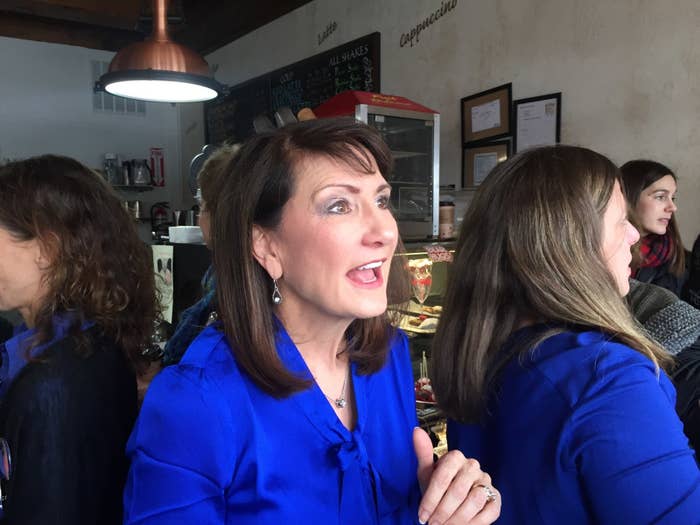 Though this election was the Democratic primary, Lipinski is almost certain to win the seat in November. Not only has the district voted blue in presidential elections since 1988 (President Donald Trump lost it by 15 points in 2016), but Arthur Jones, who ran for the Republican seat unopposed, is an open Holocaust denier who has been described by the Illinois Republican Party as a "Nazi."
Being faced with a challenger backed by powerful progressive groups — who launched aggressive attack campaigns against Lipinski, including one called "Let's Dump Dan" — was an entirely new experience for Lipinski.
Newman's campaign focused heavily on Lipinski's socially conservative views on abortion, immigration, and LGBT issues. Newman, with the support of progressive groups, painted Lipinski as behind the times and no longer in line with his district, which voted for Sen. Bernie Sanders in the 2016 Democratic presidential primary. While Lipinski was endorsed by labor unions and is pro–gun control, he deviates from the Democratic Party on many important social issues.
Lipinski voted against Obamacare and the DREAM Act, he was the only Democrat not to sign onto a bill to increase protections for LGBT individuals in January, and he supports a $12 minimum wage over the more recently preferred Democratic bid for a $15 minimum wage. He has also previously spoken at the March for Life (a major anti-abortion event that takes place in Washington, DC, every year) but he canceled his appearance this year after he learned Trump would be addressing the crowd.
NARAL president Ilyse Hogue said in a statement Wednesday morning that the close race "shows that progressives won't lie down any more as our freedoms and fundamental values are threatened." The race, she continued, "was about more than just one seat, or one candidate. It was the instantiation of an ongoing national dialogue about who will fight for our values in the age of Trump."
Newman frequently went after Lipinski for being a Republican disguised as a Democrat and even accused him of being in line with Trump. One of Newman's closing campaign slogans was "Vote for the real Democrat."
But in the last days of the election the Mike Pence-aligned anti-abortion group Susan B. Anthony List pulled out all the stops to help Lipinski succeed, a move that Newman's supporters saw as a confirmation of their accusation, but which may have ended up helping Lipinski. While primary election polling is tricky, a survey conducted on behalf of NARAL in February showed Lipinski only two points ahead of Newman.
A week ahead of Tuesday's primary, SBA List ran a "six-figure" ad campaign on Lipinski's behalf and sent more than 70 students from Christian universities to the district to knock on almost 26,500 doors over the weekend, to try to convince socially conservative voters to back Lipinski in the open Democratic primary.

"Dan Lipinski is a pro-life hero of legendary courage and integrity," SBA List president Marjorie Dannenfelser said in a statement. "He's not just a pro-life vote in Congress. He is a leader on this issue. ... It was an honor and a privilege for our team to support him and we look forward to continuing to work with him in Congress."
UPDATE
This story has been updated with a statement from Newman, conceding the race, as well as statements from SBA List and NARAL Pro-Choice America.