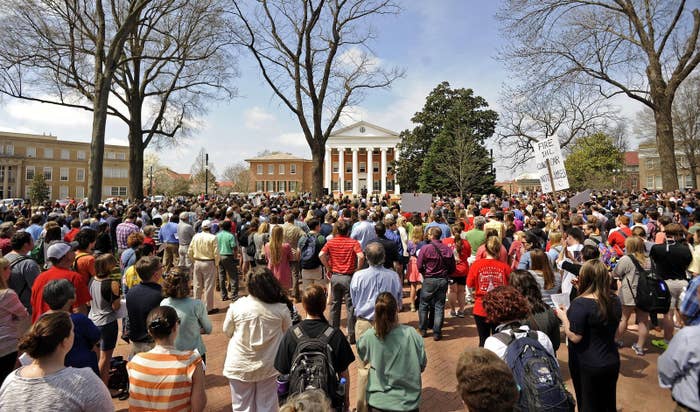 A former University of Mississippi student pleaded guilty Thursday to placing a noose on a campus statue of the school's first black student.
Austin Reed Edenfield, a former fraternity member at the school, pleaded guilty to a misdemeanor charge in federal court in Oxford, Mississippi. The charge specified that Edenfield helped others threaten and intimidate black members of the university's community through vandalism.
Edenfield is the second former student to plead guilty to charges related to a February 2014 incident in which a statue of James Meredith — a pioneer of integration at the university and well known Civil Rights activist — was wrapped in a former Georgia state flag with the Confederate battle emblem and had a noose placed around its neck.
Edenfield was scheduled to plead guilty in September, but U.S. District Judge Michael Mills delayed the court date without public explanation.
The former student faces up to a year in prison and a $100,000 fine, though prosecutors recommended probation. He is scheduled to be sentenced on July 21.

The other student, Graeme Phillip Harris, pleaded guilty to the same charge last year. In September, he was sentenced to six months in federal prison, followed by 12 months supervised release and community service. He began serving his time in January.
The University of Mississippi, known as Ole Miss, has a checkered history of racist acts. When Meredith was admitted by the university in 1962 due to a court order, he was escorted onto campus by armed federal agents. The agents were attacked in a riot that lasted through the night, claiming two lives and only ending with the arrival of federal troops.
In 2002, former CNN President Tom Johnson, who was a fraternity member at Ole Miss, revealed that in the 1970s, Senate Minority Leader Trent Lott led a successful attempt to prevent their fraternity from admitting black men into any of its chapters.
Harris' lawyer argued he did not deserve prison, as the student had written a letter of apology to Meredith — who is still living — in which he claimed he had fallen victim to the influence of racist traditions in his fraternity.

A third student was implicated in the incident but not charged. All three men withdrew their enrollment from Ole Miss,, and the fraternity to which they all belonged, Sigma Phi Epsilon, closed its chapter.