Oklahoma's governor vetoed a bill Friday that would make it a felony for a doctor to perform an abortion except in cases where the mother's life is in jeopardy, saying it "would not withstand a criminal constitutional legal challenge."
The bill, which was authored by Republican state Senator Nathan Dahm, would also authorize the revocation of medical licenses for those physicians who perform abortions.
"The bill is so ambiguous and so vague that doctors cannot be certain what medical circumstances would be considered 'necessary to preserve the life of the mother,'" Gov. Mary Fallin, a Republican, said in a statement. "The absence of any definition, analysis or medical standard renders this exception vague, indefinite and vulnerable to subjective interpretation and application."
Under the bill, a doctor who performs an abortion could be sentenced to up to three years in prison. The bill passed in the senate 33 to 12 with no debate before being sent to Fallin's office.
"Since I believe life begins at conception, it should be protected, and I believe it's a core function of state government to defend that life from the beginning of conception," Dahm told the Senate.
Similar bills regulating abortion had been tossed out by Oklahoma lawmakers in the past, while others have been overturned by the Supreme Court in the 1973 case of Roe v. Wade, in which justices ruled that it was a violation of the 14th Amendment to obstruct a woman's ability to get an abortion.
"While I consistently have and continue to support a re-examination of the United States Supreme Court's decision in Roe v. Wade, this legislation cannot accomplish that re-examination," Fallin wrote.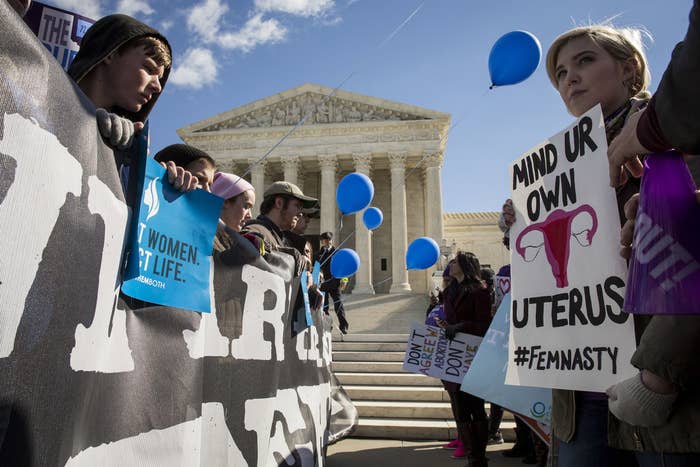 Dahm said he had hoped the bill would be a step toward to overturning Roe v. Wade.
The only physician in the Oklahoma Senate, Ervin Yen, a Republican, told BuzzFeed News that he voted against the bill because he considered it "insane," "silly," and, "unrealistic."
"I'm a Republican, I'm pro-life, I'm a Catholic, but this bill is not going to go anywhere except to litigation," Yen said. "If someone wants to overturn Roe V. Wade they should go to Washington and try ... I'd support that. But this is not the way to do it."
He added that as an anesthesiologist he "took serious issue" with a bill that threatens to take away physician's licenses for performing a procedure that is protected by the constitution.
"It's crazy. I'm sorry," he added.
Ilyse Hogue, President of NARAL Pro-Choice America, agreed with the self-proclaimed anti-abortion senator. "Against a backdrop of a Presidential nominee threatening to punish women for accessing abortion, [this bill] is reckless and dangerous," she said in a statement.
"This obviously unconstitutional bill will never withstand legal scrutiny and is designed to scare doctors and shame women," she continued. "It is a shameful new low for the anti-choice movement."
Executive Vice President of Planned Parenthood, Dawn Laguens, added her voice to the opposition, saying that with this bill "Oklahoma has done away with all pretense."
"We've seen what this means for women forced to drive hundreds of miles or cross state lines for an abortion," Laguens said in a statement to BuzzFeed News
"Unfortunately, while Oklahoma is the most extreme we've seen, this is part of a national agenda to outright ban abortion," she added. "We've seen it manifest in laws in Indiana and Utah. This cannot be the future our daughters inherit."