Ohio Lawmakers Give Governor A Second Abortion Ban: 20 Weeks
The day after Ohio legislators amended a law to ban abortion after six weeks, they sent the governor another bill that would make the procedure illegal after 20 weeks.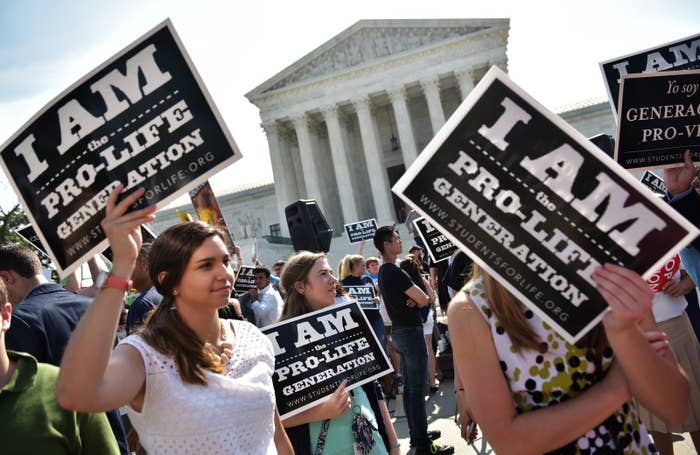 The day after Ohio legislators amended a law to ban abortion after six weeks, they approved a new bill on Thursday that would make the procedure illegal after 20 weeks, giving the governor another option when he considers signing either of them. Neither bills make exceptions for rape or incest.
Once the bills reach Gov. John Kasich's desk, he will have 10 days to sign or veto one or both of them, his office told BuzzFeed News.
Under a current Ohio law — signed by Kasich in 2011 — a fetus cannot be aborted once a doctor deems it able to live outside of the womb.
However, the bill passed by Ohio's congress Thursday, the Pain Capable Unborn Child Protection Act, would ban all abortions after 20 weeks of gestation, except in the cases of threat of death or "irreversible impairment" of the pregnant person's body.
Under the bill, doctors who perform an abortion after 20 weeks could also be prosecuted.
"A hallmark of lame duck" — a term used to describe sessions of lawmakers that sit between when elections are over and the new lawmakers take office — "is a flood of bills, including bills inside of bills, and we will closely examine everything we receive," Kasich's press secretary, Emmalee Kalmbach, reiterating a statement released Wednesday.
It is part of a nationwide anti-abortion effort to pass 20-week bans that already exists with variations in 14 states. In aletter written by Donald Trump during his campaign outlining his platform on abortion, he pledged to turn the bill into federal law.
The law is based on the the idea that after 20 weeks, a fetus can feel pain. Many physicians, including the American Congress of Obstetricians and Gynecologists (ACOG), a nonprofit advocacy and aid group, concludedthere is "no evidence of fetal perception of pain until 29 weeks at the earliest." It added the bill would make doctors unable to do their jobs to the fullest and would "harm women's health in very clear ways."
"The bold pro-life action taken by the Ohio legislature is reflective of the message the voters sent on Election Day, and that is a rejection of the status quo," Marjorie Dannenfelser, president of anti-abortion rights organization Susan B. Anthony List, said in a statement.
"The will of the pro-life grassroots was validated on Election Day," she continued, "and we won't stop fighting until all unborn children are protected under the law."
The 20-week ban was passed by the Ohio House and Senate while national news focused on the strict and nearly unprecedented six-week ban in the so-called "heartbeat bill" that passed Wednesday.
During the debate in the Ohio House of Representatives, multiple Democratic women lawmakers stood up and told stories of their own successful and unsuccessful pregnancies, often shedding tears.
"I can't imagine what it would have been like to receive the news during my second trimester that my body was ... essentially killing the baby inside me," Democratic Rep. Kristin Boggs, who is pregnant, said while speaking about conditions that threaten the condition of the fetus.
"I have no doubts that if I had received what would have been the worst news of my life, that all of you in this room would had offered your prayers and support and have been there for me ... but what I would truly need the most would be the freedom to make the best decision with my husband and my doctor."
Abortion rights advocates argued that the six-week ban, which spawned protests outside of Kasich's Ohio home, served as a distraction from the 20-week proposal.
"Let's be clear, John Kasich wants to make abortion illegal in the state of Ohio," Planned Parenthood Executive Vice President Dawn Laguens told BuzzFeed News. "For six years, John Kasich has worked day-by-day to systematically ban abortion. When John Kasich defunded Planned Parenthood, patients protested at his office....Ohioans will keep showing up. John Kasich needs to listen and veto both the six-week and 20-week abortions bans."