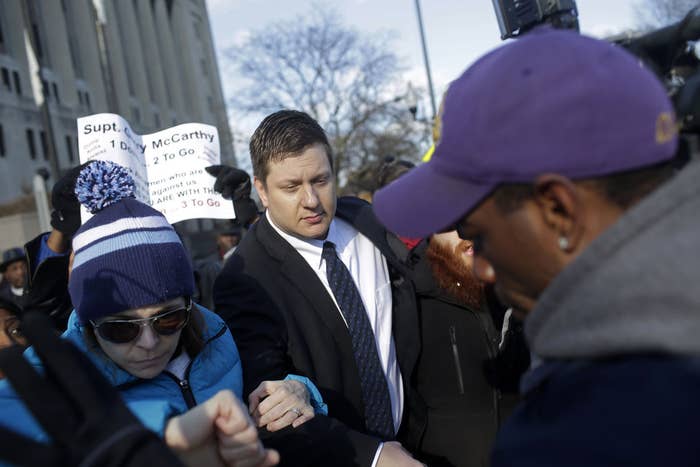 Jason Van Dyke, the Chicago police officer charged with first-degree murder in the death of 17-year-old Laquan McDonald, entered a not-guilty plea during his arraignment Tuesday morning.
Van Dyke was indicted on six counts of murder and one count of official misconduct in the shooting of McDonald last month. He was freed from Cook County Jail after posting the necessary 10% of his $1.5 million bond.
Hours after his indictment, a judge ordered the release of the dash-cam video of the October 2014 incident, which shows the veteran police officer shooting the black teenager 16 times as he veered away. Police say McDonald had a knife.
The video sparked nation-wide outrage; protests; the forced resignation of Chicago's police superintendent; and calls for Chicago's Mayor, Rahm Emanuel, to resign.
Van Dyke is no longer on the city's payroll.
Daniel Herbert, Van Dyke's attorney, told reporters in mid-December that he was considering asking for a change of location for the trial.
In the wake of these protests and Saturday's "accidental" fatal shootings of black Chicago residents Bettie R. Jones, 55, and Quintonio LeGrier by police officers, Emanuel cut his family vacation to Cuba short to work on police department reforms.
A small group of protestors gathered outside of the courthouse where Van Dyke was arraigned. Some held signs, many shouted insults and protest phrases at the officer.
One demonstrator yelled, "You just couldn't wait to shoot a black man."
On Christmas Eve, around 100 protesters gathered in a central shopping district of Chicago to protest McDonald's killing, calling the event "Black Christmas."
After demonstrators refused to leave the road where police said they were blocking traffic, two protestors were arrested. Eugene Tucker, 22, was released on bond after being charged with battery and failure to obey a police officer, the Chicago Tribune reported. The other, Anderson Chaves, 19, was charged with disorderly conduct.