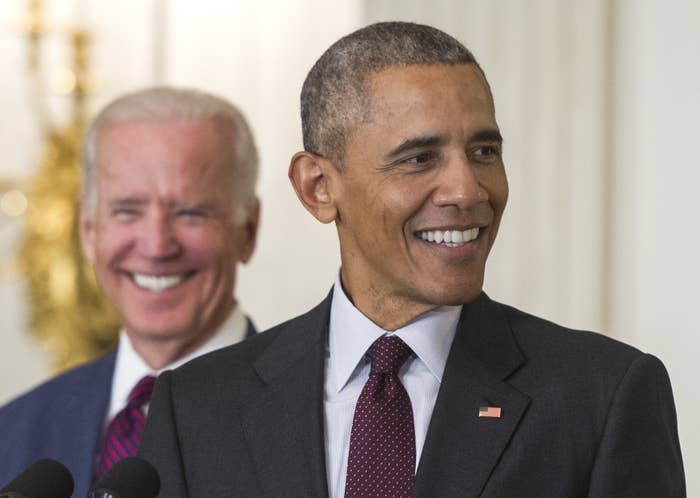 During the President's final Easter Prayer Breakfast at the White House Wednesday, he spoke about the recent rash of terror attacks across the world and took aim at Republican's anti-refugee response.
"In light of recent events. This gathering takes on more meaning," Obama said, after acknowledging the "bittersweet" feeling he attached to giving his final prayer breakfast.
The recent attacks – in Brussels, Turkey, and Pakistan, – "can foment fear and division," the president remarked.
"They can tempt us to cast out the stranger, strike out against those that don't look like us, or don't pray exactly like we do. And they can lead us to turn our backs on those who are in most need and help and refuge," Obama said.
"That's the intent of the terrorists, is to weaken our faith. To weaken our best impulses, our better angels."
With these statements, the President was implicitly responding to anti-immigrant and anti-refugee statements made by Republican presidential candidates Ted Cruz and Donald Trump throughout their campaigns.
Trump has consistently supported a ban on letting Muslims into America, and Cruz recently suggested that the U.S. should greatly limit its acceptance of refugees and that law enforcement should implement extra surveillance in Muslim neighborhoods.
"If Easter means anything, it's that you don't have to be afraid," said the president to murmurs of approval from guests at the breakfast.
"We drown out darkness with light, and we heal hatred with love. We hold on to hope and we think about all that Jesus suffered."
In recent speeches Obama has repeatedly censured the Republican presidential candidates for their anti-Muslim rhetoric and policy proposals, sometimes directly naming Cruz and Trump, sometimes more subtly targeting the tendency for candidates to turn into xenophobia. In Argentina last week, Obama called Cruz's ideas "wrong and un-American ... and counterproductive."
Concluding his speech, Obama said he was struck by the images he saw of Pope Francis washing the feet of Muslim refugees during Holy Week.
"Different faiths, different countries, and what a powerful reminder of our obligations," he said, remarking on the beauty of the scene. "If in fact we are not afraid, if in fact we have hope, and if in fact we believe there's something that we have to give."

The president ended his last-ever prayer breakfast on a light note, joking that when his term in office is officially over he will take "three or four months to sleep," but said the U.S. will never be "rid of" him, "even after the presidency."
"I hope y'all don't mind that," Obama said with a smile.