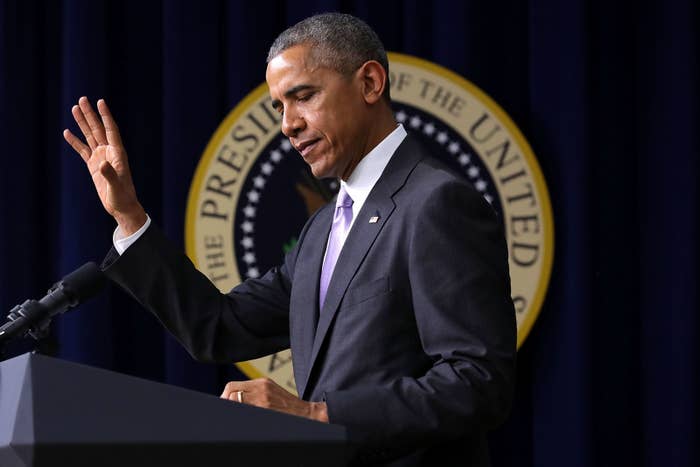 President Obama finalized a rule Wednesday barring states from defunding Planned Parenthood organizations — drawing a swift call from anti–abortion rights lawmakers and advocates who say they would work to roll it back once President-elect Trump takes office.
While a federal law — the Hyde Amendment — prevents any federal dollars from going toward abortion procedures specifically (except in the cases of rape and incest), the rule finalized Wednesday makes sure that "family planning" organizations who provide abortions will still receive Title X federal funding for other non-abortion services such as cancer screenings, STD tests, fertility services, and contraception.
The move to pass the rule was initiated in September with the assumption that a Hillary Clinton presidency would finalize it if it was still pending past the inauguration. After the election, the rule was less likely to be passed under a Trump presidency.
So Obama's move came just under the wire — his finalizing it on Wednesday means it will go into effect on Jan. 18, two days before Donald Trump is sworn in as president.
Tennessee Rep. Diane Black — a huge proponent of defunding Planned Parenthood — told BuzzFeed News, "Come next year, our pro-life majorities in Congress will be positioned to work with President-Elect Trump and pro-life nominee for Secretary of Health and Human Services, Dr. Tom Price, to not only roll back this latest overreach but also to enact new legal protections for these most vulnerable members of our society.
"President Obama knows that hope is rising for the innocent victims of Planned Parenthood's brutality and the big abortion industry's days of taxpayer-funded windfalls are numbered," Black, a Republican, said, adding that the Obama administration "has become unglued at the knowledge of the impending pro-life sea change in Washington, DC."
Trump has said he plans to cancel many of Obama's actions, particularly those made in his last few months in office, and Vice President-elect Mike Pence led the push to defund Planned Parenthood when he was in the House, and Price has advocated for it.
To unravel the rule, Price would have to create another rule contradicting Obama's or legislators would have to propose a bill and get it passed through the House and Senate. Both of these options are time-consuming and could face blocks.
Marjorie Dannenfelser, the president of the Susan B. Anthony List, which opposes abortion rights, told BuzzFeed News that she was not surprised by Obama's action. "I think [Obama] is hoisting up several flags to rejuvenate the troops, but it's a futile task," she said. "But it's such a poke in the eye to the now more vocal states that are pro-life and Republican and inclined to disagree."
Planned Parenthood said in a statement Wednesday, "While the rule provides strong protections, it could face attacks in Congress or by a Health and Human Services secretary determined to undo these common-sense protections."
And Planned Parenthood's president, Cecile Richards, acknowledged in a statement that this was the only the beginning of a long fight.
"This rule protects birth control, cancer screenings, STI testing and treatment, and other health care for millions of people. Yet this fight is not over," she said.
"We will not back down, and we will continue to fight for our patients' access to care. Every person deserves the right to control their own bodies, their own health, and their own well-being without politicians getting in the way."
And Clare Coleman, president and CEO of the National Family Planning & Reproductive Health Association, said, "Congressional opponents have made clear their intentions to swiftly reverse all of the recent progress made for women's health, including blocking these important protections."
"At a time when the stakes for women's health could not be higher," Coleman added, "the need for a robust family planning safety net has never been greater."