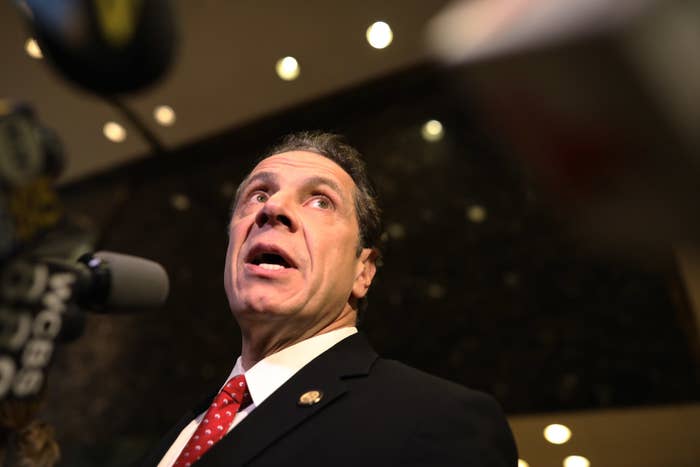 New York Gov. Andrew Cuomo on Monday announced his intent to make legal abortion part of the state constitution.
During a rally to "stand with Planned Parenthood," the Democratic governor told the crowd he wants to make Roe v. Wade — the 1973 Supreme Court decision that legalized abortion — an amendment to New York's state constitution.
The announcement comes one day before President Donald Trump is set to announce his nominee for the Supreme Court. Trump has repeatedly said he will nominate a justice who would overturn Roe v. Wade.
"As Washington seeks to limit women's rights, we seek to protect them," Cuomo said at the rally. "We will not allow the progress of the women's movement to be stopped, and we must seize this opportunity to bring the state and the nation forward and stand up for women's health. Make no mistake, we will always protect the right to choose in New York."

But adding Roe v. Wade to the state constitution would require two rounds of votes in the state legislature (which is largely anti-abortion) and then, if passed, would be put to state voters.
Cuomo's announcement also comes on the heels of a report released by New York Civil Liberties Union noting that the state's abortion laws are more limiting than those allowed under Roe v. Wade.
New York's law legalizing abortion was passed three years before the Supreme Court decision and criminalizes late-term abortions after 24-weeks of pregnancy, with exceptions for cases where the life of the mother is threatened, but not for when the fetus will not survive birth.
Cuomo and other New York Democratic legislators have made numerous efforts to protect abortion and birth control rights in the state since Trump's election as part of a campaign called "New York's Promise to Women: Ever Upward."

During the weekend of the Women's March, Cuomo announced that, even if the Affordable Care Act is repealed, New York will maintain requirements for insurers to provide free access to most kinds of birth control and abortions deemed "medically necessary" by a doctor.
Other state legislators have been working with abortion rights advocates on an updated version of a previously-proposed piece of state legislation called the Reproductive Health Act (RHA). The original version of the RHA, proposed in 2014 and not approved by the legislature, would update New York's abortion law to legalize more and later term abortions and would codify Roe v. Wade. In December, Democratic Sen. Liz Krueger of Manhattan told Politico that the new version of the law would be "more explicit" and "stronger," though she did not specify how.
While Cuomo's proposal and the RHA overlap, a representative from Cuomo's office told BuzzFeed News the two were not related.