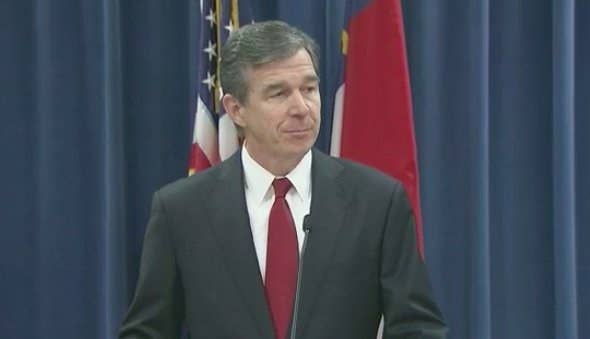 North Carolina Attorney General Roy Cooper announced Tuesday that he would not defend a recently passed state law that nullified local LGBT rights ordinances, saying it was unconstitutional.
On Monday, a collection of state and national LGBT and anti-discrimination groups filed the lawsuit against the state, arguing that a recently passed law — part of which restricts transgender people's access to public restrooms that correspond with their gender identity — singled out LGBT people for "disfavored treatment" and "explicitly [writes] discrimination against transgender people into state law."
Speaking at press conference in Raleigh, the state capital, Cooper called the law a "national embarrassment," and argued that it was not only "unconstitutional" but a drain on North Carolina's economy, due to the increased litigation that will be waged against the state, as well as the negative effects on small businesses.
"Over the last 15 years our office has defended state officials and agencies when [they] have been sued," the Democratic attorney general said. "We will continue to do this, but we will not defend the constitutionality of this bill."
He said his office would "have nothing to do with this."

Cooper explained that on top of the prior reasons listed for not supporting the bill, it also went directly against a nondiscrimination policy that was instated in his office in 2001.

"I made a promise," Cooper said about the policy, "that any employee who gets the job done here should be welcome without fear of discrimination. House Bill 2 is in direct conflict with our policy."
Toward the end of the press conference, Cooper – who is currently running for governor himself – rebuked current Republican North Carolina Governor Pat McCrory for not vetoing the bill, and encouraged the governor to repeal it.

Cooper also commended Georgia's conservative Republican governor, Nathan Deal, who on Monday vetoed a "Religious Liberty Bill" that enabled legal discrimination against LGBT citizens, citing the negative affects it would have on Georgia's economy.
"Considering what is happening, I believe I must now call and work with the legislature to repeal [H.B.2]," Cooper concluded. "It's time to do the right thing for the good of our people, our economy, and our state."
Shortly after Cooper's statements, the LGBT groups behind the lawsuit against North Carolina praised the Attorney General for refusing to defend the state.
"We're grateful the Attorney General stands on the right side of history with the many cities, states, businesses, and individuals who have come out against this harmful measure," the American Civil Liberties Union, ACLU of North Carolina, Equality NC, and Lambda Legal, said in a statement.