Trump Said He Could Shoot Someone In Broad Daylight And Not Lose Supporters
So, what do you think he would have to do to lose supporters?
In a speech Saturday, Republican presidential contender Donald Trump said that his followers are so loyal that he could shoot someone and still maintain their support.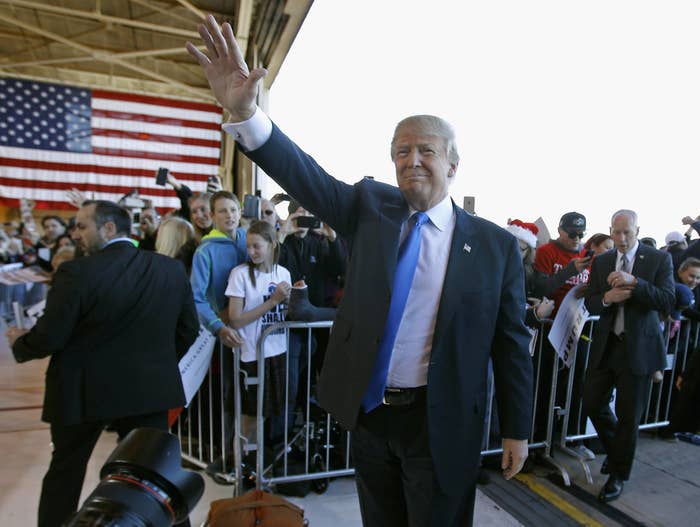 "I could stand in the middle of Fifth Avenue and shoot somebody, okay, and I wouldn't lose any voters, okay?" Trump said to the laughter of the audience at a rally at Sioux Center in Iowa. "It's, like, incredible."
Trump made the remark while discussing recent polls, which found that he is not only the GOP frontrunner – with 35% support – but has the most loyal and enthusiastic fan base of the GOP candidates.
Some 51% of Trump supporters say they are "absolutely certain" they will vote for him, NBC reported. Another three in 10 say there is a "large chance" he will get their vote.
Supporters of Cruz and Rubio supporters, however, said they were not certain they will vote for the candidate they currently support come the Republican primaries.
Oops. Something went wrong. Please try again later
Looks like we are having a problem on the server.
So, what do you think Trump would have to do to lose the votes of his supporters?
Throw a baby down a well on live television.

Eat puppies for breakfast.

Ban everyone from entering the country. Not just Muslims. EVERYONE.

Shoot Cecil The Lion's brother Jericho.

Have a snowstorm named after him.

Announce he and Hillary Clinton are getting married.

Announce he and Bill Clinton are having an affair.