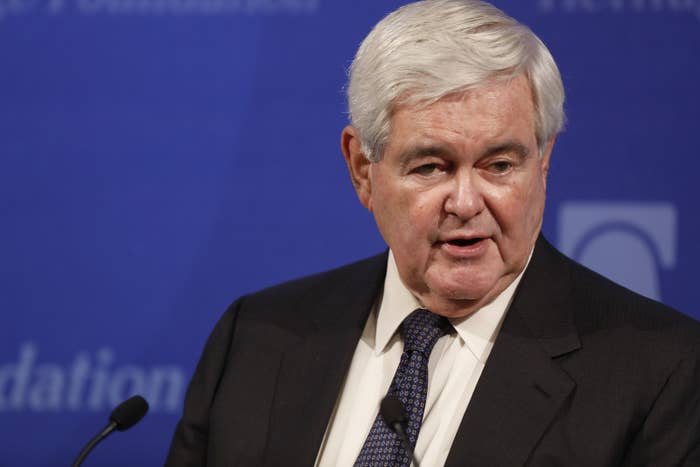 Former House speaker and loyal supporter of President Trump Newt Gingrich used an interview on Fox and Friends to push a conspiracy theory about a Democratic National Committee staffer, Seth Rich, who was murdered in July.

"We have this very strange story now of this young man who worked for the Democratic National Committee," Gringrich said Sunday morning, "who apparently was assassinated at 4 in the morning, having given WikiLeaks something like 53,000 emails and 17,000 attachments."
Rich, 27, was fatally shot in what police have said was a suspected attempted robbery. His killer remains at large. Days later, WikiLeaks released thousands of DNC emails, an act that intelligence officials have said was related to Russian meddling in the 2016 election. Conspiracy theorists have claimed Rich was the leaker, and his killing was ordered by the Clintons in retaliation.

Gingrich brought up the theory — which has also been pushed by Russia's government — as part of a discussion about Robert Mueller, the special counsel appointed by the Department of Justice to oversee an investigation into the Trump administration's ties to Russia.
"Nobody's investigating that, and what does that tell you about what's going on? Because it turns out, it wasn't the Russians," Gingrich continued. "It was this young guy who, I suspect, was disgusted by the corruption of the Democratic National Committee. He's been killed, and apparently nothing serious has been done to investigative his murder. So I'd like to see how Mueller is going to define what his assignment is."
A local Washington Fox News channel reported Monday that Rod Wheeler — a Fox contributor who had been paid by a conservative donor to investigate Rich's death — said he found "tangible evidence" on Rich's laptop showing he was in touch with WikiLeaks before he was killed. On Tuesday, Fox followed up the report with claims that Rich "had leaked thousands of internal emails to WikiLeaks," citing a "federal investigator."

The family was quick to publicly reject claims that Rich had been in touch with WikiLeaks and said that Rich's laptop was not in police custody as Wheeler had claimed.
Wheeler has since largely walked back his claims, telling CNN and NBC that he was just repeating what he heard from Fox News reporters, and that he had no evidence that Rich had been in contact with WikiLeaks.
On Friday Russia's United Kingdom embassy posted a tweet calling the deceased staffer a "WikiLeaks informer" with the text "Who killed Seth Rich?" superimposed over a looming, malicious-looking image of Hillary Clinton.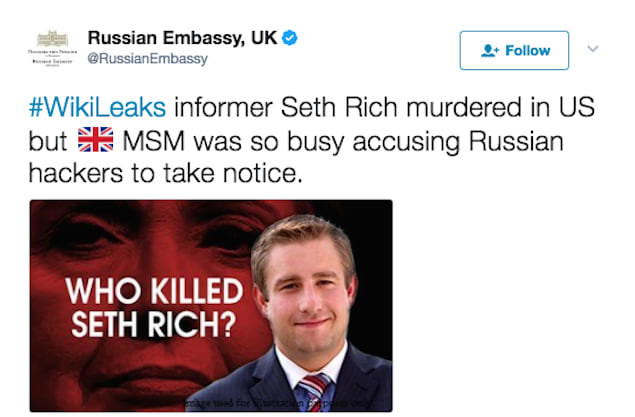 WikiLeaks itself has both pushed and recanted this conspiracy. Shortly after Rich's death, WikiLeaks offered a $20,000 reward for help solving the case. Founder Julian Assange then raised further eyebrows when he spoke of Rich's death, saying, "Our whistleblowers go to significant efforts to get us material."
WikiLeaks later backed off the claim, saying Assange's statement "should not be taken to imply that Seth Rich was a source for WikiLeaks," nor that his death was connected to the leaked emails.
Following Gingrich's remarks, another hoax began circulating the internet that Rich's family had publicly thanked and encouraged theorists investigating Rich's involvement with WikiLeaks in a much-shared video posted on fringe and "alt-right" Twitter accounts. In fact, as the Washington Post pointed out, the video is from Rich's family's GoFundMe site to thank donors.
Rich family spokesman Brad Bauman told BuzzFeed News for an earlier story on the conspiracy theories that the WikiLeaks story just doesn't add up. Rich's job at the DNC had nothing to do with IT or internal cybersecurity, so the hack wouldn't have been in his domain. "He wouldn't have had access to any of those emails," Bauman said.
Bauman said that evidence tying Rich to WikiLeaks has been "nothing but hearsay or the insane rantings of conspiracy theorists." He accused people pushing the idea of a "political agenda that is wholly un-American" and said they had denied a grieving family "the chance to mourn."